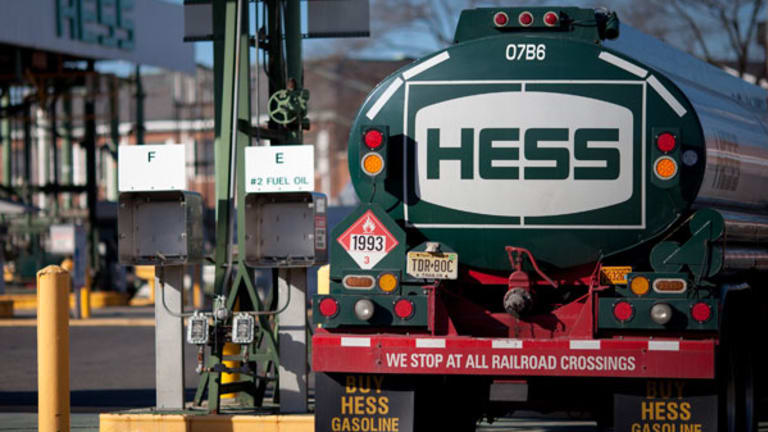 Hess Deals Disappoint as Wildcatting Activists Target Energy
A light Eagle Ford Shale asset sale may create risks for Hess and Chesapeake Energy.
Updated with Wednesday share prices and investor comments in 9th paragraph.
NEW YORK (
) --
Hess
(HES) - Get Free Report
may become further stuck between shale rock and a very hard place as activist investors exclaim their displeasure following a most underwhelming sale of the energy company's Eagle Ford Shale assets.
Hess shares were little changed after dropping 3% yesterday following the deal's announcement. Shares have gained 32% this year.
Late on Monday, Hess said it sold a 4,300-acre Eagle Ford Shale oilfield to
Sanchez Energy
(SN) - Get Free Report
for $265 million, in a deal that fetched about a third of the value that more optimistic analyst had forecast when the New York-based driller put the assets up for sale in 2012.
The deal comes at a crucial time for Hess which is embarking on an
to spin off its refining and marketing businesses and become a pure-play oil and gas driller with a leading position in promising shales like the Bakken.
Still, as Hess continues a sharp 2013 share price rise on optimism that it may be prodded into unlocking the full value of the company, management continues to face scrutiny from large investors.
Hess's proposed split off of downstream businesses, its recent announcement of a $4 billion share repurchase plan and a previous planned sale of its East Coast terminal network come just as activist hedge funds
Elliott Management
and
Relational Investors
take large positions in the driller and seek board seats.
Unimpressed by the details of Hess's decision to deconsolidate its integrated energy empire, Elliott and Relational are pressing their own
to counter the company's proposed board reconstitution, which will add directors with experience at
TNK-BP Russia
and
Royal Dutch Shell
and lead to a board of 13 of 14 independent members.
The pricetag with Monday's announced Eagle Ford Shale asset sale, however, may create new headaches for Hess as it tries to convince shareholders its plan is the path forward to realizing the company's
.
In a Tuesday client note, Bank of America Merrill Lynch analyst Douglas Leggate said, "Eagleford bids were known ahead of its response to the ongoing Elliot activist move and fell within its internal range of expectations," after discussing the deal with Hess CEO John Hess.
Notably, the deal may also underscore challenges that drillers face in trying to fetch top dollar for non-core shale acreage, amid balance sheet repair and asset rationalization across the industry. Such risks are present not just for Hess, but other notable activist investments in the sector such as
Chesapeake Energy
(CHK) - Get Free Report
and
Sandridge Energy
(SD) - Get Free Report
.
Meanwhile, other energy sector giants such as
Transocean
(RIG) - Get Free Report
,
Nabors Industries
(NBR) - Get Free Report
and
Murphy Oil
(MUR) - Get Free Report
face the heat of investors ranging Carl Icahn to
Pamplona Capital
and
Third Point's
Dan Loeb
Chesapeake Energy, which has welcomed Icahn to the company's board, recently announced an underwhelming $1 billion pricetag to a long-running sale of its Mississippi Lime joint venture. The Oklahoma City-based driller is also looking to divest non-core Eagle Ford Shale assets similar to those of Hess.
"It seems like acreage that is on the market is taking longer to sell," Phil Weiss, an energy analyst with Argus Research, says of recent Hess and Chesapeake Energy asset sales.
"It at least makes me wonder if there is hesitancy on the part of acquirers because of the spending required to hold acreage."
Tudor, Pickering, Holt analysts had forecast Hess could fetch as much as $820 million for its Eagle Ford assets. After Monday's sale, they saw reason to temper expectations of Eagle Ford sales by Chesapeake Energy from $1.25 billion to $600 million.
While Hess may find its underwhelming Eagle Ford Shale deal a one-off headache amid a battle with hard-charging activist investors, the potential for similar results at Chesapeake Energy could be an issue.
On Tuesday, Sterne Agee analyst Timothy Rezvan cut his rating on Chesapeake Energy to 'underperform' citing the weak proceeds from its Mississippi Lime sale and the prospect other non-core asset sales fail to deliver to management's guidance.
"We believe sticker prices for subsequent sales of non-core leaseholds could underwhelm, given the company's appearance as a wounded seller," Rezvan wrote in a note to clients. Currently, Chesapeake Energy faces a $3 billion funding gap for 2013 even after recent deals, meaning the company may need to sell more valuable cash generating acreage, according to Rezvan's analysis.
Chesapeake recently indicated it expects to sell $4 billion in assets in 2013 to meet its projected funding gap -- capital expenditures versus cash flows -- indicating any proceeds beyond that amount could be used to pay down the company's $12.8 billion in debt as of 2012.
The acreage up for sale includes the Eagle Ford Shale, the Marcellus Shale, the Utica Shale and assets in Wyoming and Michigan. "In the event these sales do not meet the shortfall, the company may be forced to sell assets with existing cash flow, which could adversely impact the near-term earnings and cash flow outlook," writes Rezvan.
Hess may be pressured by activists to begin executing divestitures as activists circle, however, it doesn't face the funding gap or financial pressure of Chesapeake.
While Hess announced a plan to sell down a network of terminals just as Elliott began taking a large stake in the company, it said the two moves had no relation.
"Elliott may have been the catalyst for an accelerated recovery - but it is a recovery we contend was already underway and has been given legs with the improved disclosure on the Hess' plan," Leggate of Bank of America wrote, referring to asset disposals.
"
The ongoing debate between Elliott and Hess is a win-win for shareholders."
Hess's assets up for sale are far more diverse than those of Chesapeake Energy and may not reflect the specific strains of shale acreage.
In its deconsolidation plan, Hess has put assets up for sale stretching from oilfields in Russia, Malaysia and Indonesia, to a refinery network in the U.S., which Tudor Pickering Holt forecasts could raise over $6 billion in total proceeds.
With proceeds from asset sales and a reduction in overall expense, Hess appears to be ready for a more aggressive drilling program that could increase the company's oil and gas production growth rate in coming years.
The company now targets a five-year production growth rate of 5% to 8%, and forecasts 'mid-teens' production growth between 2012 and 2014.
Shareholders also will see an immediate payout as Hess executes the multi-year plan to focus exclusively on oil exploration and production. Hess on Mar. 4 said that its annual dividend will increase to $1 a share beginning in the third quarter. The company also said it had authorized up to $4 billion in share buybacks tied to the timing of asset sales.
Selling shareholders on the spinoff plan, a focus on core exploration and production businesses and increasing shareholder payouts will be crucial, given Elliott Management and Relational Investors' opposition.
Weiss of Argus Research isn't ready to call the light Eagle Ford Shale deal a major factor in whether Hess or activists like Elliott win out in their restructuring plans. Still the analyst notes performance will be paramount.
"It is the right direction," Weiss says of Hess's recently announced plans.
"I think Elliott made a good case. It doesn't mean that management from Hess can't stay in there. They need to execute."
The analyst highlights other lagging energy sector giants such as
Devon Energy
(DVN) - Get Free Report
and
Apache
(APA) - Get Free Report
as other companies that might tempt activists.
John Hartz, a spokesperson for Elliott Management declined to comment, while Jon Pepper, a spokesperson for Hess wasn't immediately available for comment.
-- Written by Antoine Gara in New York