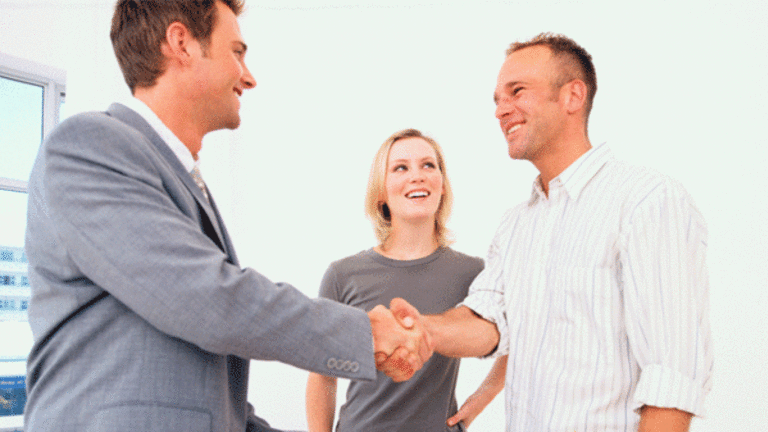 Hertz, Dollar Thrifty Upgrade Deal on Economy
Hertz's $2.3 billion offer for Dollar Thrifty signals some see an improving economy compared with 2011.
NEW YORK (
) -- Investors looking for a gauge of the economy headed into Labor Day weekend need look no further than
Hertz's
(HTZ) - Get Hertz Global Holdings Inc Report
multi-year takeover battle for
Dollar Thrifty
(DTG)
, which culminated on Sunday when its $87.50 a share cash bid worth $2.3 billion for the discount rental car giant was accepted.
What a difference a year makes.
Last year Dollar Thrifty bidders like Hertz were bracing to pull out of takeover efforts on the heels of a worsening debt spiral in Europe and a confidence-draining downgrade to the U.S.'s debt ratings in Aug 2011. Now, Hertz is opening up its purse strings, in a cash deal that exceeds its previous $72 a share cash and stock offer by over 20%.
For Dollar Thrifty shareholders, a recovery in earnings and buoyed expectations of travel spending appear to be all the difference. Those who stuck with the rental firm as it teetered on bankruptcy have also been amply rewarded. At the market bottom in March of 2009, Dollar Thrifty shares fell below $1, only to rebound with the rest of the U.S. auto industry.
Meanwhile, a year's time has also helped Hertz prepare for what's likely to be a closely followed set of regulatory approvals by antitrust authorities, in a major consolidation effort.
Fundamentally, a multi-year fall in Dollar Thrifty's earnings stabilized in second quarter results, and this year shares drove toward five year highs above $80 in the absence of a M&A. Nevertheless, Hertz's consolidation efforts come in a car rental market that's still facing price pressure, signaling that it perceives the growth opportunities and cost synergies of a deal to add value as the market improves.
Even with industry-wide growth in car rentals and a strong used car resale market - a key to companies as they sell old fleets -- the big four in auto rental chains struggled to increase prices in 2011. In first quarter earnings, Hertz, Avis Budget, and Dollar Thrifty all reported falling rental prices.
Hertz has been steadfast on the strategic merits of a deal, culminating in Sunday's offer, in a merger that signals confidence in an industry that rises and falls on cyclical trends like leisure spending and business travel.
"We'll be a stronger global competitive player with a full range of rental options not only in the U.S. but in Europe and other markets given Dollar Thrifty's strong international presence," said Hertz's chairman and chief executive, Mark P. Frissora, said in a Sunday press release.
"We are pleased to have finally reached an agreement with Dollar Thrifty after a lengthy -- but worthwhile -- pursuit," added Frissora, highlighting still pending regulatory approvals.
As part of the merger, which comes at a near 8% premium to Dollar Thrifty's Friday close, Hertz will sell its
Advantage
discount car rental unit to franshiser
Franchise Services of North America
and infrastructure investor
Macquarie Capital
.
In a May earnings call, Hertz said it had located Advantage buyers and received
Federal Trade Commission
approval for a sale, in a move that signaled it was gearing up for a
later in the year.
By acquiring Dollar Thrifty, Hertz will reshape the auto rental landscape, in a move that could pay off in an improving economy.
With Dollar Thrifty, Hertz will bolster its competition with privately-held industry leader
Enterprise
. According to a 2012 survey by research firm
IBISWorld
, the four largest car rental companies in the U.S. control roughly 80.5% of the market, with
Enterprise
holding the largest 38% market share, Hertz second at 18.9%, Avis at 18.5% and Dollar Thrifty a long fourth at 5% of the overall market.
In addition to potential industry realignment, what's notable about Hertz's merger are the terms. In October, Hertz pulled a cash and share exchange offer for Dollar Thrifty that valued the industry fourth player at $1.91 billion or $72 a share, on deteriorating market conditions, a negotiating deadlock and scrutiny from antitrust regulators.
Now, Hertz is paying up in cash at a 20% premium to its best previous offer, in a move that signals increased confidence in the prospects of the merger.
Hertz may look at Dollar Thrifty as a way to stay aggressive after already impressive 2012 share gains and stronger than expected earnings and guidance. It is paying Dollar Thrifty a record $87 price in the deal.
Already, Hertz had been expected to
dust off its M&A playbook in 2012 and retry an acquisition of Dollar Thrifty to alleviate pricing pressures and wrench out cost savings, according to industry analysts.
The combination of a premium brand like Hertz and a leisure brand like Dollar Thrifty may be similar to a tie up's like the
Avis
(CAR) - Get Avis Budget Group Inc. Report
$1 billion buy of
Budget
in July 2011 and privately-held
Enterprise's
2007 acquisitions of
National
and
Alamo
, said Fred Lawrence an analyst with Avondale Partners in February.
In February, William Kavaler a special situations analyst with brokerage Oscar Gruss & Sons said he expected Hertz to make a new offer for Dollar Thrifty in 2012, in a move that could add a budget brand to extend the lives of its luxury-tilted flagship vehicle fleet, improving profit margins.
Avis, which abandoned a merger proposal with Dollar Thrifty last September amid a bidding war between it and Hertz, confirmed it wasn't interested in Dollar Thrifty earlier in 2012.
Dollar Thrifty shareholders rejected Hertz's initial takeover offer in late 2010, Hertz upped its offer in 2011 t $72 a share. However, after a fall in Hertz shares in the fall of 2011, the offer became less economic and in October, Dollar Thrifty took itself selling block and launched a $400 million share buyback program.
Shares of Hertz are up over 12% year-to-date on improving sales and a decrease in expense. Meanwhile, Dollar Thrifty shares are up over 15% in 2012, as of Friday's close.
For more on bullish M&A bets, see why some activist investors are putting their money behind
corporate spending amid an investor focus on austerity,
-- Written by Antoine Gara in New York