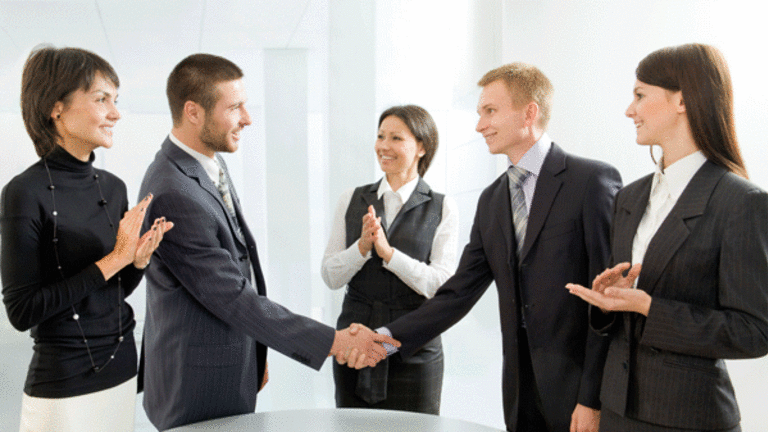 Hertz, Dollar Thrifty Deal Could Drive Shares (Update 1)
Hertz may continue to pursue Dollar Thrifty as a way to grow its profitability.
Updated to include additional analyst commentary and earnings estimates
.
NEW YORK (
) -- After stronger than expected fourth quarter earnings,
Hertz
(HTZ) - Get Hertz Global Holdings Inc Report
may dust off its M&A playbook in 2012 and retry an acquisition of
Dollar Thrifty
(DTG)
to alleviate pricing pressures and wrench out cost savings, according to industry analysts.
Hertz may look at a merger with Dollar Thrifty as a way to stay aggressive in 2012 after its shares rose sharply on Tuesday on stronger than expected earnings and guidance. While analysts point to consolidation as a quick way for the second largest U.S. rental car company to continue to grow its profit margins, a deal still must overcome regulatory hurdles.
Hertz jumped the most in two months on Feb. 22 fourth quarter earnings
In October, Hertz pulled a cash and share exchange offer for Dollar Thrifty that valued the industry fourth player at $1.91 billion or $72 a share, on deteriorating market conditions, a negotiating deadlock and regulatory scrutiny. However, the company has kept hope of an eventual deal alive, with its Chief Executive indicating a continued 2012 push.
"
Our Dollar Thrifty acquisition strategy remains the same, we continue to work forward constructively with the FCC on getting a consent decree and once we get that consent decree, our intension is to work with Dollar Thrifty's Board in order to try to consummate a transaction that makes sense to both companies," said Hertz Chief Executive Mark Frissora on a Feb. 23 earnings call.
"They are guiding to the next couple of months, absolutely," says William Kavaler a special situations analyst at brokerage Oscar Gruss & Sons about Hertz's potential to formally revive a Dollar Thrifty deal. Kavaler expects that Hertz will make a new offer for Dollar Thrifty in 2012, in a move that will add a budget brand to extend the lives of its luxury-tilted flagship vehicle fleet, improving profit margins. Kavaler holds an $80 a share takeover price target for Dollar Thrifty.
Such a would make sense as a quick way for the company to boost earnings, even if a merger isn't immediately needed for either Hertz or Dollar Thrifty, according to Fred Lowrance, an analyst with Avondale Partners. "
The combination of a premium brand like Hertz and leisure brands like Dollar Thrifty makes a ton of sense," says Lowrance, who adds that such a tie up would be similar to
Avis Budget's
(CAR) - Get Avis Budget Group, Inc. Report
$1 billion buy of
Budget
in July 2011 and privately-held
Enterprise's
2007 acquisitions of
National
and
Alamo
. Lowrance holds a "market neutral" rating on Hertz shares, with a $22 a share price target.
The key will be for Hertz to get approvals for a merger from the U.S.
Federal Trade Commission
and then seek a buyer for its value-oriented
Advantage
brand and some of its airport retail locations, minimizing antitrust concerns.
Penske
, private-equity firm
Cerberus Capital Management
and European rental car company
Sixt
have all been reported as candidates for Advantage, says Lowrance. He adds that Avis is unlikely to return to the bidding table for Dollar Thrifty after abandoning a merger proposal in September, when a war emerged between it and Hertz.
"Avis has enough to chew on right now with integrating its Avis Europe acquisition, and plus, they already have a leisure brand (Budget)," says Lowrance.
10 Companies in the 'Ultimate Stock Pickers' Portfolio
After clearing the way for a deal, Hertz would also likely need to sweeten its previous offer of $56.70 a share in cash and an exchange of 0.8546 Hertz shares for each Dollar Thrifty share that equated to a $72 value, when announced. However, when Hertz shares slid last fall, the stock exchange became less economic. Meanwhile, Dollar Thrifty enacted a "poison pill" to prevent Hertz from accumulating a significant stake in the company.
If an offer were to re-emerge, it would likely have to be at a higher price to reflect increasing valuations and a friendly offer after Dollar Thrifty kept open its poison pill through May 2013. But, a deal would be a boost for Hertz because of the cash generating abilities of Dollar Thrifty, while it may also lead to industry wide pricing power.
A consolidation from four national car competitors to three with a merger would be a boost to rental car pricing for Hertz and the industry, which saw an increase in rental volumes outweigh pricing declines in the fourth quarter. "The final thing that investors are hoping for is that the industry can get pricing power... I think consolidation is the most likely way that they get there," says Lowrance.
Shares of Hertz are up nearly 24% year-to-date on improving sales, a decrease in expenses and a strengthening of the U.S. auto market. Meanwhile, Avis shares are up over 21% and Dollar Thrifty shares are up over 8% in 2012.
Analysts polled by
Bloomberg
give Hertz shares a price target of $20.50, while they value Dollar Thrifty and Avis Budget shares at $79.40 and $20.69, respectively.
Those analysts also expect improving revenue and profits across the industry in 2012. Hertz's sales are expected to grow over 7% to $8.9 billion and its profitsare expected to more than double to $546 million. Meanwhile, Dollar Thrifty is expected to grow sales by nearly 4% and Avis Budget is likely to swing to a post-crisis high profit of $215.5 million, according to analyst estimates compiled by
Bloomberg
.
Even with strong growth in rentals and a still strong used car market, a key to companies as they sell old fleets, the big four in auto rental's struggled to increase prices in 2011. In earnings calls, Hertz, Avis Budget, and Dollar Thrifty all reported falling rental prices, with some expecting the trend to continue.
10 Stocks of Top-Performing Funds in 2012
To supplement overall industry revenue growth and increasing 2011 profits, excluding a one-time acquisition charge to Avis's earnings, the industry may now need continued economic growth and a catalyst for pricing increases, such as a merger from four industry giants to three.
According to a recent survey by research firm
IBISWorld
, the four largest car rental companies in the U.S. control roughly 80.5% of the market, with
Enterprise
holding the largest 38% market share, Hertz second at 18.9%, Avis at 18.5% and Dollar Thrifty a long fourth at 5% of the overall market.
"If the U.S. economy grows in the 2-3% range this year, we believe the company is well positioned to outperform the guidance," wrote Wells Fargo analyst Richard Kwas in a Feb. 22 research note. While Hertz saw an overall pricing decline of 4.2% in the quarter, that was "better than investors had feared" after Avis Budget and Dollar Thrift reported greater than expected pricing declines.
Get Fat Yields With Foreign Dividend Funds
Hertz's relative pricing stability was, in part, due to 14% of revenue that the company generates from machinery rental, where it competes against companies like
United Rentals
(URI) - Get United Rentals, Inc. Report
and
RSC Holdings
(RRR) - Get Red Rock Resorts, Inc. Class A Report
. "Hertz mix-shift strategy of continuing to aggressively grow their off-airport rentals business is driving their lower than industry reported pricing number," wrote Goldman Sachs analyst Afua Ahwoi in a Feb. 22 note.
In fourth quarter earnings, Hertz reported $47.1 million, or 11 cents a share on 9.7% boost to sales that put overall quarterly revenue above $2 billion. That compared with a loss of $28.1 million, or 7 cents a share, a year earlier. The Park Ridge, N.J.-based company said it expected profits to be as high as $1.26 a share in 2012 on as much as $8.95 billion in revenue.
-- Written by Antoine Gara in New York