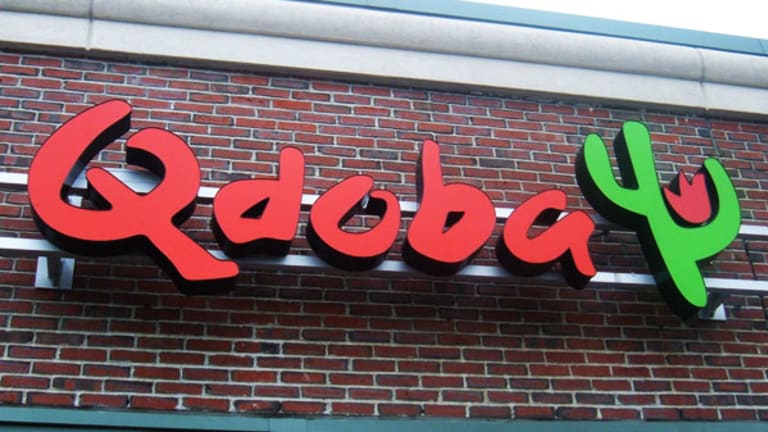 Here's Why an Activist Could Push for Changes Other Than a Spinoff for Jack In The Box's Qdoba
An activist like Corvex could push Qdoba into franchising more locations or selling itself if it is spun off from Jack in the Box as many expect
Jack in the Box    (JACK)  said last week that it would explore options for its Qdoba Restaurant Mexican restaurant chain.
The move comes shortly after activist investor Keith Meister and his insurgent fund quietly accumulated a 1.8% position—about $56 million worth—in the restaurant chain between January and March.
And while Meister's Corvex Management LP hasn't made any noise yet, it is very possible that the insurgent fund's agitations led Jack in the Box to consider strategic options for Qdoba. The restaurant chain hired Morgan Stanley for the review.
It's unclear at this stage exactly what Jack in the Box will consider doing. However, a decision not to sell or spin off the unit would likely lead to further share accumulations by Corvex and some escalation - even a director-election proxy contest. The insurgent fund has launched 17 activist campaigns and five proxy contests since 2011 - and another one could emerge at Jack in the Box.
"I wouldn't be surprised if there were significant discussions between Corvex and Jack in the Box prior to its announcement of strategic options for Qdoba," said Nick Setyan, an analyst at WedBush Securities Inc.
Analysts following the restaurant chain believe a spinoff is Qdoba's likeliest fate, though some private equity firms could be interested in buying it as well.
Setyan calculates a $123 a share sum-of-the-parts valuation for the two companies if they were to trade separately. "If JACK were to trade on its own it would be worth $100 a share, which is what it is trading at right now with Qdoba in the mix," he said. "Qdoba on its own would trade at $22 or $23 a share."
Setyan notes that a spin-off would make the most sense from a taxation point of view, adding that Qdoba could subsequently become a much more coveted target of activism once it is a separate publicly-traded company.
"There is a lot an activist could push for once Qdoba is separated," Setyan said. "There is room for activists to push for franchising as well as operational improvements and a sale."
Currently, Qdoba has a roughly 50%-50% split when it comes to company-operated and franchised locations. According to a May 17 quarterly report, Qdoba has 377 company-operated locations and 340 franchised ones.
"Qdoba is ripe for an activist once it is spun off in a tax-advantaged way," Setyan said. 
Activists frequently push companies that operate a large percentage of their stores into having them franchised out, with the goal of raising funds for shareholder distributions and debt reduction.
For example, Mick McGuire and activist fund Marcato Capital has been nudging Buffalo Wild Wings Inc. (BWLD) to franchise more of its company-owned stores.
And activist Glenn Welling of Engaged Capital successfully pushed the freshly-squeezed-juice and smoothie retailer Jamba Juice (JMBA) to convert itself mainly into a franchised-owned company with the cash generated from franchising company-owned stores being used largely for stock buybacks. Also, it's possible that Welling could be pushing Ruby Tuesday's to franchise some of the 500+ stores it currently operators. 
Corvex would receive a stake in Qdoba through a share distribution if the restaurant unit is spun off. Meister could subsequently launch an activist campaign to have the company franchise more stores or sell itself to a strategic or private equity buyer.
Also, Corvex could drive a sale of Jack in the Box? Less likely. One recent acquirer, Restaurant Brands International Inc. (QSR) isn't expected to have any interest in Jack in the Box or Qdoba.
Restaurant Brands International recently acquired Popeyes Louisiana Kitchen in a $1.8 billion acquisition, adding to its stable of Burger King and Tim Hortons chains.
"If they acquire something it is unlikely to be another quick-service-restaurant concept," Setyan said. "They likely are looking for a pizza or taco concept chain."
Nevertheless, there has been a spate of restaurant deals in recent years, suggesting that a sale of Jack in the Box could happen. These include JAB BV's $7.5 billion pending purchase of Panera Bread Co. (PNRA), which is expected to close in the third quarter. Also, Darden Restaurants Inc. (DRI) recently acquired Cheddar's Scratch Kitchen from L Catterton and Oak Investment Partners LP in a $780 million deal. Finally, Checkers Drive-In Restaurants Inc. was acquired from Sentinel Capital Partners by Oak Hill Capital Partners in a $525 million transaction.