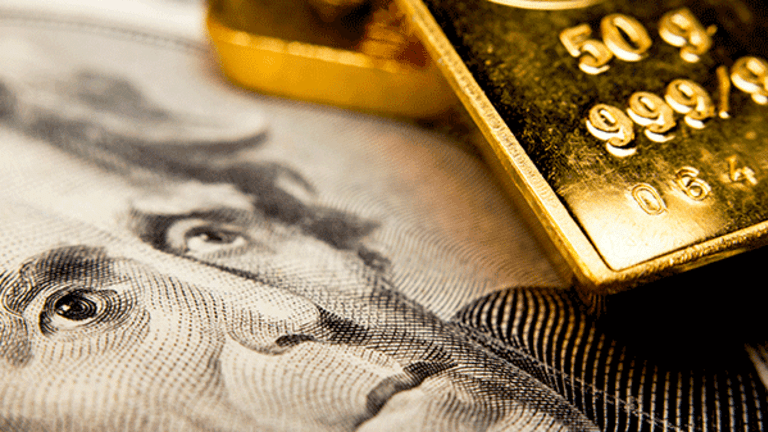 Here's How to Play New Fed Stress Tests on the 34 Biggest U.S. Banks
The second piece of the annual reviews determines how much banks can spend on dividends and stock buybacks.
Dividend-focused bank investors will need to pay careful attention during the next week as the results of annual stress tests on the 34 largest U.S. financial institutions, and their capital distribution plans, are released.
The Federal Reserve is examining banks with at least $50 billion in assets to make sure they have sufficient capital to withstand a hypothetical "severe global recession" in which the unemployment rate peaks at 10% by the third quarter of 2018 while equity prices fall by 50% through the end of 2017. The goal is to ensure that the largest U.S. banks can survive a financial crisis similar to the one that rattled the global economy in 2008.
The central bank plans to report results from the first round of tests, which were mandated under the Dodd-Frank reform law that created safeguards against another financial crisis, on Thursday, June 22. Roughly one week later, on Wednesday June 28, results from the second round will determine how much money banks can devote to dividends and stock buybacks during the next 12 months.
While most are expected to do well and be allowed to increase their capital distributions, some may have to scale back their plans.
"We're not expecting any of the banks we cover to have any quantitative failures this year," said Brian Klock, an analyst at Keefe, Bruyette & Woods. "Most banks will be approved for increases in buybacks and dividends."
Banks are expected to privately receive a preliminary decision on their capital distribution plans this week, according to a person familiar with the situation. If their plans aren't approved, they have one chance to lower their payouts to try for the Fed's OK by the June 28 release of the second set of tests, the Comprehensive Capital Analysis and Review, or CCAR.
Last year, M&T Bank Corp. (MTB) had to trim its original distribution plan.
Any companies that fail the review are typically allowed, at most, to keep only the same level of capital distribution as the year before. 
This year the only new firm taking the tests is CIT Group Inc., (CIT) which participated privately in 2016. It became large enough to be subject to the review after a $3.5 billion deal to buy OneWest Bank in 2015. CIT Group revealed in July last year that the central bank had given it a "qualitative objection" in a preliminary test over concerns around risk management. As a result, CIT Group was only permitted to issue modest buybacks over the past few quarters.
So-called "qualitative deficiencies" are problems with internal controls or issues with projections made by internal company-run exams. The biggest banks, including Bank of America Corp. (BAC) , JPMorgan Chase & Co., (JPM) , Wells Fargo & Co.  (WFC) and Citigroup Inc. (C) , all undergo such reviews, and some --- including Citigroup and Bank of America -- have had trouble with it in the past.
This year, some smaller firms will be exempt from that component, though all will still undergo the quantitative section.
Ultimately, passing the Dodd-Frank stress test doesn't provide any significant indication of how banks will fare on the CCAR because the two have different metrics for success. The Dodd-Frank test only considers the capital distributions each bank has made over the past four quarters while the CCAR considers what stock buybacks and dividends are planned for the next four.
Expect most, if not all, of the banks to be above the minimum financial ratios required by the Dodd-Frank Act -- though it may be a close call in some cases. For example, last year, Morgan Stanley (MS) , BMO Financial Corp. (BMO) , Huntington Bancshares Inc. (HBAN) and KeyCorp. (KEY) all came near dropping below the threshold.
WFC, C, and KEY are holdings in Jim Cramer's Action Alerts PLUS Charitable Trust Portfolio. Want to be alerted before Cramer buys or sells any of them? Learn more now.
This year, Klock said, both Huntington Bancshares and KeyCorp. would post results above the minimum thresholds, but may be closer to the minimum than their peers, in part as they are both still building up their capital buffers after significant acquisitions. Last year, KeyCorp acquired First Niagara Bank for $4.1 billion and Huntington Bancshares acquired FirstMerit Corp. for $3.4 billion.
KBW estimates that Zions Bancorp (ZION) , which failed the test in the past, will be among the banks with the lowest distributions. KBW estimates that Zions will have a total net payout of 56% over the four quarters starting next month.
When it comes to the more important test, the CCAR, 21 of the smaller firms required to conduct the tests will -- for the first time not be subjected to the qualitative component. Most of them have never had trouble with the qualitative assessment, but executives at some will nevertheless breathe a huge sigh of relief because their exemption makes it more likely that they will do well on the tests overall.
For example, CIT Group, which received an objection on qualitative grounds last year, won't need to undergo a qualitative review this year. Analysts expect CIT Group to do much better this time around.
KBW analysts estimate that CIT Group will pay out the highest percentage of its earnings on a net basis of any bank, at 157%, after the tests are concluded. CIT Group's large payout is partly due to a near $3 billion capital return initiative related to its 2016 sale of a commercial aircraft leasing division. Excluding that, the payout won't be particularly high.
"They are pretty clear that they won't be too aggressive and their total payout will be somewhat less than 100% of earnings," said Klock.
KBW also expects other banks to produce big payouts as a percentage of earnings, including M&T Bank Corp. (MTB) at 136%, Regions Financial Corp. (RF) at 107% and Citizens Financial Group Inc. (CFG) at 100%.
"These all have strong capital buffers. M&T has one of the strongest loan portfolios in terms of asset quality and also has a strong return on equity," Klock said. "Citizens Financial and Regions Financial are starting from a much bigger capital base."
Visit here for the latest business headlines.
Read More Trending Articles:
Tesla Could Explode to Record Highs As Company Reportedly Comes Closer to Making Cars In China
Costco Sees an Extremely Damaging Flush In Aftermath of Amazon's Big Whole Foods Deal
Intel Just Got Smoked By AMD In the Race to Unleash a Super Chip
McDonald's Joins 5 Other Mega Brands In Ditching the Olympics