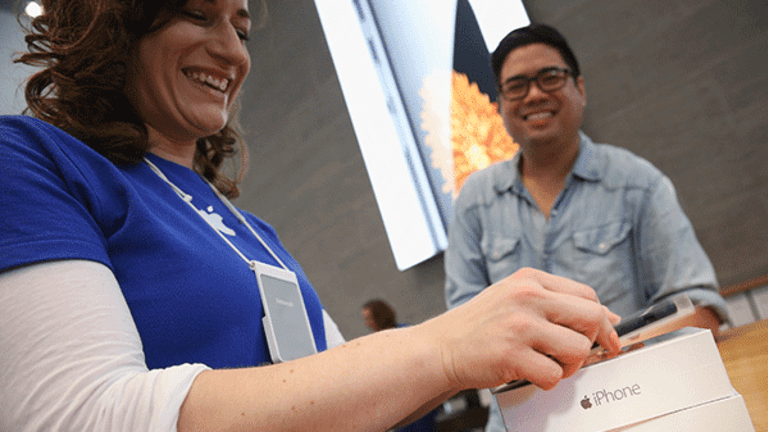 Here's Who Might Buy One of Apple's Chip Suppliers After It Has Lost 70% of Its Value
All the details.
Imagination Technologies Group plc (IGNMF) may have lost 70% of its market value after being spurned recently by its biggest customer, Apple Inc. (AAPL) - Get Report , but that likely won't prevent other companies from putting the British chip designer in their sights.
Imagination announced on Thursday, June 22, that it had put itself up for sale, just two months after Apple said it would stop using the chip company's graphics technology by 2019.
The announcement propelled Imagination shares higher by 15.3% to 165.75 pence in London on Friday afternoon. The stock has tumbled 38.1% since April 3, when Apple decided that it would end its relationship with Imagination. 
Imagination said it has attracted interest from "a number of parties" that are interested in buying the company. Representatives from Imagination declined to specify who the suitors might be. 
The company's sophisticated chip designs, such as its PowerVR graphics processors, are likely to be the main attraction for potential buyers. Analysts say tech leaders such as Samsung Electronics Co. Ltd. (SSNLF) , Qualcomm Inc. QCOM and Intel Corp. (INTC) - Get Report could all be interested in scooping up Imagination. Apple, too, could reconsider its earlier decision to dump the company and submit a bid. Chinese companies like Huawei Technologies Co. Ltd. or LG Electronics Inc. could also be logical buyers.
"It would be an incredibly cynical play on Apple's part, to knock down the price of Imagination and then go buy it," said Jon Peddie, president of tech research firm Jon Peddie Research. 
Apple, which owns a 9.5% stake in Imagination, slashed $625 million from Imagination's market cap in less than 15 minutes the day it made its announcement, with Imagination's stock cratering 70%. Imagination has been a partner of Apple's for several years. Imagination's intellectual property has "formed the basis" of Apple's iPhones, iPads, iPods, Apple TVs and Apple Watches, the company said in a statement.
Imagination's shares rose 18.8% to $2.15 in post-market trading on Friday.
Apple is a holding in Jim Cramer'sAction Alerts PLUS Charitable Trust Portfolio. Want to be alerted before Cramer buys or sells AAPL? Learn more now.
Even if Apple doesn't decide to bid for Imagination, it's unlikely to dump its stake in the company because Imagination's graphics intellectual property is highly valuable," said Tim Bajarin, president of tech research firm Creative Strategies.
"[Apple] could say we need to retain that stake so we have influence if a competitor takes over," said Jan Dawson, chief analyst at Jackdaw Research. "Apple would also have significant leverage if they accept a bid and insist that existing contracts be honored if Imagination goes to a competitor. It could go either way."
Imagination may have a lengthy negotiation process ahead of it because not everyone might be interested in buying the whole business. Apple wouldn't have much use for Imagination's MIPS business, which makes processors used in home entertainment products, while Qualcomm would probably be less interested in the graphics business, Peddie said. 
There's also Imagination's ongoing intellectual property dispute with Apple. Imagination said in April that it had asked Apple for evidence that it could build its own GPUs without violating its intellectual property rights, but was denied. Imagination may decide to go after Apple in court, which could prove to be a long, tedious process for Imagination and whoever decides to buy the company, Peddie said. 
Even though Imagination's value has declined significantly, Peddie maintains that the company could still set a bidding price of at least half a billion dollars. 
"The thing that makes them valuable is that they have a really big bag of IP," he added. "That IP has found its way into literally millions of products."
Visit here for the latest business headlines.