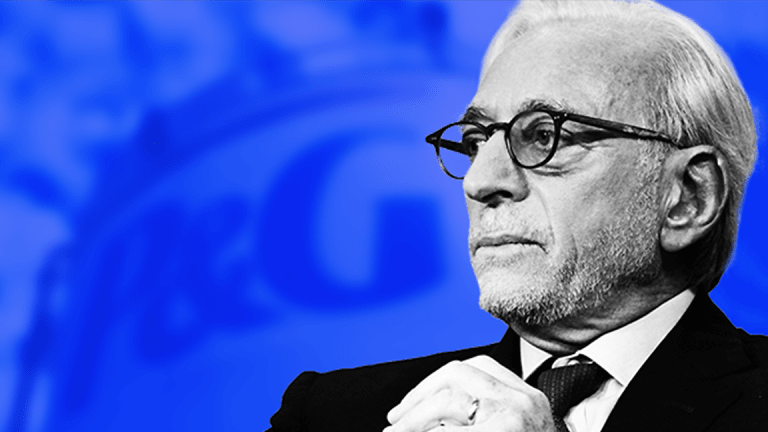 What Proctor & Gamble Must Show New Board Member Nelson Peltz Tuesday
The activist investor and other investors will be watching to see what the packaged goods company says about organic revenue growth, R&D, bolt-on acquisitions and cash repatriation.
Procter & Gamble (PG) - Get Report  is set to release its second-quarter results Tuesday morning, its first results since the iconic packaged goods company agreed last month to settle a bruising nearly year-long boardroom battle by giving activist investor Nelson Peltz a seat on the company's expanded 13-person board.
Peltz isn't scheduled to take his position until March 1. Until then, expect that he and other investors will be watching P&G, where a consensus of analysts expect earnings per share of $1.14 for the quarter.
The boardroom war considered the largest director battle corporate history ended on Dec. 15 after P&G CEO David Taylor agreed to bring on Peltz even though an inspector of elections tabulated that he received 972,766,372 votes, slightly less than the 973,264,684 votes received by company director, Ernesto Zedillo, an ex-president of Mexico.
The biggest item on Peltz's agenda? Restructure the business into three global business units rather than the four it has now. That would go a long way to eliminate what Peltz calls P&G's "suffocating bureaucracy." Nevertheless, don't expect P&G to suggest anything like this on Tuesday or anytime soon -- most experts and analysts expect that it would be so much heavy lifting that P&G wouldn't consider it, even though roughly ½ of the company's shares backed Peltz for the board.
April Scee, an analyst at RenMac in New York, said that the most crucial number she will be watching for is whether P&G will meet projections for organic revenue growth, core operations not including M&A or foreign exchange. The analyst consensus for organic revenue growth for the quarter is 2%. "Whether you invest or not will be determined by what you think they can do in the back half of their fiscal year and whether it compares well with P&G's comparison group," Scee said.
More of What's Trending on TheStreet:
Analysts and investors will be watching to see if P&G launches a push to make some additional smaller bolt-on acquisitions to bring in innovative brands, something Peltz has wanted. P&G took a step in that direction in November by acquiring Native, a San Francisco-based premium natural deodorant brand, for $100 million in cash. Scee said she expects more bolt-on acquisitions to come, not because of Peltz, but because the conglomerate is shifting towards more acquisitions now after completing a 100 brand purge roughly a year ago. "I expect they will reiterate that bolt-on acquisitions are part of the strategy," she said.
Also, Peltz had been seeking a wholesale re-evaluation of P&G's R&D strategy, something that Taylor has suggested would be "very dangerous" and result in the complete elimination of the R&D department.
Scee contends that P&G has made some serious headway in R&D-driven innovation in recent months, particularly in the beauty business division. She pointed to new Pantene foam conditioners, and micellar shampoo as well as an Olay whipped moisturizer, all of which she viewed as innovative for the mass market. "These things take time. They need to develop the packaging, do the research, have conversations with resellers, retailers need to reset the shelves," Scee said.
A vital issue for Peltz is that significant acquisitions in the past have done poorly because the company wasn't focused on competition. P&G's Gillette, for example, has had difficulty competing with Harry's and Dollar Shave Club in recent years.
However, Scee notes that P&G announced in February a meaningful 7% to 10% price reduction for the Gillette razor business, which she contends has begun to show results. "They are starting to see a share of the market increase," Scee said. "They'll probably get a question about how confident they are on the grooming business results for the rest of the year," she said.
Morgan Stanley analysts said in a Jan. 19 report that they don't expect much stock reaction to the Q2 results, though they expect P&G to provide an update on the use of about $15 billion in cash and securities held by foreign subsidiaries of the packaged goods company as of June 2017. The comments are interesting following last month's historic passage of a $1.5 trillion tax overhaul legislation that includes a low 15.5% repatriation tax for money held offshore.
Activist investors are quietly prodding companies to repatriate cash following the legislation's approval. Expect Peltz will be keeping a close eye on what P&G says it will do with that capital.