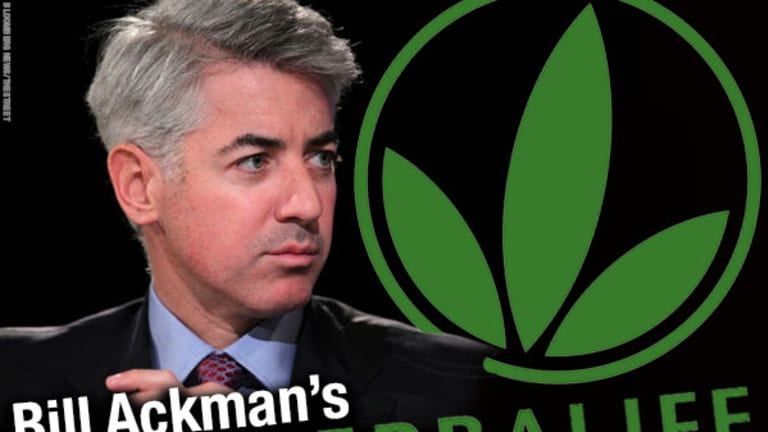 Herbalife shares drop in wake of latest Ackman-Icahn tussle
The embattled activist investor predicts rival billionaire insurgent Icahn is looking to sell some or all of his 18% stake in the nutritional supplements distributor.
Herbalife (HLF) - Get Herbalife Nutrition Ltd. Report shares dropped by over 7% early Friday after embattled activist investor Bill Ackman said he believes rival billionaire insurgent Carl Icahn is looking to sell some or all of his 18% stake in the nutritional supplements distributor.
The comments represent the latest in the Icahn-Ackman tussle over the future of Herbalife. Ackman has a short-selling campaign he launched in 2014 asserting that Herbalife is a "ponzi scheme" with a worthless stock that should trade at zero. He told CNBC Friday that he was approached in early August by investment bank Jefferies and that the institution was trying to put together a block trade with a group of investors that would allow Icahn to liquidate his 17 million Herbalife shares. Ackman has a $1 billion short position in Herbalife.
"I was contacted by Jefferies and they were trying to put together a block trade to take Carl out and I view that favorably that he's a seller," Ackman said. "This is a confidence game and he is the leader in creating confidence in the company. If Carl sells it can accelerate the demise of the company."
Icahn and Herbalife did not return requests for comment about whether the billionaire raider turned activist investor has been seeking to sell part or all of his stake. Ackman's comments come after the Federal Trade Commission in July required Herbalife to pay $200 million to compensate consumers to settle the agency's charges that it "deceived consumers into believing they could earn substantial money selling diet, nutritional supplement, and personal care products."
At the time Icahn, who has five directors on the company's board including an assistant general counsel at the fund, said the settlement cleared the way for the nutritional supplements distributor to consider a range of strategic options including a potential roll-up with competitors. In addition, in July it appeared that Icahn was eager to buy more shares. He said he wanted Herbalife to hike the minimum amount he could buy in the company from 25% to 34.99%.
In addition, Icahn appeared bullish on Herbalife, saying that it will "continue to grow and continue to provide much needed employment for many more hard-working people" and that it should consider a range of strategic options in the wake of the settlement, including a potential roll-ups with competitors as well as other "strategic transactions." Icahn didn't provide any further details about what specific strategic options he may want.
However, on Friday Ackman suggested that Icahn's efforts to sell suggests that he "knows they are toast" and that "the stock is going down." Ackman said Icahn's investment has been profitable and he "doesn't' have to worry about the company when the have to change their business model."
It is true that Herbalife must change a great deal in how it runs its business because it must comply with tough new FTC restrictions. Under the terms of the settlement, Herbalife must revamp its compensation system so that it rewards sellers for retail sales to customers and end its current system of rewarding distributors primarily for recruiting new sales people. Compensation Herbalife pays to distributors must be based on retail sales that are tracked and verified. Furthermore, unless at least 80 percent of Herbalife's product sales are made to legitimate end-users rather than new sales recruits the company will have to reduce its rewards to distributors.
A liquidation by Icahn would eliminate confidence in the company. "With Carl there they may have a better chance of keeping top distributors," Ackman said. "With Carl exiting it's over more quickly."
Ackman said he was evaluating whether to spend $30 million to buy some of Icahn's shares as part of a consortium, with a plan to sell the stake a day later. "I would spend $30 million to get Carl out; I probably would spend more," Ackman said.
Nevertheless, some activist watchers suggested that the activist situation at Herbalife is unique and even comical, with high-profile activists doing battle with each other. In addition, one adviser who provides proxy solicitation services to both activists and corporations suggested that certain investors like Icahn and Ackman have an oversized influence on certain investors, particularly retail shareholders, when they appear on high-profile media outlets.
"That's what you see, they appear on CNBC and the stock moves very quickly," said Bruce Goldfarb, founder of proxy solicitor Okapi Partners.