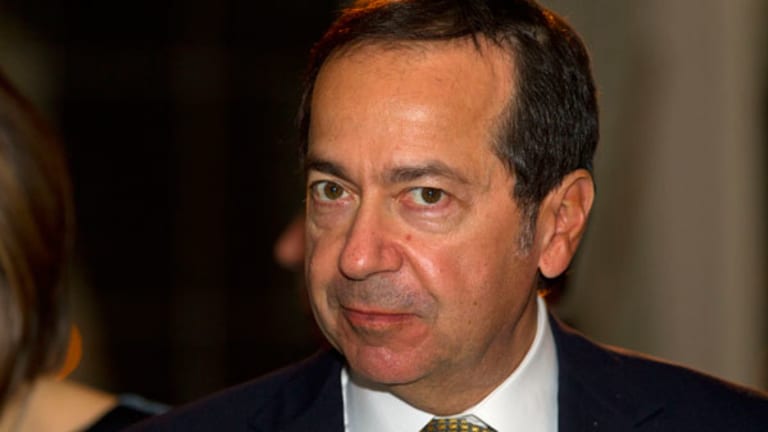 Hedge Fund Games a Risk in Sprint Takeover
Hedge funds' self-interest in telecom consolidation may put consumers at risk.
NEW YORK (
) -- As consumers wait to see how a new wave of telecom sector consolidation impacts carrier pricing plans for popular smartphones such as
Apple's
(AAPL) - Get Apple Inc. Report
iPhone and
Google
(GOOG) - Get Alphabet Inc. Class C Report
Android devices, billionaire hedge fund investors such as John Paulson of
Paulson & Co.
appear poised to play an outsized role in the industry's fate.
Second-tier wireless providers such as
Sprint
(S) - Get SentinelOne, Inc. Class A Report
,
T-Mobile
and
MetroPCS
(PCS)
are all currently engaged in merger efforts that, depending on shareholder votes, could reinvigorate the U.S. wireless industry so price-competitive players have a chance at winning back customers and profits from
AT&T
and
Verizon
(VZ) - Get Verizon Communications Inc. Report
, who've consistently gained market share in the shift to smartphones.
Hedge fund investors, most notably, Paulson & Co., have recently staked large bets on consolidating wireless providers such as MetroPCS, Sprint,
Clearwire
(CLWR)
and
Leap Wireless
(LEAP)
, which isn't currently engaged in merger efforts but is the subject of takeover speculation.
As smartphone addicts await the ultimate outcome of consolidation and its impact on pricing and service, there is currently a risk hedge fund investors will leave consumers worse off.
Given stakes such as Paulson's 9%-plus holding in MetroPCS and Leap Wireless shares, in addition to significant positions in Sprint and Clearwire, the hedge fund is already playing
in how wireless providers partner up.
Other hedge funds are also staking big bets.
Sprint was among David Einhorn-run
Greenlight Capital's
biggest new investments, while
Omega Advisors
, headed by Leon Cooperman, is in the interesting position of holding significant positions in both Sprint and
Dish Network
(DISH) - Get DISH Network Corporation Class A Report
as a
.
Asset managers
Owl Creek
,
MHR Investment Management
and
Mount Kellett Capital
also have significant wireless holdings.
The question is whether those investors also have an incentive to ensure the wireless industry is reconfigured in a way that will maximize the benefit to consumers.
There is the risk that consolidation efforts get tangled by the self-interest of standoffish investors such as Paulson, leaving the industry worse off, according to Ronald Gruia, a telecom analyst at
Frost & Sullivan
.
Gruia points to debt levels as crucial to the viability of the likes of T-Mobile and Sprint, in the wake of consolidation.
On that front, Paulson & Co. appears inconsistent when it comes to the firm's stance on merger proposals for MetroPCS and Sprint.
For instance, Paulson raised
to T-Mobile and MetroPCS's merger, in a deal that would have given the combined entity net debt of 3.6 times earnings before interest, taxes, depreciation and amortization.
The hedge fund, however, appears less concerned by Dish Network's
for Sprint, which will leave the merged company with net debt of 4.7 times EBITDA before revenue synergies with a net present value of $37 billion and $11 billion in cost savings take hold.
There is a differerence in that T-Mobile's parent,
Deutsche Telekom
, initially proposed to rollover $15 billion in intercompany debt as a consideration in its merger with MetroPCS. Dish, on the other hand, is simply financing an acquisition of Sprint.
Dish is offering $7 a share for Sprint, $4.76 in cash and about $2.24 in Dish stock.
Japan-based
SoftBank
is offering to make an $8 billion equity capital infusion into Sprint at $5.25 a share -- and a tender offer for 70% of company's existing shares at $7.30 -- in a move it said would revitalize the carrier's finances.
On Tuesday, Paulson
it favors Dish's proposal for Sprint over one offered by SoftBank, which, according to the fund's own
, will leave the merged entity with net debt of just 1.5 times EBITDA, in line with AT&T and Verizon.
While Gruia and other telecom analysts believe both Dish Network and SoftBank's proposals are serious and could have significant benefits to wireless consumers, some believe investors will end up opting for a higher offer from SoftBank.
"The Sprint shareholders, if they are smart about how they go about this, will get a better offer from SoftBank." said Gruia.
Supporting Dish's offer for Sprint, on the other hand, may turn out to be a negative for consumers given the up to $45 billion in debt the merged entity could carry.
"The longer term strength of the company will trump short term gains of the stickiness of the bundle," said Gruia of SoftBank's proposed recapitalization of Sprint, and Dish's proposed contribution of spectrum, broadband and satellite TV services.
In supporting Dish's proposal for Sprint, Paulson said in a statement, "Dish is offering more value to Sprint shareholders and also is contributing valuable spectrum, 14 million subscribers, cost synergies and revenue synergies."
Still, the fund's support for Dish's proposal, which Dish chairman Charlie Ergen said is a 13% premium to SoftBank's offer, could be an attempt to coax a bidding war.
"Dish needs to firm up the financing but it's a compelling offer and Ergen seems fully committed. It will be interesting to see how the Sprint Board and Softbank respond," Paulson added in his statement.
If Paulson is playing a game to draw higher bids, the risk, of course, is that SoftBank walks away from its offer.
"SoftBank believes that the agreed terms of our transaction with Sprint offer Sprint shareholders superior short and long term benefits to DISH's highly conditional preliminary proposal," the company said in a Tuesday statement.
"The SoftBank-Sprint transaction is in the advanced stages of receiving the necessary approvals and we expect to consummate the transaction on July 1, 2013 with the terms already agreed."
In opposing the initial terms of MetroPCS's takeover, Paulson & Co.
by T-Mobile CEO John Legere of
.
Paulson objected to such language and said the fund's focus was on debt reduction of the merged entity.
The fund
and said it would back an amended merger offer to lessen debt levels by $3.8 billion that also netted MetroPCS shareholders
.
For Paulson, getting better terms from SoftBank's proposed merger with Sprint, however, will likely increase the company's pro-forma debt. SoftBank will either have to raise its offer, or Paulson could back a Dish proposal that significantly increases the company's debt.
As hedge funds such as Paulson & Co. await a response from SoftBank and from Sprint's board of directors on merger efforts, they should prepare to explain what debt levels are sustainable for wireless providers such as Sprint and T-Mobile as they try and revive competition with cash-rich behemoths AT&T and Verizon.
Consolidation efforts, after all, should be targeted at making gains for consumers and not flighty hedge fund investors.
Overland Park, Kan.-based Sprint said on Monday its board of directors will evaluate Dish's proposal "carefully and consistent with its fiduciary and legal duties."
Sprint shares fell over 1% in Wednesday trading to $7.09 after jumping 13% on Monday following Dish's proposal. Dish Network shares fell slightly to $37.85.
-- Written by Antoine Gara in New York