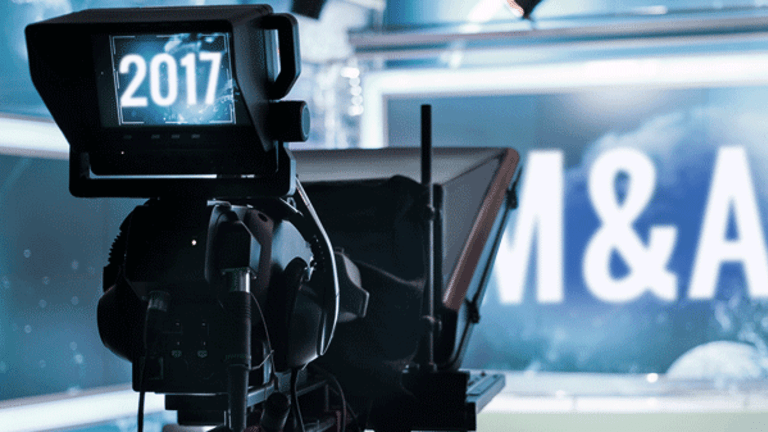 The Merger Frenzy Is On: Here's What to Expect from the Rest of 2017
This year's profitable trends look to persist into 2017.
Mars' announcement Monday that it would buy veterinary specialist VCA (WOOF) - Get Petco Health & Wellness Co. Report for $9.1 billion, which was coupled with a host of other multi-billion transactions, marks the first true Merger Monday of 2017.
And the spate of deals, which also included McDonald's (MCD) - Get McDonald's Corporation (MCD) Report agreement to sell a majority stake in its China business to Carlyle (CG) - Get Carlyle Group L.P. Report and Citic for $2.1 billion and Takeda's $5.2 billion deal for Leukemia drug maker Ariad (ARIA) , is likely to persist through the rest of the year, though don't expect them all to be such large-cap deals, according to experts.
The middle market, a sometimes un-sexy collection of companies that don't necessarily tickle the fancy of every retail investor, is still where the lion's share of deal activity is set to take place much as it did in 2016.
That's the prescription from Derek Lewis, managing director at Harris Williams & Co., a leading middle market investment bank. In a recent interview, Lewis characterized the M&A landscape in the middle market this year as constructive, effectively a continuation of the robust level of transactional activity that took place in 2014 and through 2015 -- two years regarded as reflective of the "animal spirits" in the M&A environment.
Several factors contribute to his outlook:
Private equity groups continue to raise significant amounts of capital,while already sitting on more than half a trillion dollars that needs to be invested.
Large corporations have healthy levels of capital themselves -- as much as $2 trillion in aggregate cash on the balance sheets of S&P 500 companies -- that will continue to fuel strategic interest in acquisition targets.
The credit markets continue to be accommodating toward lending finance for acquisitions, meaning that all the equity capital available for asset purchases can be multiplied by a wide measure.
What's more, Lewis said, previous years have seen deal flows deflate in the first quarter of the year, perhaps owing to the fact that worries about prospective changes in tax rates or regulatory environments had a tendency to pull what would have been some first-quarter transactions into the preceding fourth quarter. Lewis said that, based on the deal flow Harris Williams has been witnessing, he doesn't think the traditional first-quarter slowdown will transpire in 2017.
He added he doesn't think the outcome of the presidential election and the transition to a new administration would dynamically change the backdrop for M&A.
Even the prospect of higher interest rates, considered a given, shouldn't have a drastic impact on deal flow, Lewis said. While rising rates have conventionally been something of a headwind for the merger market -- certainly something that evidenced itself in the recession several years ago -- rates are coming off historically low levels and aren't expected to rise dramatically. Transaction activity is tethered more to the willingness of lenders to accommodate the leverage that acquirers are requiring than any fixed interest rate benchmark. 
Valuations are, and figure to remain, fairly robust, especially given that the public markets have ramped to record levels, continuing to inflate the expectations of asset holders. Nevertheless, the combination of dry powder on the part of financial sponsors, and the appetite on the part of strategics to grow by acquisitions in an environment when organic growth is tough to come by should continue to drive transactional activity into the new year, Lewis said.
EDITOR'S NOTE: This article was originally published by The Deal, a sister publication of TheStreet that offers sophisticated insight and analysis on all types of deals, from inception to integration. Click here for a free trial.