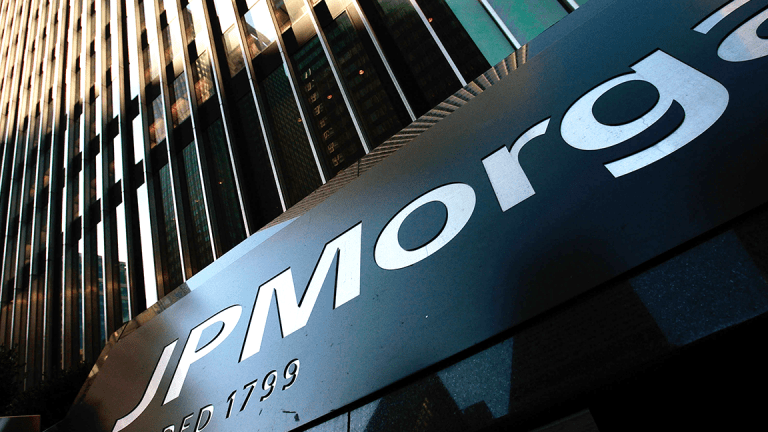 Changes to Federal Tax Law Just What the Doctor Ordered for Healthcare Firms
Healthcare executives meeting at JP Morgan Conference agree that new tax reform is good, but how it will impact the sector is not yet entirely clear.
Since the massive tax overhaul passed last month, speculation about whether the changes would cause biotech and pharma companies to step up their pace of mergers has been as hard to avoid as a Trump tweet storm.
This week's JPMorgan Healthcare Conference, the industry's annual gathering of companies and investors in San Francisco, didn't provide any solid answers on the subject, Instead it yielded just a few M&A bread crumbs, a windfall for Uber drivers and too many hangovers for more than a few bleary eyed execs.
Don't misunderstand -- the industry is greatly cheered over the changes to the tax code. Express Scripts (ESRX) CEO Tim Wentworth told investors they could expect action. "We will not be sitting on that cash, I can promise you that."
Cardinal Health (CAH) CFO Jorge Gomez said his company is looking forward to the longer-term effects and that the changes are "important and positive for us."
Allergan (AGN) CEO Brett Saunders said at the conference that any crush to get into M&A would likely take place 18 months down the line or even into 2019. Saunders, who saw Allergan's $160 billion buyout deal with Pfizer (PFE) in 2016 go away over inversion concerns, said his Dublin, Ireland-based company is in cost-cutting mode and might look at small deals in the second half of 2018.
Jeffrey Loo, head of healthcare research at CFRA Equity Research, says tax reform isn't the only thing driving M&A speculation. "The last two years, valuations have been relatively soft," he said. "Historically if you are looking at a company that has been valued at 20x and now it's 15X, shareholders might find that attractive."
The M&A query really has two parts. While the tax reform bill, the first major legislation to gain passage from the embattled Trump administration, provides for a decrease in corporate tax rates from 35% to 21%, it also allows for companies to bring overseas cash home to the U.S. at a 10% tax rate. Many observers have pointed to the decrease in tax rates as a source of new capital for companies looking to make acquisitions.
But in the company presentations and hallway chatter, the supposition was that a decreased tax rate was not a lock for moving the tempo of deals along. While companies were loath to hang a number on their tax rate, it was evident that most were not paying out at the top rate to begin with.
In truth, M&A activity in healthcare hasn't dried up in recent years. Johnson & Johnson's (JNJ) $30 billion acquisition of Actelion and Gilead's (GILD) $12 billion deal for Kite Pharma were the largest transactions to close last year.
Overall 2017 saw $52 billion in M&A take place, $2 billion less than the year before, according to data from Thompson Reuters. But it was 2015's $212 billion that has dealmakers feeling nostalgic and hoping that the tax break will not only help the industry find the gas pedal, but also bring larger transactions to market.
Abbott Laboratories CFO Brian Yoor praised the new tax structure, saying it was good for his company. Yoor said Abbott's effective tax rate was just 16.5%, a mark 4.5% less than the new rate. But Yoor alluded to the other consideration that might help amp up acquisitions. "What we like about tax reform is the flexibility it is going to provide to us." The company is focused on using the tax break to pay down debt, with acquisitions not on the menu.
Johnson & Johnson CFO Dominic Caruso said the tax reform would make it easier for U.S. companies to break potential acquisition deals down. He also said that the company planned on using its new capital for improving its dividend, then acquisitions. Johnson & Johnson will also use the tax savings for share repurchases.
Merck (MRK) CEO Meg Tirrell said that the ability to access cash stashed overseas will allow companies to approach M&A with more options.
Lost to a certain extent in all of the talk about tax reform and new-found cash is the idea that more M&A must be the outcome. As observers of the private equity markets know, just because there is cash on the sidelines, doesn't mean that deals must get done or that making a deal for the sake of closing a transaction is well advised. Biogen (BIIB) CEO Michel Vounatsos sounded a common sense note when he said that more cash via the tax break should not necessarily be the driver of more deals.
Medical instrument company Medtronic PLC (MDT) will have much better access to its cash, CEO Omar Ishrak told investors. The company expects to pay $2 billion to $3 billion in repatriation costs over the next eight years, but hopes to offset the expense via reinvestment.
While the majority of cash held outside the U.S. belongs to technology companies -- hello Apple Inc. (AAPL)  --  Loo of CFRA said Big Pharma has its share as well. "Companies like Johnson & Johnson, Pfizer and Merck have a ton of cash overseas as well. Having access to that for deals makes it easier."
Loo points to one other reason that M&A may pick up. "You won't get large cap pharma companies to say this, but their top-line growth for the last six or seven years has been driven by acquisitions," he said. "There is no reason to think they are going to stop when they have easier access to cash."
One likely sector that could see a jump in deals is hospital companies, according to Loo. "It makes sense that there will be more consolidation," he said. "Health insurance companies are getting bigger, PPMs and distributors are getting bigger and they are gaining leverage. Hospital consolidation could help hospitals get some leverage.
Loo said he thought one possible acquisition candidate was Community Health Systems (CYH) . "It's not a pristine company and anybody looking at them has to realize it, but they are a candidate."
Editor's note: This article was originally published by The Deal, a sister publication of TheStreet that offers sophisticated insight and analysis on all types of deals, from inception to integration. Click here for a free trial.
Jim Cramer and the AAP team hold positions in Allergen, Pfizer and Apple for their Action Alerts PLUS Charitable Trust Portfolio. Want to be alerted before Cramer buys or sells AGN, PFE or AAPL? Learn more now.
More of What's Trending on TheStreet: