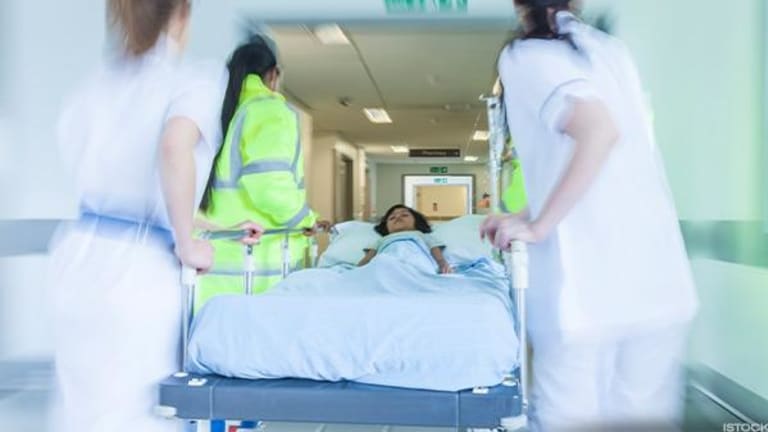 Health Care Uncertainty in a Trump Presidency
Trump and Republicans are eager to repeal Obamacare. Replacing it could be more complicated.
As President-elect Donald Trump prepares to take control of the White House and Republicans maintain their grip on the House and Senate, little clarity has come on how they will "repeal and replace" the Affordable Care Act.
Meanwhile, Trump's likely less-stringent approach to antitrust may encourage more consolidation in the health insurance industry. 
The two announced deals in 2015 have Aetna (AET) planning to take over Humana (HUM) - Get Report for $37 billion and Anthem (ANTM) - Get Report paying out $55 billion for Cigna (CI) - Get Report , but the Obama administration sued to block both.
Editors' note: This article was originally published by The Deal, a sister publication of TheStreet that offers sophisticated insight and analysis on all types of deals, from inception to integration. Click here for a free trial.
Editor's pick: This story was originally published on Dec. 22, 2016.
For now, however, all eyes are on the GOP's plans for Obamacare, or the lack thereof, which leaves the health care industry facing an uncertain future.
"Repeal and delay seems to be the topic du jour," Mizuho Securities analyst Sheryl Skolnick said by phone, referring to the oft-floated idea of House Speaker Paul Ryan's "A Better Way" plan to repeal Obamacare when the Republicans take office.
Once Obamacare is repealed, the plan gives lawmakers extra time to determine what the legislature can do to actually replace the law, which mandates that all Americans must have health care. According to Sanford Bernstein analyst Lance Wilkes, in a repeal-and-replace scenario, a new plan wouldn't take effect until 2019 or 2020. But that may cause insurers to walk away from more state health care exchanges set up in the wake of the law, 
Still, there is no real solution on how to actually replace the Affordable Care Act, especially as more Americans have health insurance than ever.
"People recognize the complexity of what's in place," Proskauer Rose partner Richard Zallsaid of the ACA. "There's no ready replacement that's comprehensive."
Congress and the Trump administration will seek to eliminate some of the most controversial provisions such as the individual mandate provision and subsidies on ACA exchanges, Zall suspects.
On the other hand, components that have bipartisan support, such as the legislation's protection against preexisting-condition exclusions and the transition toward value-based reimbursements from a traditional fee-for-service model, are more likely to remain in place, he said. Also likely to remain in place? A provision that allows young adults to stay on their parents' health care plan until age 26.
"That was one key piece for the ACA," Morningstar analyst Vishnu Lekraj said by phone. "It's going to be difficult to take away entitlements."
One way Republicans may manage this is by allowing patients to elect to have an even lower level of coverage. This will broaden the risk pool without becoming a huge burden on taxpayers.
"Our expectation is that enrollment can increase, but it'll be because the minimum required benefit level will decrease," Wilkes said. "Total lives may go up, but quality can decrease"
Wilkes noted that Republicans have also been looking at Medicaid block grants, although these may not benefit coverage areas equally. He added that this could be positive for companies that cover costs of Medicaid like Anthem.
There are likely to be variations when it comes to the Obamacare exchanges, Zall said.
"In states like New York or California that have strong state exchanges and a lot of insurers -- both national and regional -- I don't see any reason why they wouldn't continue or continue to be successful," Zall said. "But there's no question if subsidies are set back and generally insurers feel like it's a less stable market, in some states it could completely fall apart."
At direct conflict with Trump and Ryan's plan to repeal the Affordable Care Act are job creation initiatives.
According to Skolnick, there was a huge job creation boom when the act was put in place, as more doctors, nurses and hospital staff were needed to take care of an increasingly insured population.
"Does this go hand in glove with some job creation effort?" Skolnick asked. "Do you create jobs first and then demand people work?"
One huge question remains regarding the Affordable Care Act: how will the top five insurers respond?
The companies have certainly pulled back from individual markets as they grew more expensive to operate in. And now, as the Department of Justice faces off against Aetna's acquisition of Humana and Anthem's acquisition of Cigna, it's unclear what a Trump administration will do as far as enforcing antitrust laws.
The current Justice Department, FTC and the Obama administration have overseen a pretty aggressive resurgence of tough antitrust enforcement, whereas Trump on a macro level has suggested that he would be more accepting of large-scale M&A, Zall noted.
While the Aetna-Humana merger is certainly more likely to go through in light of the new administration, the courtship has not gone well for Anthem and Cigna, and so the outcome remains less certain.
The one company that Skolnick says is likely to avoid fallout from Obamacare's repeal is the mega-insurers' peer, UnitedHealth (UNH) - Get Report . The company is not mired in any sort of lawsuit, and it has pulled away significantly from the public markets.
"If there's a safe haven, it's UnitedHealth Group," Skolnick said.
Lekraj noted that it's likely that all five will be involved in the creation of any new public health insurance plan that the GOP comes up with. This likely involves cash spent on a lobbying effort.