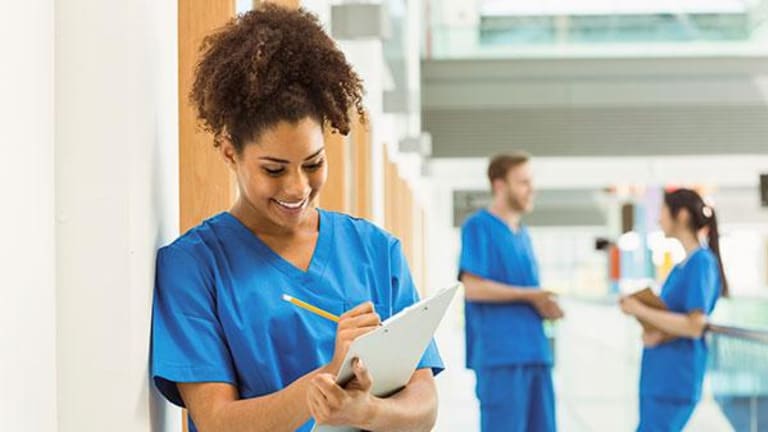 HCA Exits Oklahoma as It Continues to Outpace Peers
The company is ending a lease with its state university partner in Oklahoma and selling back the related operations for $750 million.
In the wake of continued challenges faced by some so-called peers of HCA Holdings (HCA) - Get HCA Healthcare Inc Report , the hospital and surgery center operator is selling its Oklahoma facilities back to its state university partner for $750 million while also posting third-quarter results that may offer some support to the whole healthcare services group. 
Nashville-based HCA has reached an agreement with the University Hospitals Authority Trust for the early termination of HCA's lease of The Children's Hospital at Oklahoma University Medical Center and an associated joint operating agreement. In connection with the deal, HCA will transfer the operations of its hospital operations in Oklahoma—including Oklahoma University Medical Center and OUMC Edmond—to an affiliate of University Hospitals Authority Trust.
The health services company will receive $750 million in connection with the agreement, which was announced late Wednesday before the Nashville company posted its third-quarter results. 
HCA reported revenue just short of analyst expectations at $10.27 billion, up from $9.86 billion from the same period a year ago, while adjusted Ebitda grew to $1.96 billion, from $1.82 billion, topping analysts estimates. 
The move to exit Oklahoma reiterates that the bulk of HCA's strategy is based on maintaining a heavy presence if not dominance in the markets in which it plays, Brian Tanquilut of Jefferies LLC said Thursday by phone. 
"HCA is industry leading in terms of their performance," Tanquilut said. "They have the flexibility to invest in growth, whereas the other guys have kind of been hampered."
RBC Capital Markets' Frank Morgan described the Oklahoma transaction as an economic decision, explaining that based upon terms of the lease structure, they couldn't make the desired capital investment to justify staying in the market. 
From a valuation perspective, HCA also looks to have fared well from the Oklahoma sale.  
"HCA did easily what other peers seem to be having trouble with: selling an asset for a nice multiple and a good amount of cash," wrote Sheryl Skolnick of Mizuho Securities USA in a report. 
According to American Hospital Directory data, the company's Oklahoma operations had about $104 million in Ebitda before restructuring or rent costs, implying a 7.2 times multiple on year-old data, the analyst noted, adding that it might translate to an even higher multiple of Ebitda. 
"We would caution investors to read anything through to other hospital companies' pending asset sales though: this was clearly a special case, given the OU relationship and the fact that HCA ran the operations."
HCA's Oklahoma transaction and what were arguably solid results given a challenging environment come as troubled rural hospital operator Community Health Systems (CYH) - Get Community Health Systems, Inc. Report disappointed investors with preliminary third-quarter results that raised concerns about its ability to remain in compliance with its debt covenants.
The company lost nearly 50% of its value Thursday afternoon, tumbling to about $5.08.
The Louisville, Ky.-based company is trying to sell a dozen hospitals while carrying out a strategic review that involves discussions with financial buyers around the rest of its business.
Still, Community Health is largely an animal of its own, and separately, HCA's performance is widely viewed as an industry bellwether to the entire healthcare services industry, Tanquilut noted. 
"Frankly, HCA's numbers give a little bit of support to the group," he said, noting volume concerns across the healthcare provider universe. 
"We see HCA's valuation as appropriately moving away from the pack as the market segments those who can and those who can't run hospitals," Skolnick added. 
Shares of HCA added less than 1%, to $79.70 a piece, Thursday afternoon, joined by Universal Health Services (UHS) - Get Universal Health Services, Inc. Class B Report , whose shares climbed about 2.9%, to $122.59.
Tenet Healthcare (THC) - Get Tenet Healthcare Corporation Report shares fell 3.8%, to $20.77, LifePoint Health (LPNT) shares dropped 4.3%, to $57.30, and Quorum Health (QHC) - Get Quorum Health Corp. Report shares stumbled 7.6%, to $4.38.