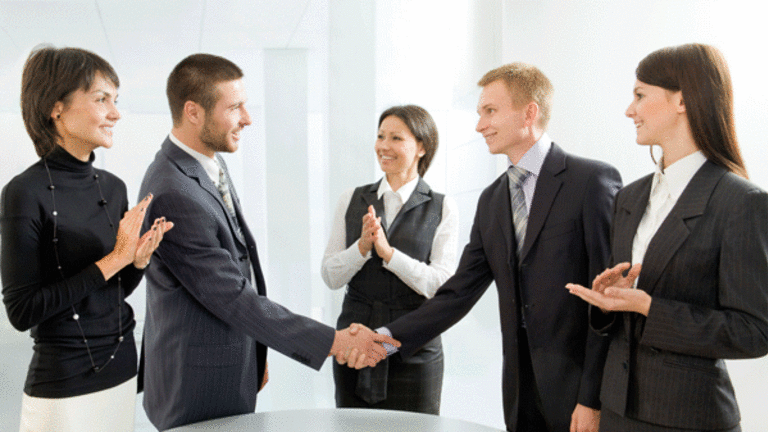 Harman Strikes Two Deals to Extend its Infotainment Lead
Harman snaps up two technology companies in a bid to gain scale in the software services arena and connect various digital devices in homes and cars.
NEW YORK ( TheDeal) – Audio products maker Harman International Industries (HAR) is spending nearly $1 billion on a pair of acquisitions as it looks to gain scale in software services and accelerate the use of its technology to connect various digital devices within automobiles and homes.
Stamford, Conn.-based Harman is buying Symphony Teleca from Palo Alto, Calif.-based private equity firm Symphony Technology Group for $780 million and is spending $170 million to buy venture capital-backed Red Bend Software.
Harman is evaluating long-term debt financing alternatives, including how to raise $450 million in additional cash by year's end, Harman CFO Sandra Rowland said on a call with investors Thursday morning.
"It represents a defining moment in our company's transformation story," Harman CEO Dinesh Paliwal said on the call in reference to the two acquisitions.
The acquisitions will extend Harman's lead in infotainment systems — technology that integrates vehicle navigation, entertainment, communication and mobile systems — especially in high-end European car models, said Ivan Feinseth, chief investment officer and partner at Tigress Financial Partners.
He said for those automakers, such technology will improve margins, while for drivers, it will provide more safety.
"I like these acquisitions because the whole thing's about connecting the car," Feinseth said. "Really forward-thinking, big-picture technology companies have to think five steps ahead — what the cars of 2020 will be like — and then line up the technology that will enable it today,"
The larger, and seemingly more transformative, of the two deals is that of Mountain View, Calif.-based Symphony Teleca, whose various software services help cars, homes, enterprises and mobile devices integrate and connect different devices. Symphony Teleca has 8,000 employees, mostly software engineers and designers.
"With this acquisition, we are effectively gaining and building a high-margin and high-growth business," Paliwal told investors, adding that the Symphony Teleca deal would be accretive to its adjusted earnings per share in fiscal 2016.
Symphony Teleca, which competes with the likes of Persistent Systems and iGate (IGTE) , serves customers including Google (GOOG) - Get Report , Microsoft (MSFT) - Get Report , Intel (INTC) - Get Report , Adobe Systems (ADBE) - Get Report , Jaguar Land Rover Automotive, Verizon Communications (VZ) - Get Report , Comcast (CMCSA) - Get Report , Sirius XM Holdings (SIRI) - Get Report and Tesco (TESO) .
Symphony Teleca's CEO, Sanjay Dhawanhich, will join Harman as president of a new software and services division, which will become a fourth operation to add to Harman's stable of infotaiment, lifestyle and professional businesses.
Symphony Teleca shareholders will receive $548 million of the $780 million consideration at the closing of the deal, including $382 million in cash and $166 million in Harman stock. The remaining consideration, as well as an earnout component contingent on the target reaching a certain revenue target in 2015, will be paid during the first quarter of calendar 2016.
In 2014, Symphony Teleca generated $60 million in adjusted Ebitda and about $370 million in revenue, with about half from its mobile and automotive divisions.
Excluding the potential earnout, that implies Harman paid about 13 times the target's 2014 adjusted Ebitda and 2.1 times its revenue.
Harman's separate $170 million acquisition of Red Bend Software is comprised of about $99 million in stock and $71 million in cash.
Red Bend may receive an additional payment of up to $30 million in the first quarter of 2017 if it meets specific targets.
Red Bend, based in Waltham, Mass., has venture backing from Carmel Ventures, Coral Group, Greylock Partners, Pitango Venture Capital, Poalim Capital Markets Group and Infinity Equity.
The acquisition of Red Bend will be rolled into Harman's infotainment arm, providing it with over-the-air (OTA) software for connected devices and virtualization technology for safety purposes.
Paliwal described Red Bend as a pure technology play that Harman plans on scaling up rapidly, noting on the call that Red Bend generates sales of less than $50 million. Red Bend's customer base includes major headset makers and mobile carriers, including Samsung Electronics (SSNLF) , Sprint (S) - Get Report , AT&T (T) - Get Report , Huawei Technologies, as well as automotive original-equipment manufacturers based in Europe and North America.
Last year, Harman beefed up its professional division, shelling out $365 million to buy AMX from Duchossois Industries.
The AMX acquisition, which closed on June 13, gave Harman a slew of visual and audio-related products serving venues including classrooms and conference rooms.
Before that deal, Harman acquired Martin Professional, a Danish lighting company, from Aktieselskabet Schouw for about $162 million in December 2012.
Harman shares remained relatively flat on Thursday, adding less than 1% to finish at $98.88, bringing its market capitalization to almost $6.8 billion.
Wachtell, Lipton, Rosen & Katz provided legal counsel to Harman on its acquisition of Symphony Teleca with a team led by corporate partners Joshua R. Cammaker and Gordon S. Moodie and including Nancy B. Greenbaum, Iliana Ongun, Remi P. Korenblit, David E. Kahan, Rohit A. Nafday, Deborah L. Paul, Michael Sabbah and Joseph D. Larson.
In-house, Harman was advised by general counsel Todd Suko, CFO Sandy Rowland, vice president of M&A, Charles Owen, and associate general counsel, Marisa Iasenza.
JPMorgan Securities' David Walker and Jay Hoffman provided financial advice to Harman.
Shearman & Sterling's Steve Camahort, along with Orrick Herrington & Sutcliffe LLP's Mitch Zuklie, Richard Vernon Smith, Jeannie Shin, Daniel Lopez, Christine McCarthy, Daniel Yost, Harry Clark, Steve Malvey, Isabel Ajuria and Kimberly Loocke provided legal counsel to Symphony Teleca on the deal.
Officials with Harman, Symphony and Red Bend didn't return calls or e-mails on Thursday.