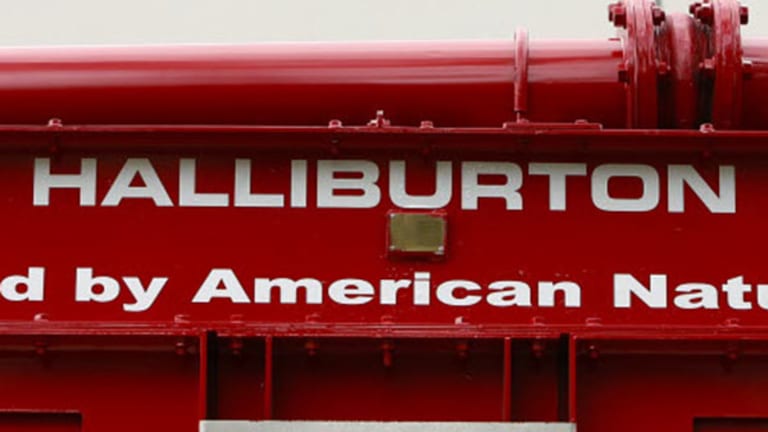 Halliburton Working Hard to Close $27.5 Billion Deal for Baker Hughes Soon
The oilfield services giant still believes it can complete its big acquisition of its rival in 2015.
NEW YORK (The Deal) -- Halliburton (HAL) - Get Free Report still believes it can close its $27.5 billion plan to acquire oil field services rival Baker Hughes (BHI) in 2015, according to a source familiar with talks between the company and the Department of Justice.
There have been reports that the transaction could face delays because of the complex nature of divestitures the DOJ will require in order to grant approval for the transaction and concerns that the company may not be able to find buyers strong enough to be viable competitors to the major services providers.
The companies' merger agreement does allow the deal to be extended into 2016 if the Department of Justice's antitrust review goes longer than expected. Halliburton on Aug. 2 certified that it has complied with the DOJ's information request about the deal, a step that obligates the DOJ to wrap up its investigation in 30 days unless Halliburton agrees to give the agency extra time.
But the source said the company is investing a lot of effort in soliciting and vetting upfront buyers for various assets the DOJ is expected to order sold. In addition to giving the DOJ time to get comfortable with the prospective divestiture buyers, Halliburton is allowing the suitors to conduct due diligence on the assets too.
"They're not doing anything revolutionary or unusual, but they think this strategy will allow them to make up time on the back end that they might be losing on the front end," the source said. "Their strategy since the beginning has been to identify problem areas that the DOJ is likely to order sold and to make sure the buyers are going to be acceptable to the DOJ. The best way to do that is to make sure the buyers are fully informed so they understand what they are buying and not buying and can build business plans around the assets being divested, which the DOJ will want to see."
Halliburton has said it is currently seeking buyers for its Fixed Cutter and Roller Cone Drill Bits business and its Directional Drilling and Logging-While-Drilling/Measurement-While-Drilling business. In addition, it is offering to divest additional businesses that competition authorities may deem necessary to spin off.
A significant number of buyers have expressed interest and deals could be reached with either existing players in the oil field services business or with private equity buyers, the source said. Industry experts have predicted that competitors likely to be interested in buying divested properties are National Oilwell Varco (NOV) - Get Free Report, Weatherford International (WFT) - Get Free Report, Siemens (SI) - Get Free Report and GE Oil & Gas.
The DOJ has not yet blessed the adequacy of any of Halliburton's proposed divestitures, the source added.
In recent weeks, DOJ and Federal Trade Commission officials have stressed that presenting them with an upfront buyer can speed the crafting of settlements necessary to remedy potentially anti-competitive mergers. Upfront buyers are particularly important in transactions where the assets to be divested are unlikely to survive as independent, stand-alone businesses. Aaron Hoag, speaking at an American Bar Association discussion on merger remedies July 29, said that in recent years the DOJ has insisted on upfront buyers in roughly two-thirds of the settlements it has reached with merging parties.
Halliburton's effort to get an upfront buyer contrasts with Baker Hughes' approach when it acquired BJ Services Co. in 2010. In that deal Baker Hughes closed the transaction in April after agreeing to shop its Gulf of Mexico stimulation and offshore sand control operation, a relatively small divestiture that was ultimately sold to Superior Energy Services Inc. three months later for $55 million.
In that case, Baker Hughes had to write a Confidential Information Memorandum describing the business and create a data room for conducting due diligence, all after closing the deal with BJ. The unit slated for divestiture operated as a separate entity from Baker Hughes until the sale to Superior closed. The source said that approach is unlikely to be favored by DOJ in the Halliburton/Baker Hughes transaction because of the more complex nature of the assets likely to be sold.
The source also said the divestitures likely to be ordered by the DOJ are not expected to be so broad as to kill Halliburton's appetite for the transaction, noting that broad lines of business like completion and stimulation that Halliburton would be reluctant to pare off can be broken into narrower segments quite easily.
Read more from: