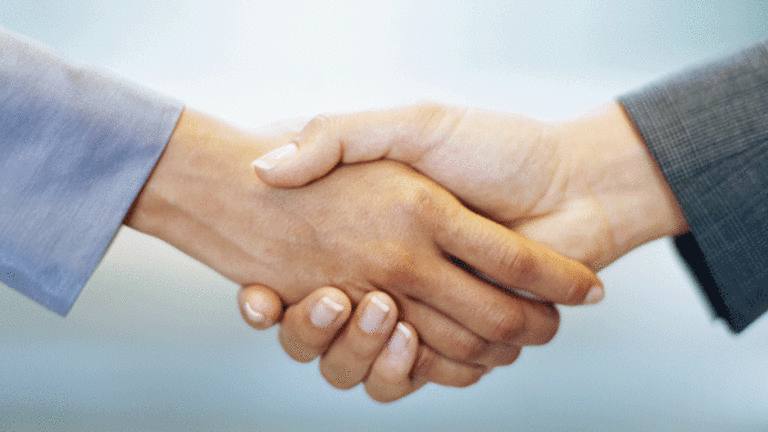 Halliburton will Jump to No. 2 with its $35 Billion Baker Hughes Deal
Merger would create the second largest energy services provider in the world.
After rumors and tumultuous negotiations that became hostile, Houston-based Halliburton Co. (HAL) - Get Halliburton Company Report announced Monday, Nov. 17, it agreed to buy crosstown rival Baker Hughes Inc. (BHI) for $34.6 billion in equity in a deal with an enterprise value of $38 billion.
If the deal closes, the new company will be the world's second biggest energy services provider after Schlumberger Ltd. (SLB) - Get Schlumberger NV Report .
The price includes $19 per share in cash and 1.12 of a Halliburton share for each Baker Hughes share totaling $78.62 per share, a 40.8% premium over Baker Hughes' stock price on Oct. 10, the day before Halliburton's initial offer, and a 54% premium to Baker Hughes' closing price on Nov. 12, the day before reports about a potential deal began surfacing.
Halliburton said that, over longer time periods, the deal represents a one year premium of 36.3%, a three year premium of 34.5% and a five year premium of 25.9%.
RBC Capital Markets analyst Kurt Hallead had expected $80 to $95 per share.
Baker Hughes stockholders will end up with 36% of the combined company. The combined company's board is expected to expand to 15 members, three from Baker Hughes. Halliburton agreed to withdraw the slate of directors it had nominated to Baker Hughes' board.
Halliburton said the value represents 8.1 times estimated Ebitda for this year and 7.2 times estimated Ebitda for next year.
Halliburton intends to finance the $8 billion cash portion of the deal through cash on hand ($2 billion as of the third quarter) and fully committed debt financing.
Both companies' boards have approved the deal, which requires approval by shareholders on both sides and regulators.
Halliburton said the two sides' advisers have evaluated the likely actions needed to win regulatory approval and would agree to sell businesses that generate up to $7.5 billion in revenues, if required, although the company thinks it will be much less.
Halliburton has agreed to pay a breakup fee of $3.5 billion if the deal fails because it doesn't clear regulators.
The transaction is expected to close in the second half of 2015.
RBC's Hallead said the combination would have at least seven major business lines that exceed U.S Justice Department thresholds for market concentration post-merger. He thinks that Halliburton would likely need to divest all or part of the drill bits, logging-while-drilling, cementing and drilling fluids businesses to appease them, which he estimates generate annual revenue of $5 billion and Ebitda of $1 billion.
The deal follows rumors of a deal on Thursday and Baker Hughes confirming late Thursday that it was talking to Halliburton. On Friday, Baker Hughes revealed more information about the negotiations, including the fact that Halliburton made an unsolicited offer to buy it on Oct. 13, with a key date in the timing of a response of Nov. 14, the deadline to nominate directors to Baker Hughes' board.
On Friday, Baker Hughes noted in a statement there had been a number of exchanges between it and Halliburton in November over deal terms, including concerns about antitrust issues, the price, the initial lack of a termination fee and the deadline that Halliburton had set of Nov. 14 for the target to accept the proposal or face a slate of directors nominated by the would be acquirer. (Nov. 14 was Baker Hughes' deadline for director nominations.)
It's not the first time the two companies had been discussing a deal. Baker Hughes also revealed that the two companies signed a confidentiality agreement back in 2005. That's not unlike another big deal in the sector — the 2010 $11.3 billion Schlumberger-Smith International Inc. merger, which showed discussions started in 2005 before ultimately turning into a del.
Global Hunter Securities Inc. analyst Mark Brown said the combination could trigger other M&A activity for other sector participants to remain competitive, with potential targets include C&J Energy Services Inc. (CJES) , Superior Energy Services Inc. (SPN) and Weatherford International plc (WFT) - Get Weatherford International plc Report along with various other smaller companies, all of which would have significantly less antitrust risk than a Baker Hughes-Halliburton combination.
Halliburton says the transaction combines complementary products and services into a comprehensive offering to oil and natural gas customers. The combined company would have had 2013 sales of $51.8 billion, 136,000 employees and operations in 80 countries.
Halliburton chairman and CEO Dave Lesar, who will remain in those positions at the combined company, said in a statement that the deal will create a "bellwether" global oilfield services company and offer compelling benefits for the stockholders, customers and other stakeholders. "The transaction will combine the companies' product and service capabilities to deliver an unsurpassed depth and breadth of solutions to our customers, creating a Houston-based global oilfield services champion, manufacturing and exporting technologies, and creating jobs and serving customers around the globe," he said.
Lesar noted that Baker Hughes stockholders will immediately receive a premium and have the opportunity to participate in the upside potential of the combined company. "Our stockholders know our management team and know we live up to our commitments," he said. "We know how to create value, how to execute and how to integrate in order to make this combination successful."
The deal is expected to yield annual cost synergies of nearly $2 billion and add to Halliburton's cash flow by the end of the first year after closing and to earnings per share by the end of the second year. "We anticipate that the combined company will also generate significant free cash flow, allowing for the return of substantial capital to stockholders," Lesar said.
Baker Hughes chairman and CEO Martin Craighead said in a statement that the deal brings its stockholders a "significant" premium and the opportunity to own a "meaningful" share in a larger, more competitive global company. "By combining two great companies that have delivered cutting-edge solutions to customers in the worldwide oil and gas industry for more than a century, we will create a new world of opportunities to advance the development of technologies for our customers," he said. "We envision a combined company capable of achieving opportunities that neither company would have realized as well — or as quickly — on its own, all while creating exciting new opportunities for employees."
Lesar said the two will establish a team to develop an integration plan to make the post-closing transition "as seamless, efficient and productive as possible."
Halliburton said the deal's benefits include leveraging complementary strengths to create a company with an unsurpassed breadth and depth of products and services, including increased capabilities in the unconventional, deepwater and mature asset sectors and substantial and improved growth opportunities.
Halliburton also said the deal generates opportunities for synergies coming from operational improvements, especially North American margin improvement, personnel reorganization, real estate, corporate costs, research and development optimization and other administrative and organizational efficiencies, and enables increased cash returns to stockholders, including dividends and share repurchases.
Halliburton expects the company will maintain a strong investment grade credit profile and substantial financial flexibility.
Credit Suisse's Greg Weinberger and Osmar Abib and Bank of America Merrill Lynch's Oscar Brown, Alastair Hunt, Tim Keller Amy Pincu are financial advisers for Halliburton, with Bank of America as lead arranger along with Credit Suisse providing fully committed debt financing to support the cash part of the transaction.
Baker Botts LLP and Wachtell, Lipton, Rosen & Katz provided Halliburton with legal counsel. The Baker Botts attorneys included Kelly Rose, David Kirkland, Steve Massad, Jim Marshall, Carina Antweil, John Geddes, Travis Wofford, Lakshmi Ramanathan, Jamie Yarbrough, Sarah Dodson, Heather Hewitt, Sarah Berens, Sean Boland, Paul Cuomo, Tom Fina, Chris Cooper, Ryan Foley, Matthew Adler, Catriona Hatton, Georg Berrisch, David Cardwell, Elena Cortes, Simina Suciu, Martin Toulouse, John Finelli, Jenny Zhang, Gail Stewart, Chris Pratt, Don Lonczak, Peter Farrell, Richard Husseini, David Sterling, Danny David, Herman Russ, Mark Miller, Jeffrey Munk, Aileen Hooks and Luke Pedersen. The Wachtell attorneys included Daniel Neff, David Katz, Gregory Ostling, Victor Goldfeld, Chelsea Darnell and Joseph Larson.
Goldman, Sachs & Co.'s John Vaske, Sean Rice and Gordon Dyal are providing financial advice to Baker Hughes. Providing legal advice are Davis Polk & Wardwell LLP's George "Gar" Basin Jr., Arthur Golden and Michael Davis and Wilmer Cutler Pickering Hale and Dorr LLP's Molly Boast, Hartmut Schneider, Jim Lowe, John Ratliff and Nicole Lindquist. Other Davis Polk attorneys working on the deal include Laura Turano, Evan Rosen. Jeffrey Crandall, Ron Aizen, Betty Moy Huber and Avishai Shachar.
This article is commentary by an independent contributor, separate from TheStreet's regular news coverage.