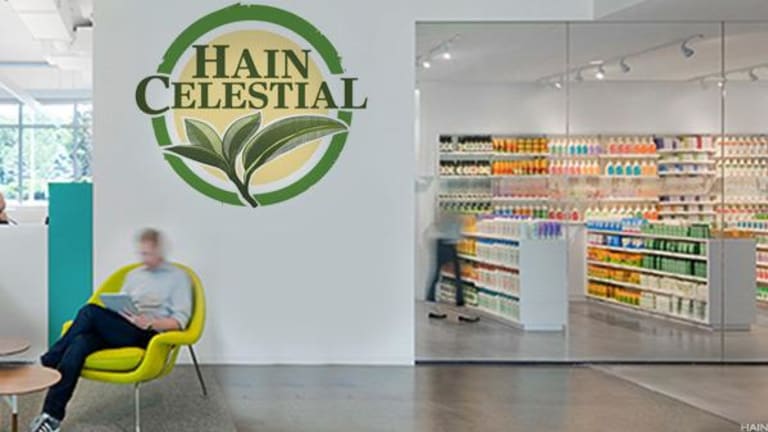 Pepsico, Pinnacle Foods Likely to Kick Tires at Hain After Activist Takes Helm
The organic food company should probably sell part or all of itself in pieces, according to company followers. Potential bidders for all or part of the company could include PepsiCo, Campbell Soup, Hormel Foods, General Mills, Kraft Heinz among others.
A sale of all or part of Hain Celestial Group Inc.'s (HAIN) sprawling portfolio is likely, following a settlement with activist shareholder Engaged Capital LLC, and the number of potential bidders and options is just as sprawling.
One person familiar with Hain said that amid all the activity in the space, any one company could buy Hain, but no obvious bidders sprung to mind. A person familiar with Engaged previously told TheStreet's sister publication The Deal that potential bidders for all or part of the company could include PepsiCo Inc. (PEP) , Campbell Soup Co. (CPB) , Hormel Foods Corp. HRL, General Mills Inc. (GIS) , Kraft Heinz Co. (KHC) , Nestle SA and Unilever NV (UN) .
"Hain Celestial welcomes and values the opinions of its shareholders and is open to constructive ideas that may enhance shareholders as Hain Celestial executes on a number of strategic initiatives to drive the next phase of growth and realize its full potential," a Hain spokeswoman said by email. Engaged declined to comment.
Engaged, Hain's largest shareholder with a 9.98% stake, will bring on six new directors at the organic food company, with the fund's manager, Glenn Welling, joining a newly-formed strategic review committee. Centerview Partners LLC will advise the committee on the review, a source familiar with the matter said. This person added that Welling wants Hain to consider selling itself as well as push the company to boost revenue through a stronger approach to sales and promotion.
One possible buyer for the entire company is Nestle, a person familiar with Hain said. Hain's enterprise value of about $5 billion wouldn't move the needle for the Swiss food giant, with a market capitalization of over 250 billion Swiss francs ($266 billion), while other bidders would likely need to lever up. This person also noted that both the United States, where Hain's portfolio is concentrated, and organic foods are areas of focus for Nestle.
Loop Capital Markets LLC analyst Andrew Wolf believes Hain is worth $42 to $56 per share based on its current growth.
If Hain succeeded in "get[ting] some momentum going," he said by phone, that valuation range grows and narrows to $55 to $63 per share. The rosier projections are predicated on Hain increasing its U.S. sales growth by mid-single digits, similar to the growth exhibited by Campbell's Pacific Foods and the Reckitt Benckiser Group plc food business acquired by McCormick & Co. (MRC) in July for $4.2 billion.
Wolf's two scenarios would assign Hain an equity valuation of $4.3 billion to $5.8 billion and $5.7 billion to $6.5 billion. The company has $147 million in cash on hand and $750.1 million in debt, for an enterprise value of $4.9 billion at the lowest end and $7.1 billion at the highest. 
If Hain managed to achieve that growth, "the buyer will know there's resilience in the brand and there's a lot of brand equity because they were able to respond to a marketing plan, whatever that would be," Wolf said. "Some brands don't have resiliency."
Recent transformative organic food acquisitions, the person familiar pointed out, include General Mills' $821 million purchase of organic children's food maker Annie's Inc. in 2014, Pinnacle Foods Inc.'s (PF) $975 million purchase of healthy food company Boulder Brands Inc. in 2015 and Danone SA's $12.5 billion acquisition of WhiteWave Foods Co., which closed April 12.
It's notable that Hain hasn't yet been acquired, this person said, attributing the fact to Hain's large portfolio of small brands. In contrast, WhiteWave had a compelling niche in plant-based products and Annie's a very strong brand. Most large strategics have already built a route to market for natural and organic channels themselves, obviating the need to purchase Hain for that reason alone. 
Hain's portfolio includes 37 brands, 11 of which represent about 80% of the company's sales: Celestial Seasonings tea, Dream dairy-free milk, Earth's Best baby food, Garden of Eatin' tortilla chips, Imagine soups, MaraNatha nut butter, Sensible Portions vegetable chips, Spectrum oils, Terra potato chips, Greek Gods yogurt and Alba Botanica skin products.
Lake Success, N.Y.-based Hain will likely benefit from a busy summer among packaged food companies pursuing organic, natural or healthy food products. Conagra Brands Inc. (CAG) last week acquired Boomchickapop ready-to-eat popcorn maker Angie's Artisan Treats LLC for undisclosed terms, while on Sept. 7 Nestle, under activist pressure to improve its healthy offerings, acquired vegetarian food maker Sweet Earth Inc. In August B&G Foods Inc. (BGS) paid $162.5 million for SnackWell and Back to Nature parent Back to Nature Foods Co. LLC, days after privately held Mars Inc. bought natural ready-to-eat Asian food maker Preferred Brands International Inc. Campbell announced its largest acquisition since 2012 on July 6, paying $700 million for organic soup maker Pacific Foods of Oregon Inc., or about 3.2 times its net sales of $218 million.
Still, most agreed that Hain would be better off selling its disparate individual assets rather than the entire company itself.
"We think significant pruning will need to take place there before strategic buyers emerge," wrote Pablo Zuanic of Susquehanna Financial Group LLLP.
Jefferies LLC analyst Akshay Jagdale also predicted that Hain will not sell itself in its entirety. A "forced sale of the business in parts" would result in a sum-of-the-parts valuation of $50 per share. However, Hain could achieve a valuation of $70 per share in one of two ways: the successful execution of its existing business plan, resulting in Ebitda of $350 million to $375 million by next year and $500 million by 2020, or by management changes and the sale of its protein and personal care assets, "leaving the company with a much more streamlined portfolio and higher margins and valuation."
Pinnacle would realize the most accretion in his analysis; other potential bidders include General Mills, Conagra, Kellogg Co. (K) and Campbell. Conagra, which reportedly attempted to buy Pinnacle, has hinted recently at appetites for a large acquisition, noted Sanford C. Bernstein & Co. LLC analyst Alexia Howard.
"Our conversations with Engaged and HAIN suggest that an outright sale of the 'parts' is not preferred and based on our analysis will not yield the best result for shareholders," Jagdale wrote, adding, "We believe our views are likely in line with how the activists are thinking of the value creation pathway."
The person familiar with Hain agreed that there's more value selling each business, which, all told, could value Hain at just under $50 per share. This person compared Hain to Sara Lee Corp., which in 2012 split into a meat company, Hillshire Brands Co., and a coffee company, D.E. Master Blenders 1753 NV. Before the split, Sara Lee unloaded billions of dollars' worth of noncore assets, selling, among others, its global shoe care business to SC Johnson & Son Inc. for $326 million, its body-care business to Unilever for $1.9 billion, its Ambi Pur air-care business to Procter & Gamble Co. (PG) for $404 million, its North American bakery business to Grupo Bimbo SAB de CV for $959 million, its North American foodservice coffee and tea business to J.M. Smucker Co. (SJM) for $400 million and its North American refrigerated dough business to Ralcorp Holdings Inc., now part of Conagra, for $545 million.
Sara Lee was able to fetch high valuations for these assets because the buyers could achieve large synergies without having to lever up or embark on a long, difficult integration process. In a similar vein, Kellogg might want the Terra chip brand, Tyson Foods Inc. (TSN) could bid for Hain's Plainville organic poultry business and Danone and General Mills may buy Hain's yogurt or Ella's Kitchen baby food brands.
Even before Engaged revealed its Hain stake, the company had been making changes, including appointing Nestle veteran Gary Tickle COO and then CEO of Hain's North America business and tasking other outsiders with instilling credible marketing and pricing programs, the source added.
CEO Irwin Simon founded the organic food company in 1993, and since then both organic products and private label brands have become more common, compressing margins. Simon's decision to settle with the activists and add outsiders to a friendly and insular board means a sale is by no means impossible, the person said, comparing Simon to John Mackey, the longtime CEO of Whole Foods, claimed activist investor Jana Partners LLC was trying to force a sale to make a quick return, only to speak glowingly of his partnership with eventual acquirer Amazon.com Inc. (AMZN). 
Simon's success in building Hain into a $5 billion pure-play organic food company encouraged competitors to also enter the industry. He may view cooperation with Engaged as the lesser of two evils in an ever-more competitive packaged food environment, this person added.
More of What's Trending on TheStreet: