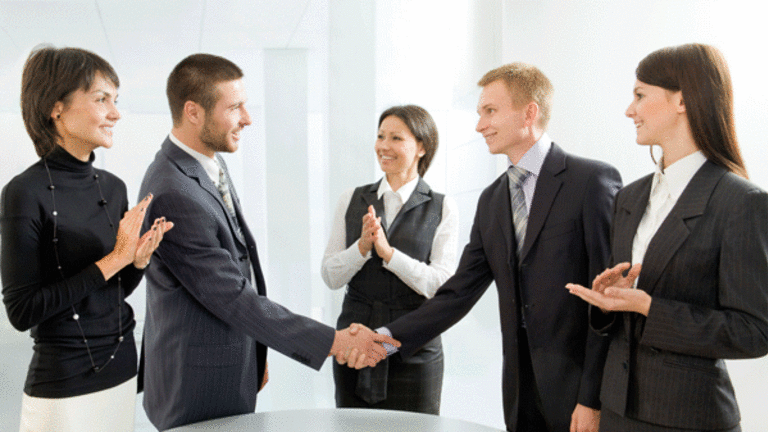 GSK Keen to Keep Some Emerging Markets Drugs
Blackstone, KKR and Advent are among the recipients of sales information for the brands on the block.
Blackstone, KKR and Advent are among the recipients of sales information for the brands on the block.
LONDON (The Deal) -- The U.K.'s GlaxoSmithKline (GSK) - Get Report will probably keep emerging-markets rights to some of the nearly 50 established drugs it has begun shopping after last year's spinoff of the products into a separate unit which had 2013 sales of about £3.8 billion ($6.4 billion).
People familiar with the situation said sales information has gone out to potential bidders including Blackstone Group (BX) - Get Report, Kohlberg Kravis Roberts and Advent International. Whether the buyout firms will participate in the bidding was unclear, with one source saying it was too early to make a decision.
The British company has already sold thrombosis and migraine treatments in separate deals, and one person familiar with the situation sees GlaxoSmithKline's established products portfolio, or EPP, as most likely to be sold in pieces. The company, which is reportedly advised by Lazard, is shopping assets including anti-depressant Seroxat and malaria treatment Malarone.
The London pharmaceuticals company has begun reporting results from the EPP separately after announcing the spinoff plans in April 2013. First-quarter EPP sales were £814 million, a decline of 11% year-on-year, and operating profit was £485 million, down 12%.
Just over half of the unit's revenue comes from Europe and the U.S., where GlaxoSmithKline would look to sell rights to the largely off-patent drugs.
The U.K.'s No. 1 drugmaker wants to focus on its vaccine business, where it is the market leader as well as consumer healthcare and treatments for respiratory disorders and HIV.
In April, it boosted its vaccine and OTC healthcare business through deals with Switzerland's Novartis, which at the same time agreed to pay $16 billion for the London company's oncology business, minus the rights to products under development. The vaccine business purchase excluded Novartis' flu vaccine. The Novartis deals would have added £1.3 billion to GlaxoSmithKline's £26.9 billion in 2013 revenue, the British group said at the time.
GlaxoSmithKline closed £2.5 billion of disposals last year. In September, it agreed to sell its Lucozade and Ribena drink brands to Japan's Suntory Beverage & Food for £1.35 billion and to sell its Arixtra and Fraxiparine thrombosis treatments to South Africa's Aspen Pharmacare Holdings for £700 million.
Earlier this month, Pernix Therapeutics Holdings (PTX) - Get Report of Morristown, N.J., agreed to buy the U.S. rights to GlaxoSmithKline's migraine treatment Treximet for $250 million up front.