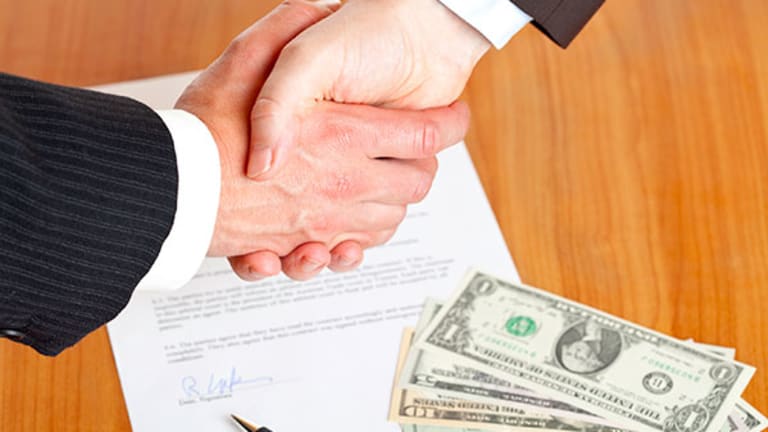 Great Plains to Acquire Westar for $8.6B
The deal, which had been rumored, is expected to create long-term value for shareholders and cut costs for customers.
As had been rumored, Great Plains Energy (GXP) said Monday it agreed to acquire Topeka, Kan., utility Westar Energy (WR) for $8.6 billion to boost shareholder value and lower costs for customers.
The transaction is expected to have an enterprise value of $12.2 billion, including $3.6 billion in Westar debt.
Westar shareholders will receive $60 per share, including $51 in cash and $9 in Great Plains stock. The amount of stock is subject to a 7.5% collar based on Great Plains' stock price at closing, with an exchange ratio between 0.2709 to 0.3148 of a Great Plains share for each Westar share. The deal is made up of about 85% cash and 15% stock.
Westar's shares jumped 7.8% in pre-market trading to $57.05. Great Plains' stock was down 9% to $28.20.
Kansas City, Mo.-based Great Plains said it's secured $8 billion in committed debt financing from Goldman Sachs Bank USA and Goldman Sachs Lending Partners LLC for the cash portion of the deal as well as a $750 million mandatorily preferred convertible equity commitment from the Ontario Municipal Employees Retirement System funded at closing. Great Plains said it plans to issue long-term financing of equity, equity-linked securities and debt before closing, with the mix allowing it to keep its investment grade credit ratings.
The companies anticipate making the required regulatory filings with the Kansas Corporation Commission and other regulatory entities in June and July and will seek shareholder approvals later this year. The deal also has to clear the Federal Energy Regulatory Commission, the Nuclear Regulatory Commission and Hart-Scott-Rodino Act and is expected to close next spring.
Great Plains expects the acquisition will be neutral to its earnings-per-share in the first full calendar year of operations and significantly accretive after that. The combination's long-term earnings growth target is also anticipated to be 6% to 8% better than either company on its own.
The deal will make Great Plains, owner of Kansas City Power & Light Co., one of the largest utilities in the Midwest, with 1.5 million customers in Kansas and Missouri, 13,000 megawatts of generation capacity, 10,000 miles of transmission lines and 51,000 miles of distribution lines.
Great Plains said more than 45% of its retail customer demand could be met with emission-free energy through the combination, which will have one of the largest portfolios of wind generation in the country among U.S. investor-owned utilities. Great Plains already boasts of having the largest utility-owned electric vehicle charging network in the U.S.
"This is an important transaction for Kansas and our entire region," Great Plains chairman and CEO Terry Bassham said in a statement. "By combining our two companies, we are keeping ownership local and management responsive to regulators, customers and regional needs, while enhancing our ability to build long-term value for shareholders."
Westar CEO and president Mark Ruelle said the deal combines the strengths of the two organizations to form an even stronger company for Kansas.
Westar has been on the block for several months, with Great Plains, Ameren (AEE) - Get Report and even Warren Buffett's Berkshire Hathaway (BRK.B) - Get Report (BRK.A) - Get Report  thought to be eyeing it. Great Plains has experience integrating with adjacent electric utilities, having bought Missouri's Aquila in 2008 for $2.7 billion.
Bassham said the utility industry is facing rising customer expectations, increasing environmental standards, emerging cyber security threats and slower demand growth for electricity, which is driving costs and customer rates higher.
"Our acquisition of Westar will create operational efficiencies and future cost savings that will benefit all involved - customers, shareholders, employees and the communities we serve," he said. "These savings also will help reduce future rate increase requests."
Great Plains and Westar already jointly own and operate the Wolf Creek Nuclear Generating Station and the Jeffrey and La Cygne power plants. Great Plains said Westar's generation fleet will give it a more diverse and sustainable generation portfolio that will provide increased flexibility to mitigate possible customer impacts from carbon regulation.
Bassham will remain chairman and CEO and Great Plains will add one director from Westar's board to its board.
Goldman, Sachs & Co.'s Matthew Gibson, Stephan Feldgoise, Brian Haufrect and Alan Liu and Bracewell LLP's John Klauberg, Fritz Lark, Michael Espinoza and Elizabeth McGinley advised Great Plains. Guggenheim Securities LLC's Dan More and Dean Keller and Baker Botts LLP's William Lamb, Michael Didriksen, Courtney Fore, Justin Blass, Martin Toulouse, Peter Glenn, Don Lonczak, Mark Bodron and Stephanie Jeane assisted Westar.