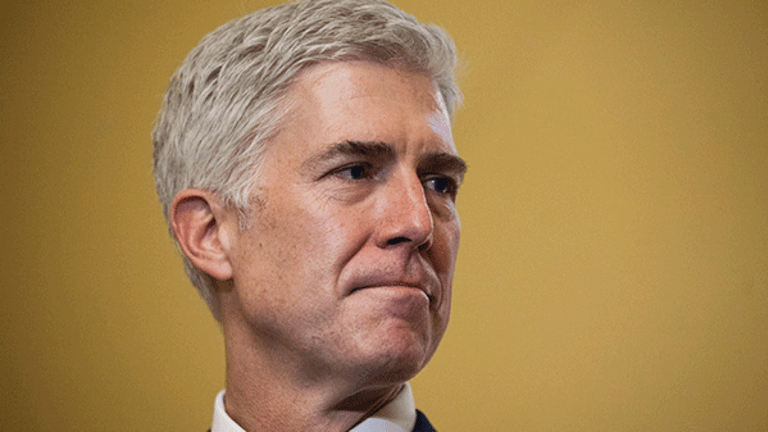 Publish date:
Gorsuch Hearing Opens With Grassley Treatise
Gorsuch has impeccable legal credentials and in the end, Democrats are unlikely to stand in his way.
Gorsuch has impeccable legal credentials and in the end, Democrats are unlikely to stand in his way.
Monday's opening hearing for the nomination of Neil Gorsuch to be an associate justice of the U.S. Supreme Court opened with Senate Judiciary Committee Chairman Chuck Grassley delivering a treatise on the importance of the separation of powers in representative government.
In the second floor hearing room of the Hart Senate office building, where the first of what may be four days of hearings for Gorsuch's nomination is being held, the proceeding was packed mostly with reporters. Only about 60 seats were reserved for the general public, roughly half of those were taken by individuals donning red "Stop Gorsuch" t-shirts. Those attendees were soon replaced by a steady stream of observers who were cycled in and out of the hearing room throughout the morning.
"Some of us have been alarmed by the over-reach of executive power" during the Obama Administration, Grassley said. While partisan policy disputes may have driven the Obama White House to govern frequently by executive order, "what is far more distressing . . . is the damage it does to the constitutional order and the separation of power," he said. That damage will be "far more difficult to undo than the polices that animated them," Grassley said.
Concerns about preserving the separation of powers are "just as important today as in the previous administration," Grassley said.
Grassley praised Gorsuch's commitment to the separation of powers, as indicated by the nominee's extensive legal writings. "Neil Gorsuch is dedicated to the separation of powers," he said.
Following Grassley, the Judiciary Committee's ranking Democrat, Sen. Dianne Feinstein, said she was alarmed by Gorsuch's reputation as an "originalist" interpreter of the Constitution in the mold of the late Antonin Scalia. The originalist philosophy, she warned, leads judges to be inclined to make rulings allowing discrimination against women and homosexuals and dismissing the notion that the constitution contains protections for personal privacy and women's abortion rights.
"I am concerned when I hear that Neil Gorsuch is an originalist and a strict constructionist," she said.
If his appearance before the committee goes for four days, there may be time to examine one of his most controversial antitrust rulings, his 2013 decision in Novell v. Microsoft. In that case he ruled that Microsoft Corp.'s (MSFT) decision not to share details of its Windows 95 operating system with rival vendors did not violate antitrust law. The operating system was under development and NovellInc. (MM) and others wanted access to the operating system so they could begin working on applications that would run on the platform.
Gorsuch dismissed the notion that Microsoft had to provide Novell with its intellectual property in order to avoid harming Novell's marketing position. Gorsuch wrote that such a finding would be paradoxical and "risk encouraging collusion between rivals and dampen price competition."
His ruling, many experts said, contradicted to some degree previous Supreme Court rulings that found monopolists like Microsoft could be in violation of antitrust laws by refusing to deal with rivals. In a recent paper University of Memphis law professor John Newman argued that Gorsuch's ruling in Novell shows a surprising "inattention to consumer welfare."
There are likely to be dozens of rounds of angry words traded between Republicans and Democrats on the Senate Judiciary Committee over the same politically charged issues that characterized the 2016 presidential campaign as well as the country's partisan divide for the past 30 years. That means abortion, gay rights, the constitutionality of government regulations, gun control, the role of money in politics and corporate concentration in the economy are all going to be rehashed with Gorsuch's views as them as the focal point.
Democrats and liberal activist groups have railed about President Donald Trump's nomination of Gorsuch, a conservative in the mold of the late Antonin Scalia, who he would replace, and whose strict originalist view of the Constitution often has put him on the other side of issues than left-of-center voters. But Gorsuch has impeccable legal credentials and in the end Democrats are unlikely to stand in his way. Anyone else Trump is likely to nominate in his place would be of similar intellectual temperament but it is hard to believe any of them would have a better legal pedigree.
On March 9 the American Bar Association rated Gorsuch "well qualified," its highest rating.
The ABA's review was based on hundreds of interviews with people familiar with Gorsuch's work and qualifications, including numerous law professors and Supreme Court advocates.
A telling statistic: despite damning statements by their bosses, 91% of Democratic congressional staffers believe Gorsuch will be confirmed, according to a survey by Capitol Hill publication Roll Call published on March 2. That prediction is despite the fact that Gorsuch, if Senate Majority Leader Mitch McConnell sticks with current Senate rules, will need 60 votes for confirmation. That means eight Democrats will have to vote for him if all Republicans support Gorsuch.
The Republican National Committee also pointed out that many Democrats who are attacking him today had no substantive reservations about his nomination to the Denver's U.S. 10th Circuit Court of Appeals in 2006. That appointment was approved by voice vote.
But the opposition will be loud next week, no matter how the vote tally ends up when his nomination eventually reaches the Senate floor. Sen. Tammy Baldwin, D-Wis., has said she is concerned by Gorsuch's "deeply troubling record' on the bench, including decisions against disabled students, against workers, and against women's reproductive health care.
Sen. Kirsten Gillibrand, D-N.Y., has said she will oppose his nomination and "stand up for individuals over corporations."
In two related decisions where social conservatives' and businesses' interests intersect, Gorsuch has also drawn the ire of liberals. In 2013 he wrote a concurring opinion backing Hobby Lobby's fight to free itself from the contraception mandate of the Affordable Care Act. The appeals court support for Hobby Lobby was later upheld by the Supreme Court. In a later dissent, he backed Catholic order Little Sisters of the Poor in its fight to be freed from the same mandate. The Supreme Court's eventual decision in that case was more ambiguous.
Those rulings are likely to draw a lot of attention when his hearings commence Monday from supporters and opponents alike.