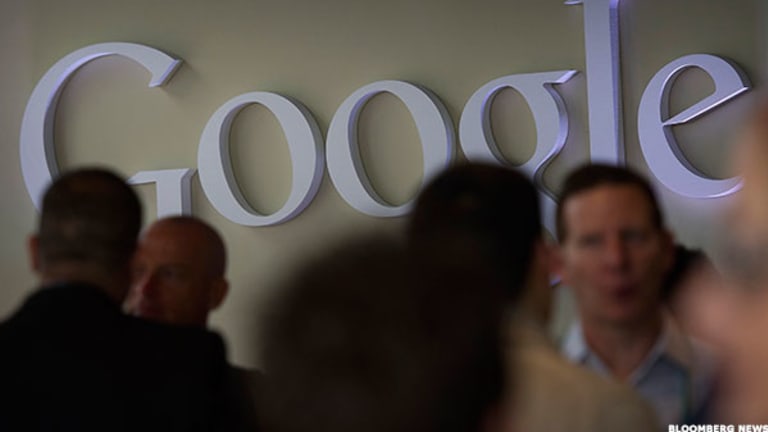 Google Splits Stock as Brin, Page Firm Grip
Google's C shares will trade under ticker 'GOOG,' while A shares will now trade under ticker 'GOOGL.'
Updated from 8:37 a.m. ET to include analyst comments and opening share prices
NEW YORK (TheStreet) -- Google (GOOG) - Get Alphabet Inc. Class C Report will split its stock on Thursday, allowing co-founders Sergey Brin and Larry Page to solidify their collective control of the web search giant as it expands through acquisitions and share issuance. Google's C shares will trade under ticker 'GOOG,' while A shares will now trade under ticker 'GOOGL.'
In the split, Google will issue non-voting Class C shares to its existing shareholders by way of a dividend, effectively splitting the stock. The C shares were issues to Google shareholders on April 2, giving investors two shares for every one they held before. Importantly, Brin and Page will maintain their majority holding of class B shares, which carry 10 votes per share vs. just one vote per A share.
The overall number of Google shares will double to about 673 million shares, and will mean that Google's earnings per share figures will now be halved. Although EPS will be halved, Nomura analyst Anthony DiClemente said on Thursday earnings estimates for the company's split adjusted shares are unchanged.
Read: Why Amazon's Unveiling of Fire TV Was Underwhelming
The stock split will have a few impacts. Most importantly, Brin and Page have solidified their majority voting rights in Google, meaning they will remain the ultimate arbiters of the company's strategy. Brin and Page hold over 55% of Google's votes, meaning they are a de-facto majority, even as their economic interest in the company has fallen below 20%.
Because Google continues to issue stock to employees as part of option grants and the like, there was the prospect that Brin and Page, over time, would have seen their stock dilution eat away at their voting majority.
Meanwhile, Google is now expected to use non-voting Class C shares as a means to make acquisitions. In practice, a large stock-for-stock transaction using C shares might greatly impact Google's overall share count, however, it would leave Brin and Page's majority voting power unchanged.
Read: A Cheap GM Stock Doesn't Mean a Good Value
Google's A shares and C shares will trade on Thursday. A shares continue to hold one vote per share, meaning they may trade at a slight premium to C shares. If, in 12-months time, C shares trade at a discount, Google will issue shares to mitigate that price differential.
"We do not expect a significant pricing gap to emerge between Class A and Class C shares," Wells Fargo analysts said in an April 2 note.
The share split comes at a time when shareholder accountability issues are beginning to emerge in Silicon Valley. Alibaba, the Chinese e-commerce giant, chose to list its shares in the U.S. because stock exchanges were willing to maintain the company's partnership structure in a share offering, something Hong Kong regulators weren't willing to concede.
Read: Big Bank Downgrades Gaining Steam
Activist investors, meanwhile, have targeted some of the tech sector's biggest names, including eBay (EBAY) - Get eBay Inc. Report, Microsoft (MSFT) - Get Microsoft Corporation Report and Yahoo! (YHOO) , trying to insert themselves on issues such as corporate governance, strategy and asset sales.
Google A shares were trading nearly 2.5% higher on Thursday at $581.07, while newly issues Class C shares were up by a similar amount. Split adjusted shares have gained over 40% in the past 12-months.
-- Written by Antoine Gara in New York