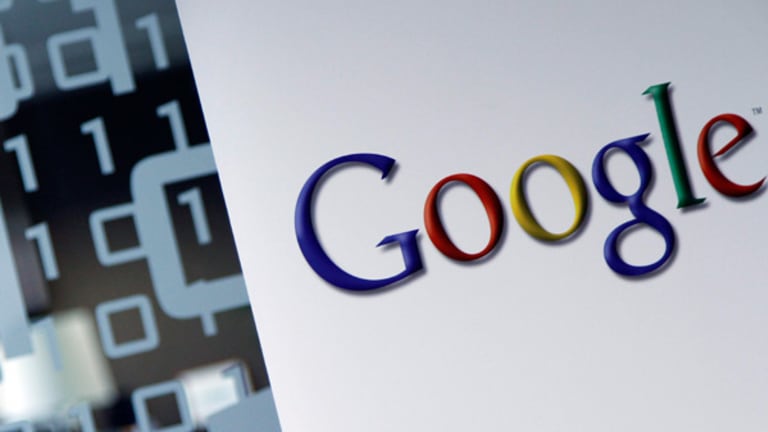 Google May Follow Apple on Tax-Dodging Dividend
Google is the biggest company in the U.S. without a dividend, but that may change.
Google is the biggest company in the U.S. without a dividend, but that may change.
NEW YORK (
) --
Google
(GOOG) - Get Report
may follow its Silicon Valley competitor
Apple
(AAPL) - Get Report
in paying out a dividend, amid increasing scrutiny from the public on how both companies manage their mounting cash in low-tax countries like Ireland.
Like Apple, however, Google may wait until its bank account swells to about $100 billion, according to an industry analyst, before making a big move on a dividend. The web search titan may also finance dividends or share buybacks to avoid Uncle Sam, as Apple did earlier in April when it announced
a $100 billion return of capital
over multiple years and
in low-cost debt.
Google shareholders shouldn't expect dividend payments anytime soon, even if the Larry Page and Sergey Brin founded company now is the largest in the world by market cap without a dividend.
"Today we are making two predictions. First, Google will not return cash to shareholders during the next two years. Second, it
will
return cash to shareholders sometime in late 2015 or 2016," Carlos Kirjner, an analyst at Bernstein Research wrote in a Friday client note.
Already, Google is being pressed on how it deploys its earnings, given the nearly $50 billion in cash and marketable securities on the company's balance sheet. Of that $50 billion only 20% is held onshore, meaning the company may look to Apple's dividend as a template if it begins returning money to investors.
Also see: Google's Tax Sheltered Earnings Miss >>
Kirjner believes Google will hold onto its cash over the next few years for strategic reasons such as acquisitions or large capital investments, however, its money generating web search business could eventually bloat the company's bank account and spur a dividend.
Google, after all, has been far more acquisitive than Apple in recent years, buying
Motorola Mobility
,
YouTube
and
Android
, all in significant strategic deals that's bolstered the company's overall spending. Meanwhile, the company continues to R&D spending on various projects, including
Google Glass
, a self-driving car and
Google X
.
"We ask ourselves the question... are there real options for us actually to use the cash from a strategic perspective? And we've come to the conclusion that it is a real strategic asset for us right now with the ability to pounce," Patrick Pichette, Google's CFO said in a late 2012 investor conference call.
Pichette's comments and a natural earnings trajectory that could have Google generating $20 billion in free cash flow by 2016 setting up a dividend over the next 2-3 years, according to Kirjner.
Also see: Johnson & Johnson Deal Revives Foreign Tax Debate >>
For Google to stray from a dividend by 2016, the company's spending and acquisitions will have to "fall somewhere between the absurd and the insane," Kirjner wrote.
Kirjner, for instance puts prospective acquisitions of
Visa
(V) - Get Report
,
Facebook
(FB) - Get Report
,
Microsoft
(MSFT) - Get Report
,
IBM
(IBM) - Get Report
,
Oracle
(ORCL) - Get Report
and
Sprint
(S) - Get Report
in the 'beyond insane and absurd' bucket.
The analyst, however, sees deals for
Discovery
(DISCA) - Get Report
,
CBS
(CBS) - Get Report
and
Viacom
(VIAB) - Get Report
as among some that deserve consideration.
"In the end, we think the chances are slim that Google undertakes a massive transaction or multiple mid-size acquisitions that would consume a large portion of the $100 billion plus cash balance we expect it to reach in late 2015 or 2016. We think we will see a buyback or dividend instead," Kirjner concluded.
Of course, Google likely will figure out a way to return money to shareholders in a way that avoids the U.S. tax man.
While Apple CEO Tim Cook was dragged in front of the Senate Permanent Subcommittee on Investigations earlier this week to explain it's supposed 14% tax rate and a heavy use of Irish tax shelters to store tens of billions in profits, Google may be an even more blatant avoider of U.S. taxes.
The company was able to beat its most recent quarterly earnings forecasts because of an income tax rate that fell to the
, according to analysts. In the first quarter of 2013, Google reported an income tax rate of just 8%.
Regardless of whether Google follows Apple in conducting a giant return of capital to shareholders -- Apple's $11 billion in annual dividends now is the highest figure in Corporate America -- investors can expect both companies cash stockpiles, particularly those in low tax jurisdictions like Ireland, to grow.
Also see: Ireland Welcomes Watson Pharmaceuticals, an American Success >>
-- Written by Antoine Gara