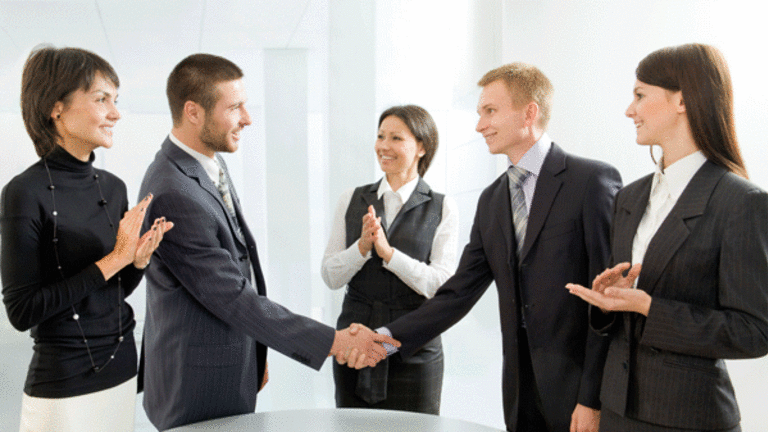 Google Fiber Is Good for the Country, and for Google
Google expands its fiber project to Provo, Utah, further strengthening the moat around its lucrative search business
Google expands its fiber project to Provo, Utah, further strengthening the moat around its lucrative search business
NEW YORK (
) -- Analysts have cited many benefits for
Google Inc.
(GOOG) - Get Report
since its announcement last week that pending a favorable city council vote on April 30, the third city to receive Google Fiber will be Provo, Utah. But an overlooked byproduct of the ultra-fast broadband service -- "up to 100x faster Internet than today's average broadband speeds," the release states -- will be its role in advancing a la carte programming as the viewing norm.
As Google CFO Patrick Pichette said during Thursday's quarterly earnings call, "It's very early days." But it wasn't that long ago (September 2010, to be precise) when this column posited that getting out of the gatekeeping-of-content business would actually benefit cable companies provided they accept their fate as dumb pipes. By extension, the business of content development and distribution could be rationalized in ways never before realized.
Before the Provo announcement, Google had brought its gigabit technology to Kansas City, Missouri and Kansas with plans for Austin, Texas. However, as CEO Larry Page made clear during the earnings call, the Mountain View, Calif.-company has no plans to limit the initiative to be nothing more than a "science experiment."
"On fiber," Page said, "we look at places where we can provide products that can make really big difference in people's lives. And we can make a lot of money and resources doing it."
Never mind that building out broadband stands to erode the company's enviable margins. That may be of more concern to Google analysts than Google management. It's also a concern completely eclipsed by the opportunity of what CFO Pichette called "writing the new chapter, the next chapter of the Internet."
Note the focus on the Internet and, in all other corporate statements about Google Fiber, the emphasis on gigabit speeds. Sure, the recently available Kansas City offering includes a video component for an extra $50 per month. Or, as the Google Fiber website advertises: "Gigabit + TV $120/mo" versus "Gigabit Internet $70/mo." It's readily apparent, nonetheless, that Google has no real interest in protecting the bundle that's so precious to cable programmers.
Much more motivating, according to BTIG LLC analyst Richard Greenfield, is "getting broadband speeds up nationwide and ending the digital divide
to help improve the YouTube experience and frankly every experience on the Internet." Or, as Pivotal Research Group analyst Brian Wieser contends, Google is simply "demonstrating that it will 'protect the moat' around its cash-cow paid search business by spending hundreds of millions (and eventually billions?) of dollars on Google Fiber."
What's good for the Internet is good for Google, in other words, and vice-versa. The bundle currently offered by Google Fiber becomes such an afterthought in this context that its management could easily be assumed by Google's up-and-running video operation, YouTube LLC.
If so, as its website reveals, YouTube is already set up to unbundle any bundle Google Fiber might be offering and repurpose its many splintered parts as a la carte programming. Only YouTube calls its unbundled selections "subscriptions," which users select after browsing channels grouped under such headings as "Movies," "Sports" and "TV Shows."
Users can then go completely granular and subscribe to an episode of "Doctor Who" for $1.99, say, or less granular and subscribe to the BBC for free. The point is users customize their programming line-ups in ways that offer complete flexibility and total control over what their video charges will be.
All of which suggests the next chapter of the Internet is already here. With the help of YouTube, all Google has to do is to get bundled-up cable customers to turn the page.
Google was gaining 0.3% to $801.60. Shares have advanced 35% in the past 12 months.
Written by Richard Morgan in New York