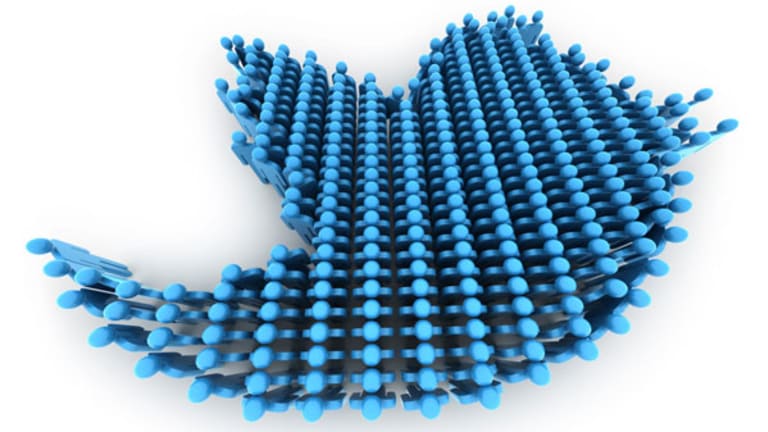 Goldman Sachs to Lead $1 Billion Twitter IPO
Goldman Sachs will be the lead underwriter of Twitter's looming IPO.
NEW YORK (
) --
Twitter
, the popular micro-blogging site, has released its filing for an initial public offering of $1 billion in stock and listed
Goldman Sachs
(GS) - Get Goldman Sachs Group, Inc. (GS) Report
as its lead underwriter, a coup for the investment bank after losing out to
Morgan Stanley
(MS) - Get Morgan Stanley (MS) Report
on many recent big ticket tech listings.
Morgan Stanley and
JPMorgan
(JPM) - Get JPMorgan Chase & Co. (JPM) Report
,
BofA Merrill Lynch
(BAC) - Get Bank of America Corp Report
,
Deutsche Bank
(DB) - Get Deutsche Bank AG Report
,
Allen & Company
and
CODE Advisors
are also listed as banks underwriting the offering.
Twitter's $1 billion share offering is a placeholder used to calculate fees. The San Francisco company hasn't yet disclosed the pricing of its offering or an exchange where the company's shares will trade. Twitter's ticker will be "TWTR."
The pending share sale will be highly watched on Wall Street and in Silicon Valley, even if it is far smaller than
Facebook's
(FB) - Get Facebook, Inc. Class A Report
$16 billion IPO, a record for an Internet company. Facebook's bankers netted approximately $176 million in fees in the March 2012 share sale.
In September, Twitter took to its own network to announce it had filed papers for an IPO, after months of speculation by media, Wall Street and investors.
"We've confidentially submitted an S-1 to the SEC for a planned IPO. This Tweet does not constitute an offer of any securities for sale," Twitter said in a late afternoon tweet on September 12.
Unlike a traditional filing disclosed to public investors, Twitter chose to file its papers confidentially with the
Securities and Exchange Commission
. The company is then required to disclose its S-1 filing to the public at least three weeks before it intends to sell shares to the public. Companies with revenue less than $1 billion in their most recent fiscal year can submit S-1 IPO filings confidentially with the
Securities and Exchange Commission
under the Jumpstart Our Business Startups, or JOBS Act.
Twitter may have filed confidentially with the SEC as a means to gain feedback on its financial reporting without having to make a series of public amendments, Beth Saunders, Americas chairman of FTI Consulting's Strategic Communications practice, said in a September interview.
After disclosing IPO paperwork, firms usually travel to investing centers across the country and even internationally in a road-show to explain their business to investors. As with Facebook's road-show, investors are likely to be focused on Twitter's financial forecasts and its strategy to build advertising revenue, and especially from mobile devices.
Twitter reported $317 million in 2012 revenue and $253.7 million in sales six-months through this year, according to its IPO filing. While Twitter has yet to report net income, the company did say in the filing that it earned over $21 million in adjusted earnings before interest, taxes, depreciation and amortization.
The company now has over 200 million monthly active users and over 500 million tweets are sent on its network each day.
TheDeal's
Jon Marino
in August that a shareholder pegged Twitter's market capitalization at about $12 billion. That source suggested Twitter's valuation would rise, but not past $15 billion, by the time it listed on public markets.
"Twitter's not going to try and take every last dime off the table in
IPO pricing," a source said.
In September, Twitter said it would buy online mobile-ad exchange
MoPub
for a reported $350 million.
Media reports indicated in September that Goldman Sachs would lead the offering, however, other investment banks were expected to be added to Twitter's IPO book as the company moved towards a listing. Earlier in 2013, Twitter hired
Morgan Stanley's
(MS) - Get Morgan Stanley (MS) Report
Cynthia Gaylor to head up its corporate development.
Stock sales in Twitter by early stage VC's
Spark Capital
and
Union Square Ventures
have sold at a substantial discount to a $12 billion valuation used in some recent private transactions. Other private stock sales have been in the $10.5 billion to $11.5 billion range.
Twitter calls itself a "real-time information network" that connects to stories, ideas, opinions and news about what users find interesting. Each Tweet is 140 characters long, but allows users to include photos, videos and hyperlinks. The company also recently developed
Vine
, a micro video blogging service.
The company is increasingly becoming a power player in the media, advertising and political arenas.
Communication on Twitter has been at the heart of social protest such as the Occupy Wall Street movement in the U.S. and uprisings in countries such as Egypt, Libya and Turkey. The social network has become entrenched in the U.S. electoral process and it has even been at the center of political blow-ups such as the downfall of former New York Congressman Anthony Weiner.
For many, Twitter has turned into an essential piece of the news gathering networks, akin to an interactive newswire. When tragedy strikes, such as the recent Boston Marathon bombing, Twitter has even been used by emergency professionals and local authorities as a means of ensuring public safety.
"We have more than 215 million MAUs from around the world. People come to Twitter for many reasons, and we believe that two of the most significant are the breadth of Twitter content and our broad reach," the company said in its filing.
The company has also increased its focus on advertising in recent launches, such as so-called 'promoted' tweets. As the company moves towards an IPO, there's great anticipation about Twitter's value as an advertising platform, especially as media consumers increasingly receive content on mobile devices.
"We provide compelling value to our advertisers by delivering the ability to reach a large global audience through our unique set of advertising services, the ability to target ads based on our deep understanding of our users and the opportunity to generate significant earned media," Twitter said in its filing.
"Advertisers can use Twitter to communicate directly with their followers for free, but many choose to purchase our advertising services to reach a broader audience and further promote their brands, products and services," the company said.
Twitter generated 85% and 87% of its revenue from advertising in 2012 and the first six months of 2013 respectively. Virtually all of the company's ad revenue comes from three sources: Promoted Tweets, Promoted Accounts and Promoted Trends.
The Deal: Twitter Sets Up Revenue Streams Prior to IPO #ftw
-- Written by Antoine Gara and Jon Marino in New York.