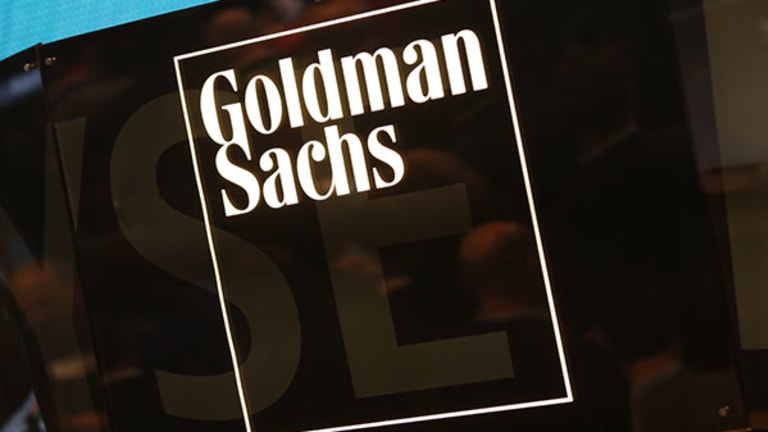 Goldman Sachs Leans Heavily On Private Equity as Volcker Looms
Goldman Sachs shareholders will soon see whether the investment bank can maintain its private equity profits.
Goldman Sachs shareholders will soon see whether the investment bank can maintain its private equity profits.
NEW YORK (TheStreet) - Goldman Sachs (GS) - Get Report has spent the past few years preparing for the release of the Volcker Rule, which is due this week. The investment bank, however, continues to lean heavily on private equity investments for a significant portion of its total revenue and profit. 
Goldman's private equity businesses, in addition to other alternative assets that comprise its so-called "Investing & Lending" unit, have earned nearly $3 billion in pre-tax through the first nine months of 2013 -- nearly 35% of the firm's overall pre-tax earnings -- making it the second largest contributor to the bank's profits. Investing & Lending earnings are also roughly double what Goldman Sachs has generated from its industry-leading investment banking franchise this year.
Revenues and pre-tax earnings from the unit are generated by management fees and, more importantly, investment return on its fund investments. Because Goldman has historically invested a significant amount of its own money into its private equity funds, the firm now is seeing strong earnings as pre-crisis investments are realized in today's market.
The numbers speak for themselves.
Goldman raised $28.5 billion for private equity investments in 2005 and 2007 through its GS Capital Partners corporate private equity unit, and committed $11.5 billion directly into those funds, or about 40% of their total equity. Both funds are in runoff mode and Goldman hasn't raised new money for GS Capital Partners in the wake of the financial crisis. In contrast, competitors like JPMorgan (JPM) - Get Report have shed private equity assets in recent years.
Tuesday's release of the Volcker Rule included a 3% cap on any bank's investment in private equity and hedge funds relative to its Tier 1 capital, a regulation that could drastically reduce Goldman's allowable allocation to alternative assets. Currently, the unit holds $59.5 billion in overall assets, according filings with the Securities and Exchange Commission.
Shareholders appear to understand Goldman's exposure to the Volcker Rule, and especially limitations on the firm's ability to invest directly in alternative investment funds.
In recent quarters, the bank has beaten consensus earnings-per-share estimates by as much as 30% on higher-than-expected markups to its Investing & Lending holdings, only for shares to trade lower on those results.
Nevertheless, how Goldman maintains its presence in private equity and alternative investments as the Volcker Rule kicks in will be a major story on Wall Street.
Since 1986, Goldman has invested $125 billion in direct private investments such as private equity, real estate, mezzanine financing and distressed debt. The bank was an early investor in companies as prominent as Ralph Lauren (RL) - Get Report, Kinder Morgan (KMI) - Get Report, Cobalt International Energy (CIE) and the Yankees Entertainment and Sports Network, and it has participated in some of the buyout industry's biggest deals such as TXU, Nextel and Dollar General (DG) - Get Report.
While Volcker will cast uncertainty over Goldman's private equity legacy, the bank has had time to prepare for the regulation and there are a few scenarios we can most likely rule out.
Goldman Sachs isn't likely to consider a spinoff or sale of its remaining private equity assets, according to a source familiar with the firm's thinking.
Instead, as Goldman's legacy GS Capital Partners investments are realized, the firm is working to maintain its presence in alternative investments such as private equity, credit and mezzanine investing, albeit in a "Volcker-compliant manner," the source said.
One scenario would be to make new private equity investments off of Goldman's balance sheet and then syndicate those deals to outside investors. In that structure, Goldman would likely seek a few large outside investors to take up to take big chunks of any deal, the source said, and the bank would also have the ability to invest its own money. 
"I don't think there was anything earth shattering... There weren't really any big surprises from a PE fund perspective," the source said of the Volcker rule's final wording.
Richard Friedman, head of Goldman's merchant banking division, said at a 2012 investor conference the firm would likely cut the size of its overall private equity investments by 50%. He added that Goldman would likely invest on a "deal by deal basis" and cited Goldman's $1.1 billion buyout of Interline Brands in May 2012 as a possible template.
Goldman Sachs declined to comment. Reutersreported on Goldman's post-Volcker private equity plans in March.
"Goldman can create a special purpose vehicle used to invest in private equity on behalf of clients. Then it can transact derivatives to minimize market and credit risk of those investments; those derivatives could be construed as a hedge for clients. If it is good at documenting that this SPV is segregated from any insured depository accounts, then it will have a good chance of skirting Volcker," Mayra Rodriguez Valladares, managing principal of MRV Associates said in a Thursday interview.
"It is key to remember that Goldman is still very much a broker dealer with very little FDIC insured bank units. The real concern should be JPMorgan, Citigroup, and Bank of America, not Goldman or Morgan Stanley," Valladares added.

For Goldman shareholders, it will be worth watching whether Volcker compliant private equity investments can support the bank's current Investing & Lending revenue and profits. For that to happen, Goldman would need to remain a heavy private equity investor and not just a manager of private equity assets.
The alternative would likely resemble the earnings streams of publicly traded alternative asset managers such as Blackstone (BX) - Get Report, Carlyle Group (CG) - Get ReportApollo Management (APO) - Get Report and KKR (KKR) - Get Report.
"The firm's aggregate net revenues from its investments in hedge funds and private equity funds were not material to the firm's aggregate total net revenues over the period from 1999 through the third quarter of 2013. We continue to manage our existing private equity funds, taking into account the transition periods under the Volcker Rule," Goldman said in its most recent quarterly filing with the SEC.
The bank also noted it has divested Principal Strategies and Global Macro Proprietary trading positions, units it deemed to be "bright line" proprietary trading that was most likely to be barred by Volcker.
Whether or not Goldman Sachs escapes Volcker with its private equity profits intact will be an important question for shareholders and PE-industry insiders to follow as the rule kicks in starting in July of 2015.
Generally, the consensus is that Volcker has developed alongside a tide of regulation on capital and liquidity in a way that makes Wall Street safer but only minimally changed in the wake of the crisis.
"In our view, the five major regulators have done an excellent job of balancing the requirement of Dodd-Frank to end proprietary trading at the banks without permanently damaging the US capital markets," Brad Hintz, a banking analyst at Bernstein Research said in a Wednesday client note.
"Given all these changes, Bernstein believes that Goldman Sachs should be able to generate a 14-15% ROE at the peak of the cycle. However in a world of lower leverage and more limited risk taking, Goldman's capital intensive market making activities will likely be constrained and thus the firm will likely to generate fewer dollars of [economic value added]," Hintz added.
Goldman Sachs shares are up over 32% year-to-date and even rose in the wake of the unveiling of Volcker on Tuesday. The bank's stock, however, continues to languish at levels roughly 40% below record highs prior to the financial crisis.
-- Written by Antoine Gara in New York.
Follow @antoinegara