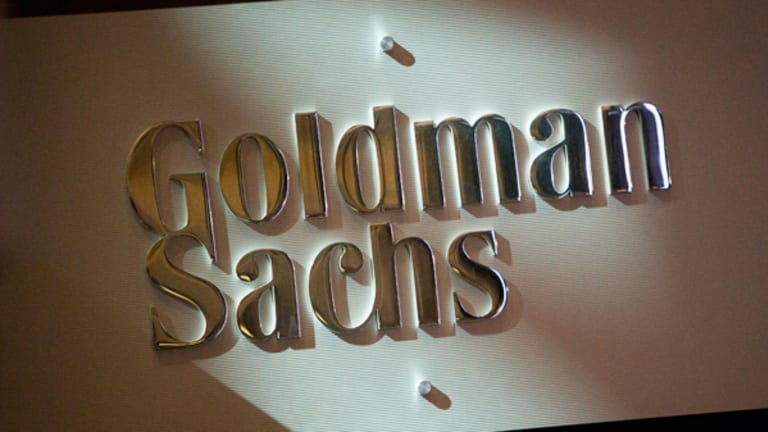 Goldman Sachs Doesn't Want to Be a Misogynist 'Vampire Squid'
Goldman Sachs is doing all it can to fight a lawsuit alleging gender discrimination while touting that it's really a good place for women to work.
NEW YORK (TheStreet) -- Despite what you may have read about the Wall Street vampire squid that jams its blood funnel "into anything that smells like money," and with apologies to Matt Taibbi, it turns out the would-be sea monsters at Goldman Sachs Group (GS) - Get Goldman Sachs Group, Inc. Report are actually a bunch of sensitive guys.
It may not look that way on the surface if you've been swayed by Taibbi's classic Rolling Stone article "The Great American Bubble Machine." But with an institution as invested as Goldman is in its employees, it is indefensible that the women on its payroll don't understand how assiduously the firm labors to do right by its workers, regardless of gender.
Goldman Women Say They Make Less Than Men Who Frequent Strip Clubs, Call Them 'Bimbos'
Caveat Emptor, Investors: The Regulators Are Trying to Protect You
Anworth Mortgage, Your Greed Is Showing
Three female former Goldman employees had the temerity to sue the firm in 2010, saying that it was about as bad an employer as you could find if you had two X chromosomes. On July 1, Cristina Chen-Oster, Lisa Parisi and Shanna Orlich filed a motion in Manhattan federal court seeking to be certified as a class that represented all the underpaid and under-promoted associates and vice presidents in the firm's investment banking, investment management and securities divisions.
Proving, though, that its cephalopodian heart is ever in the right place, Goldman on July 3 discreetly filed its response to the plaintiffs' charges that it pays women less than men, tolerates sexual assaults after company get-togethers, and fosters a workplace where it's OK for men to call their lower-paid female counterparts "bimbos."
Goldman submitted its legal filing so quietly that 15 days later, its response to the women's request for class certification still can't be found on the public docket of Judge Analisa Torres in the Southern District of New York. David Wells, a company spokesman, said he couldn't comment on the filing. Ultimately, I learned from a person familiar with the case that, for the past two weeks, Goldman has been hard at work redacting the document before the public can see it.
You've got to admire Goldman's devotion to protecting the privacy of the 32,900 people for whom it signs paychecks: If an employee has complained about unequal pay, or promotions that go only to the guys, or business meetings that take place at big-name Manhattan strip clubs, Goldman wants to spare that person the embarrassment of having their story become public.
Goldman lawyer Barbara Brown said as much to Magistrate Judge James C. Francis at a hearing in September: A current employee who may have had her complaint resolved might be "horrified" if the incident were to be made public, according to Brown. Both current and former employees "have a high degree of expectation of privacy and entitlement" about their complaints, she told the judge.
You might wonder if it's Goldman that would be horrified. When the women filed their request for class status on July 1, the public version of the document blacked out an abundance of information that came just after references to such things as tolerating men who engage in misconduct toward women; to a "routine" practice of doing business at strip clubs; and to it being a "career ender" when women complain to Employee Relations.
There's got to be very important Goldman business going on at those strip clubs, because the litigants agreed to a protective order on March 18, 2011 that said commercially sensitive, proprietary or trade secret matters would be confined to sealed or redacted documents, as would Social Security numbers or other information that might identify an employee.
It also said that people who'd given testimony after receiving a subpoena and other "non parties" could ask for confidential status, which could account for redactions in sections about the firm's alleged "culture of sexual assault and harassment" in the July 1 filing.
Goldman hasn't won all its battles to keep documents related to the lawsuit out of public view. On Nov. 5, 2012, it asked the court to designate as confidential a five-page letter to the judge and that the letter not be posted "on the court's CM/ECF system." That would be the system that the public relies on to see what documents have been filed in a lawsuit.
Goldman told the judge that its letter should be deemed top-secret because it contained three lines about unsuccessful settlement negotiations that had been ordered by the court. Judge Jesse M. Furman, who previously had been overseeing the case, didn't buy it, and put the letter on the docket.
On balance, though, we're left with many unsolved mysteries in the Goldman women's fight for equality. If the case gets to trial -- which I can't imagine Goldman would be dumb enough to allow -- we'll have a shot at learning about those strip clubs and cases of retaliation against women who complained to HR.
In the meantime, I'm getting a little concerned as I read the statistics about the dearth of women at Goldman. The plaintiffs paint a picture of a firm devoid of women. They say only 27% of the associates in their divisions were women, for example, and only 21% of vice presidents were women.
As I scrolled through the company's Web site, though, I saw examples of an investment firm bursting with gender equality, with fully half its employees being women. The firm's home page has photographs of 14 people, with a perfect 50/50 score of 7 women included. The "Who We Are" page has photos of 23 women among 41 employees depicted.
There's obviously a disconnect between the number of happy women on Goldman's Web site and the allegations in the lawsuit about the dearth of women at the firm. Perhaps we don't have a gender discrimination case here. Instead we need a serious investigation by the sleuths at the FBI's missing-persons unit.
Susan Antilla is an award-winning journalist and the Founding Fellow of TheStreet Foundation, a nonprofit organization with the goal of supporting and expanding financial literacy for consumers through investigative journalism and custom research on high-impact financial topics.
She has been a financial journalist for 30 years, writing for
The New York Times
,
USA Today
and
Bloomberg View
, among others. Antilla is author of
Tales From the Boom-Boom Room
, the 2002 book that exposed a culture of sexual harassment at financial companies. She received a bachelor of arts degree from Manhattanville College and a master of arts in journalism degree from New York University. Antilla is an adjunct professor of journalism at Fairfield University.