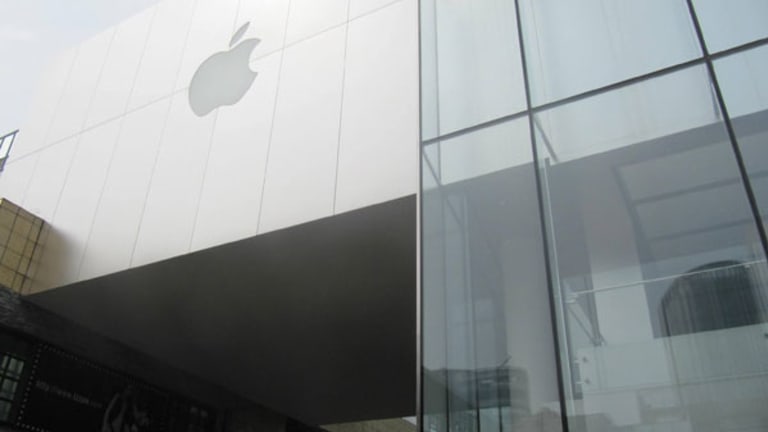 Goldman, Deutsche Lead Record Apple Debt Offering for Dividend Boost
Apple files for a bond offering to fund an increased quarterly dividend and share buyback.
Updated from 3:15 p.m. ET to include closing Apple share prices and additional data throughout
.
NEW YORK (
) --
Apple
(AAPL)
has completed the biggest debt issuance in corporate history, as the iPhone maker uses surging investor demand for high quality debts to dramatically increase its share buyback and become the largest dividend payer in the world.
Apple, on Tuesday, raised $17 billion in debt financing, a record for a non-financial corporate issuer as the company plans to return
billions in undistributed cash
to shareholders.
The debt will help Apple return money to shareholders without incurring a tax hit for repatriating any of its over $100 billion in overseas cash.
Apple sold $5.5 billion in 10-year notes at a spread of 75 basis points over the Treasury rate, while it will be selling $3 billion in 30-year bonds at a spread of 100 basis points over the Treasury rate on Tuesday, according to
Bloomberg
data.
Apple also sold $1 billion in three-year floating rate notes, $1.5 billion in three-year fixed rate notes, $2 billion in five-year floating rate notes and $4 billion in five-year fixed rate notes, the data show.
Goldman Sachs
(GS)
and
Deutsche Bank
(DB)
led
Apple's
(AAPL)
six-part
, which came in six maturities starting in 2016 and ending in 2043.
Spreads on Apple's offering appeared to narrow through Tuesday, given strong demand for the company's debt and initial media reports of higher spreads on Tuesday morning. Media reports indicate demand for Apple's issuance exceeded $50 billion.
Apple shares rose nearly 3% in Tuesday trading to $442.78.
In second-quarter earnings, Apple
it will increase its quarterly dividend by 15% and increase its share buyback authorization by $50 billion to $60 billion.
Also see: iPhone 5S Rumors Hint at July Release >>
Earlier in April, David Einhorn of hedge fund
Greenlight Capital
the iPhone maker's decision to finance the dividend increase and boost to its share buyback authorization, after waging and then withdrawing a battle with the smartphone pioneer to pay out a perpetual preferred stock dividend.
"We applaud Apple's decision to borrow money and return excess capital to shareholders, an idea that was off the table only months ago," a Greenlight Capital spokesperson said on behalf of the fund on April 23.
"This positive development represents a more shareholder friendly capital allocation policy and demonstrates the conviction of Apple's management and board in the Company's future."
Also see: The Deal: Netflix CEO's Bet on Content Depends on Who Controls It >>
Greenlight Capital titled its preferred stock proposal iPrefs, however, the hedge fund withdrew a shareholder lawsuit surrounding the payout earlier in 2013.
Apple
it will increase its quarterly dividend to $3.05 a share as part of a plan to return $100 billion in cash to shareholders by the
end of 2015
.
The company's dividend yield is about 3% based on Apple's current share price of about $404. Apple's annual dividend payments will be about $11 billion as a result of a 15% increase to its payout.
"Apple is among the largest dividend payers in the world, with annual payments of about $11 billion," the company said of its increased dividend payout.
Also see: Elon Musk's Fabulous Distractions >>
Apple previously said its bond offering,
, will be used to pay for the company's increased dividend and its $60 billion share repurchase authorization.
"In conjunction with the expanded return of capital program, the Company plans to borrow and expects to announce more details about this in the near future," Apple said on April 23.
The company's annual dividend payments will be about $11 billion as a result of a 15% increase to its payout, topping Dow stalwarts such as
ExxonMobil
(XOM)
and
AT&T
(T)
, according to an April analysis from Moody's.
In second-quarter earnings, Cupertino, Calif.-based Apple reported second-quarter results that met analyst expectations, earning $10.09 per share on $43.6 billion in revenue.
Also see: Why Your Next Job Won't Be on Wall St. or Silicon Valley >>
The company sold 37.4 million iPhones in the quarter compared to 35.1 million in the year-ago quarter, while iPad sales rose 65% year-over-year to 19.5 million units per year.
Analysts polled by
Thomson Reuters
forecast the tech giant to earn $10.01 per share on $42.31 billion in revenue. Analysts surveyed by Estimize were looking for earnings of $10.70 per share on $42.76 billion in sales.
-- Written by Antoine Gara in New York