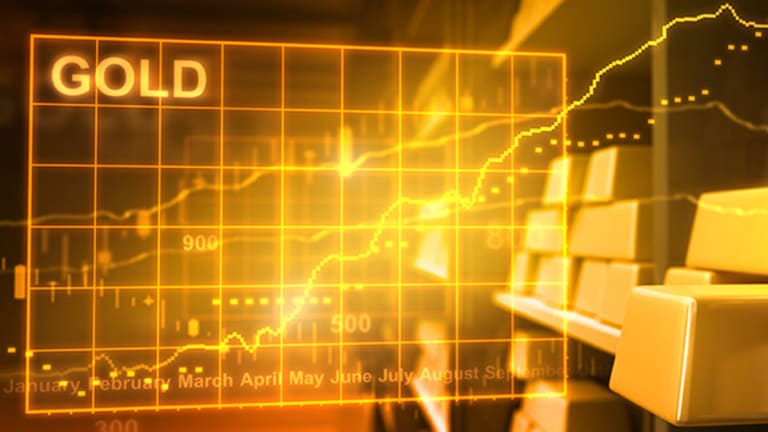 Gold Bulls Could Lead M&A Stampede
Years of capital-expenditure austerity and a two-speed recovery in gold miners' fortunes have set the stage for deals.
Gold producers have a new spring in their step following a rebound in the value of the precious metal, and it is an optimism that could trigger deals.
The price of gold has risen more than 18% since the turn of the year, filling the coffers of producers whose balance sheets had already been strengthened by a focus on debt repayments and years of cost cutting following a downturn in prices in 2013.
"Gold has been one of the best performing commodities this year, as investors have sought safe havens amid equity market volatility and as expectations of a US rate hike have been pushed out," Goldman Sachs analysts noted in a May 11 report that upgraded their gold price forecasts to $1,200 an ounce by the end of the year, up 4%. "Given the big gold mining companies now have sizable cash balances, we could see this (M&A) becoming an increasingly dominant theme in our sector."
It is not only cash on the miners' spread sheets that have built confidence. Shares have also been floated by the rising tide of gold prices. The Philadelphia Gold and Silver Index, a capitalization-weighted index of thirty U.S.-listed gold and silver miners, has risen 40% over the past three months.
Much of the increase has been focused on larger names that have the production to benefit from the increase in gold prices. Shares in Barrick Gold (ABX) , the world's No.1 gold producer, have climbed 143% in the past six months. Newmont Mining,, which ranked No. 2 in output last year, is up 85% over the same period, while Sibanye Gold., the biggest producer of South African gold, climbed 155%.
Equally importantly, in M&A terms, smaller exploration companies, particularly those sitting on valuable but undeveloped or under-developed deposits, have been far slower to recover.
That is partly because they slipped off investor and analyst radars after their share prices collapsed along with the gold price in 2013. But many also find themselves in a liquidity trap. Having depleted cash reserves during the lean years they no longer have the cash to ramp up production now that prices have bounced back.
"There is a valuation gap between larger and smaller gold producers," said a London-based mining analyst who asked not to be named. "Add to that under-investment in exploration over recent years by the bigger miners and acquisition becomes a relatively attractive means to quickly boost an undercharged pipeline of projects."
Over the past four years at least $15 billion of capital expenditure, equivalent to about 60% of the total capex, has been cut by miners, according to Goldman.
Larger predators may find all-share deals go down better with investors, many of which remember the pre-2013 round of profligate spending and would either way like to see cash returned after dividends were cut or suspended during gold's bear market. Target company's shareholders may also prefer share deals that don't lock them out of the potential upside of stronger gold prices.
Among the largest miners, South Africa's Goldfields (GFI) - Get Gold Fields Limited Sponsored ADR Report , the world's No .7 gold producer, is under particular pressure to find new gold projects. Production at its Australian mines, which accounted for 46% of Goldfields total ouptut in 2015, is declining as some of its biggest projects reach their end of life.
Currency movements have also boosted the rationale for M&A ,especially into Australia and South Africa, two of the world's largest gold producers.
The Australian dollar has fallen 7% to 72 cents over the past month, while the South African rand has tumbled just over 11% to 6 cents in the same period and is down almost a third since 2014. Weak currencies in gold producing nations have the twin effect of boosting dollar denominated revenues, while keeping production costs low and making acquisitions cheaper for foreign buyers.
And finally, the improvement in gold mining fortunes may put another major gold deal back on the agenda, namely the split of AngloGold Ashanti (AU) - Get AngloGold Ashanti Limited Sponsored ADR Report . The idea of splitting the company into a South African and international operation was announced then pulled in 2014 as shareholders revolted against the idea of a $2.1 billion capital increase needed to clear debts at the South African business.
The company has cut deeply into its debt pile, reducing it to $2.1 billion at the end of March, down from $3.1 billion a year earlier, while its market capitalization has risen 100% in the past six months. That gives it breathing space to once again consider cleaving the company in two.
"Such a split could release significant value to shareholders, given non-south African gold companies...trade at c.6.0x premium to South African gold companies on 2016 price to earnings," Goldman noted.
Gold futures for delivery in June traded Thursday at $1,247.3, down 2.1% on their Wednesday close after the Federal Reserve hinted it could raise interest rates in June.