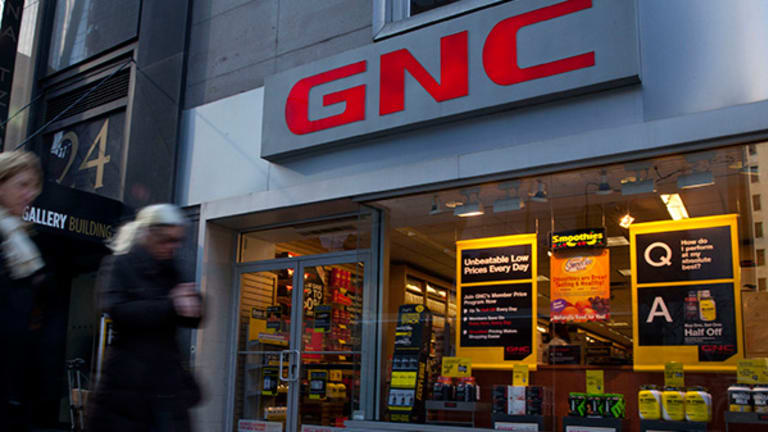 Publish date:
GNC Goes South After C-Suite Shake-Up
Shares in the retailer of nutritional supplements plummet on Thursday as it announces the departure of CEO Archbold after a less than two-year-long turnaround attempt.
Shares in the retailer of nutritional supplements plummet on Thursday as it announces the departure of CEO Archbold after a less than two-year-long turnaround attempt.
In the midst of an ongoing strategic review and another lackluster quarter, nutritional supplement retailer GNC Holdings (GNC) - Get Report on Thursday created further uncertainty when it announced the sudden departure of CEO Michael G. Archbold. What that means for the retailer's chances of being acquired by companies interested in the sector, including Asian firms, is even murkier. 
Pittsburgh, Pa.-based GNC has appointed former PetSmart CEO and Chairman Robert Moran to fill Archbold's role on an interim basis. Moran, 65, has served as an independent director on the board of GNC since July 2013 and has a host of prior retail experience before joining PetSmart in 1999. 
Shares of GNC tumbled 19.1% to $22.03 during Thursday morning's trading session.  
Seemingly a big cause for concern, Archbold's resignation comes less than two years following his appointment and failed turnaround efforts. Archbold, having previously served as CEO and CFO of Talbots, replaced longtime CEO Joe Fortunato after he abruptly left the company in August 2014. 
When Moran was asked by an analyst on a Thursday morning conference call whether he would consider taking the helm on a permanent basis, the executive asserted that it remains "too premature to address that issue" and emphasized that GNC's focus would be to reverse its trends and financial performance. The analyst suggested that it would be tough to bring in a new CEO in the midst of the company's strategic review. 
"We're going to have a healthy disrespect for the status quo," Moran told investors, indicating GNC would continue to look at all options. 
GNC first said in early May that it had tapped Goldman Sachs to conduct a strategic review of the company, fueling speculation about the host of possibilities for the specialty retailer of vitamins and supplements. TheStreet's subsidiary, The Deal, reported at the time that GNC could be an attractive target for a private equity firm or in a position to combine with another strategic.
Rumors of a potential tie-up with rival Vitamin Shoppe (VSI) - Get Report have been floated for some time, however more recently, financial media reports suggested that the company was garnering interest from Chinese strategic buyers.
Chinese and other Asian buyers have been showing increasing interest in North American vitamins and nutraceuticals assets in recent months. For instance, China's Xiwang Foodstuff in June struck a $730 million deal for Iovate Health Sciences International Inc., a Canadian supplements maker. But while Asian firms seem inclined to pay up for quality assets, GNC may not qualify. 
Amid a change of leadership at GNC, the company also said Thursday it has pulled its 2016 guidance so that it can evaluate the business and come up with a new game plan.
After only two years of an attempted turnaround by Archbold, Mark Wiltamuth of Jefferies wrote in a Thursday note that he sees further downside risks at GNC. 
"Pressured by mass retailers, lower priced internet options, structurally eroding mall traffic (malls are 35% of sales), and a customer accustomed to aggressive promos, we see no easy fixes," Wiltamuth wrote. 
In posting second quarter results on Thursday, GNC reported $673.2 million in sales, down from $678.5 million the same period a year ago. The company posted 79 cents over the quarter, up from 77 cents a year prior. 
While its top and bottom line beat the average analyst estimates of $669.46 million and 77 cents, respectively, GNC's same store sales growth continued to disappoint. 
The retailer's same store sales decreased 3.7% during its second quarter, versus the Street's expectation of a 2.4% decline.