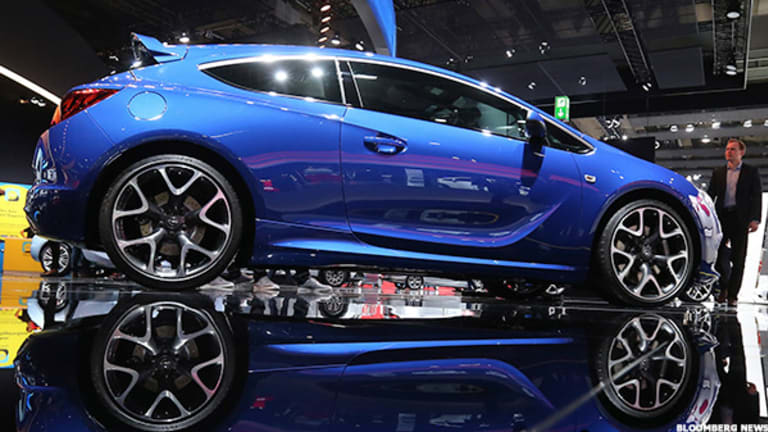 GM's UK Operations Could Be the First Big Brexit Casualty
The fate of GM's Vauxhall plants in England were already doubtful, but If Peugeot buys GM Europe they look close to sealed.
PSA Peugeot Citroen's (PEUGF) possible acquisition of the European operations of General Motors (GM) - Get General Motors Company (GM) Report may have German politicians and unions trembling, but it is Britain's Brexit-bound auto industry that will likely quake.
"Carlos Tavares (Peugeot's CEO), has little choice but to close (GM's) UK Vauxhall plants to make the Opel acquisition work," said John Colley Professor of Practice at Warwick Business School in England. "The cost of closing the high-cost German plants will be at least triple that of the UK plants."
Politicians in both Germany and the U.K. this week rushed to secure assurances from GM that local jobs will be secured. Th U.S. automaker's President Dan Ammann fielded a call from Britain's Business Secretary Greg Clarke on Wednesday hours after his company confirmed talks with Peugeot. He then dashed to his group's European headquarters in Germany, where he was joined by GM Chairman and CEO Mary Barra, to reassure workers, unions and management of their future.   
Such assurance may soon no longer be GM's to give.
It is wishful thinking to hope that Peugeot's notoriously frugal Tavares is buying GM without a view to significant cost cutting. Since joining Peugeot as CEO in early 2014, he has improved margins from -2.8% to about 5.9% much of it by eking out annual cost savings of about €2.6 billion.   
The screws will be tightened at GM. Plants are likely to close to bring down overcapacity that dogs both Peugeot and GM in Europe.
Theoretically the cuts could fall on Peugeot's side. Its production costs in France, where Peugeot makes 53% of its cars, are amongst the highest in Europe. Yet the French state is a key shareholder in Peugeot and given this year's election in France it is unlikely a new government will accept massive auto-industry job losses soon after taking office.
GM's plant's in Germany, which employ about 19,000 workers and account for about 27% of output, are on shakier ground. The Eisenach factory in central Germany, is operating at just 49% of capacity and is hardly a poster boy for profitability. Yet German unions have a veto on major decisions such as plant  closures. And Germany also has political leverage, not least through a determination shared with France to demonstrate the value of the EU. Opel's other major plant in Zaragoza, Spain, which accounts for about 35% of output, is low cost, running at beyond name plate capacity, and in the euro area, so also seems safe.
The odd man out in this reckoning is clearly the U.K., where GM's Vauxhall, the local equivalent of Europe's Opel, makes the Astra model at Ellesmere Port near Liverpool, and Vivaro vans at Luton to the North of London. Together the plants account for about 20% of GM's European output and employ about 4,500 workers.
Even without a potential takeover the operations were under pressure. GM, earlier this month, said Brexit had cost it $300 million over 2016, as the slump in sterling led to price hikes on imported parts and undercut U.K. revenues converted back to dollars. "Brexit is a reality and we need to take new action to get back on the path to a sustainable business," GM's CFO Chuck Stevens told analysts on a call on Feb. 7.
Ellesmere sells about 85% of its Astra's to Europe and imports all but 25% of the parts that go into the cars. In the event of a so-called hard Brexit, where World Trade Organization tariffs will replace EU free trade, British made cars exported to Europe would be liable to 10% sales tax. Parts could be hit with a 4.5% tax whenever they cross the EU frontier. Worryingly for Ellesmere workers GM also makes Astra's in Poland where employment costs are about a third of what they are in the U.K. and there is no Brexit uncertainty.
GM's Luton operations faces similar issues. Some 66% of its Vivaro vans are built for export, while 60% of the parts are imported. Complicating matters further the plant is run as a joint venture with Peugeot's rival Renault.
Britain's Prime Minister Theresa May has already had to step in once to secure British automaker jobs threatened by Brexit. In October, she struck a secretive deal with Nissan, pledging to insulate the group from potential tariffs as part of a packaged that convinced the Japanese car maker to expand operations at its plant in the North of England. She may now have to repeat the trick.