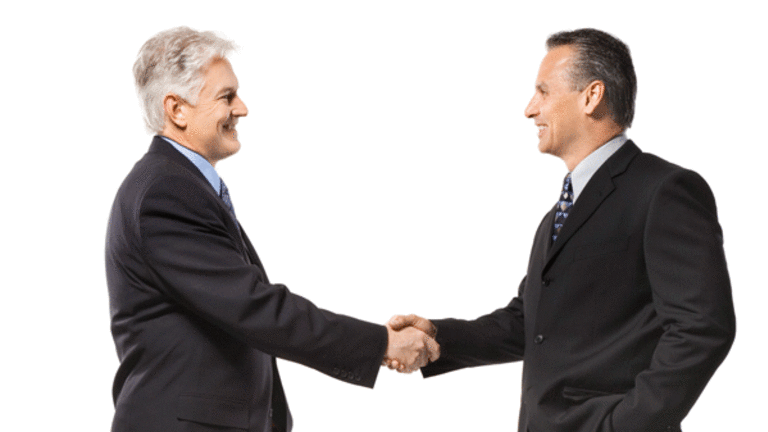 The Deal: Globecomm Sells Itself to Wasserstein for $340M
Satellite services company's founder and investors wanted sale in face of board's resistance.
NEW YORK (The Deal) -- Satellite communications and broadcasting service company Globecomm Systems (GCOM) will be acquired by an affiliate of private investment firm Wasserstein & Co. for $14.15 a share, or $340 million, the target announced Monday, Aug. 26.
The deal concludes a strategic review for the target active since the beginning of the year when Hauppauge, N.Y.-based Globecomm tapped Needham & Co. to advise it on strategic alternatives.
The target was facing pressure from activist investors, among them Chicago-based investment firm
Discovery Group
which had told the company last year it should explore a sale. Other investors more recently raised the possibility of a proxy fight.
The purchase price represents a 21.9% premium to Globecomm's share price on Jan. 14, the day the strategic review was announced. Globecomm closed at $14.40 per share Friday.
Globecomm's board unanimously approved the purchase and the deal should close in the fourth quarter of 2013.
One industry observer called the deal a good way for the private equity firm to gain a foothold in the cutting edge of the telecom world.
"
Globecomm's got a really good position in the future of telecom," said Jimmy Schaeffler, head of telecom valuation and consulting firm Carmel Group Monday. "They've got good engineers, a good reputation, and good executive management."
Wasserstein will fund the purchase via cash and debt financing through Highbrige Principal Strategies LLC, which already has a commitment letter in place.
"Globecomm is a leader in developing and managing complex communications solutions with a strong track record of growth and innovative engineering that leverages its global communications network," commented Anup Bagaria, co-managing partner of Wasserstein. "Globecomm has also made successful investments in new product development that we believe will drive future growth in both the company's existing and new markets."
For the year ending June 30, 2012, Globecomm reported $381.9 million in sales, $28.5 million in net income, and $50.9 million in Ebitda, compared to $274.1 million in sales, $8.9 million, and $24.9 million in Ebitda. The takeout multiple was thus around 6.6 times Ebitda, the median for satellite communications companies
Government and defense accounted for 61% of Globecomm's revenue for fiscal year 2012 ended June 30 of almost $382 million, up 39.3% from 2011. The target provides specialized communication products and services for media, wireless, maritime, and government customers. Globecomm has said government budget issues and the continued withdrawal of U.S. and allied forces from Afghanistan could hit its sales and income figures.
However, Globecomm also has broadened its customer base to include a media business. The company provides the satellite uplink for Showtime Networks and the cable channel uses a studio built for it by Globecomm after its parent,
CBS Corp.
(CBS) - Get CBS Corporation Class B Report
, spun off from
Viacom
(VIA.B)
in 2005.
"They are the core uplink for all of Showtime's programming across the country," said Schaeffler. "It's indicative of the breadth and scope of their business."
The target also provides switching operations for smaller cellular companies.
Curiously, activist investors in Globecomm's case were taking aim at outside board directors, rather than company management who, it was said, were in favor of a deal. Schaeffler noted that Hershberg and his internal team are highly respected in their field.
Indeed, CEO David Hershberg -- who co-founded the company in 1994 with its late president Kenneth Miller -- was involved in the early 1980's in developing satellite communications between Washington and Moscow.
Discovery Group was joined by
Emancipation Capital
, with its 5% stake, and
JMB Capital
, with a 6.4% share, in criticizing six nonexecutive board members, which the investors said held insignificant stake sin the company, while still collecting over $500,000 in fees, thus giving them little incentive to sell the business.
Other investors were displeased with the pace of Globecomm's review, notably New York-based
Oliver Press Partners
, which said in an Aug. 15 letter it wasn't pleased with the lack of progress. Oliver Press, a 4.7% stakeholder, said it planned to run a slate of directors for the board.
Globecomm vice president and general counsel Julia Hanft declined to comment further on the deal Monday. Wasserstein didn't return calls.
Needham is advising Globecomm, while Richard H. Gilden, Abbe L. Dienstag, Jonathan M. Wagner, Carol Archer, Michael Brooks, Yael Steiner, and Jennifer Wilen at Kramer Levin Naftalis & Frankel LLP are legal counsel. Andy Levine, Bob Profusek, and Giovanna Cinelli at Jones Day are providing legal advice to Wasserstein. Commercial and government satellite venture U.S. Space LLC of Dulles, Va. advised Wasserstein on industry matters.
Globecomm has a market value of $340.6 million. Shares were down 44 cents, or 3% to $13.96 Monday.
-- Written by Thomas Zadvydas, Paula Schaap and Michael D. Brown