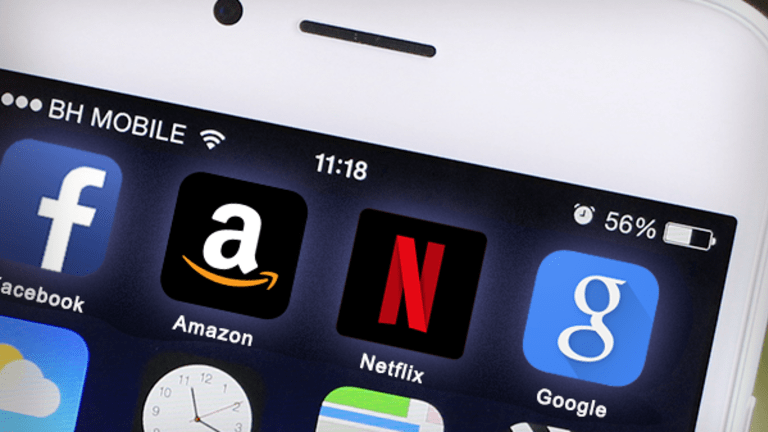 Globalstar Could Draw FANG Stocks
AT&T and Verizon had a bidding war for spectrum holding company Straight Path. Globalstar could attract a broader group.
The heated bidding for wireless spectrum holding company Straight Path (STRP) has riveted attention on Globalstar (GSAT) - Get Globalstar Inc. Report , a satellite company that has spectrum.
AT&T (T) - Get AT&T Inc. Report and Verizon Communications (VZ) - Get Verizon Communications Inc. Report bid up Straight Path's valuation in April and May. The question is whether Globalstar, which has different spectrum with different capabilities, will attract a broader field of bidders. 
"There are a number of aspects to this company that make it more exciting than Straight Path," said David Tawil of Maglan Capital, an investor in Globalstar. Cable operators such as Comcast (CMCSA) - Get Comcast Corporation Class A Common Stock Report and Charter Communications (CHTR) - Get Charter Communications Inc. Report or even mega tech groups Facebook (FB) - Get Meta Platforms Inc. Report , Amazon.com (AMZN) - Get Amazon.com Inc. Report , Netflix (NFLX) - Get Netflix Inc. Report and Alphabet's (GOOGL) - Get Alphabet Inc. Report Google could take interest, Tawil said.
Straight Path was under the gun to sell. The company lacked an operating business and effectively faced a mandate to pay $100 million or sell itself as part of a settlement with the Federal Communications Commission.
Satellite operator Globalstar won approval from the FCC to use its spectrum for some traditional, terrestrial wireless services in December.
While Verizon aims to use Straight Path's spectrum for 5G wireless services that will not launch for years, Globalstar's licenses could be put to use right away. "We're not waiting for hardware developments or technology advancements to utilize the spectrum," Tawil said.
Globalstar did not respond to queries, but the company has said that its spectrum is well suited to small cell networks. As the name implies, this form of infrastructure is smaller than typical cell transmitters. Carriers typically deploy small cells in areas where traditional cell tower coverage is insufficient, to boost capacity.
Chairman and CEO James Monroe III said during Globalstar's first-quarter earnings call in May that the spectrum and small cells could appeal to companies outside the realm of traditional mobile carriers. "Indoor and outdoor small cells are applicable to existing carriers as well as to new market entrants, both in the U.S. and abroad," Monroe told investors. 
While the FCC charged Straight Path with failing to build out infrastructure, Globalstar's licenses do not have build-out requirements. A buyer could deploy service at its own pace, and provide service in profitable markets. "For a new market entrant, this band provides an LTE service in urban and semi-urban environments with significant ecosystem and cost and timing advantages," Monroe said.
Globalstar can also deploy its spectrum internationally.
The  company says it has targeted 100 countries in which it will seek approval for terrestrial wireless service. "As of the end of Q1, we have filed applications for terrestrial authority in countries covering over 375 million people," Monroe told investors in the first-quarter call. "When the U.S. population is included, the total population covered would be about 700 million."
The international reach provides the "kicker," Tawil said, that could draw Facebook, Amazon, Netflix, Google and other global tech groups to Globalstar. "To them, this spectrum could be most valuable," he said.
Of Facebook's 1.94 billion monthly active users at the end of the the first quarter, more than 85% were outside the U.S. and Canada.
Facebook has experimented with efforts to connect new communities to the Internet. Mark Zuckerberg described beaming data from a Cessna airplane to a location on the ground during the company's first-quarter call in early May. "Eventually, we're going to use this technology along with Aquila, our solar powered plane that we're building, to beam Internet to parts of the world that currently don't have access," Zuckerberg said. Facebook did not immediately respond regarding Globalstar.
Amazon is already a player in the Internet of things, with the Echo and Dot. Jeff Bezos has talked about delivering products with drones, which would need some kind of wireless connection. The Deal reported in April about the possibility that Amazon, T-Mobile USA (TMUS) - Get T-Mobile US Inc. Report and spectrum-rich satellite TV company Dish Network (DISH) - Get DISH Network Corporation Report could strike a wireless pact. Amazon declined to comment regarding Globalstar.
Netflix is in more than 190 countries, and could take Interest in developing a delivery method of reaching customers directly. Netflix did not immediately respond to a query.
Google bid on wireless spectrum in a 2008 FCC auction, but wound up not buying any. Last year, Google acquired Webpass, which uses wireless infrastructure to connect buildings to broadband.
Comcast and Charter do not have the global reach of the FANG stocks, but are deploying wireless service. The companies said in early May that they will jointly seek out new wireless opportunities for one year, and they could jointly acquire spectrum. Comcast spent $1.7 billion on spectrum in an FCC auction that concluded earlier this year.
Jim Cramer and the Action Alerts Plus Team examined how wireless expands Comcast's offerings in a recent report. Get a free trial subscription to Action Alerts PLUS.
Comcast and Charter did not respond to queries.
This article was originally published by The Deal, a sister publication of TheStreet that offers sophisticated insight and analysis on all types of deals, from inception to integration. Click here for a free trial.
AT&T, Comcast, Facebook, Amazon and Alphabet are holdings in Jim Cramer's Action Alerts PLUS Charitable Trust Portfolio. Want to be alerted before Cramer buys or sells T, CMCSA, FB, AMZN and GOOGL? Learn more now.