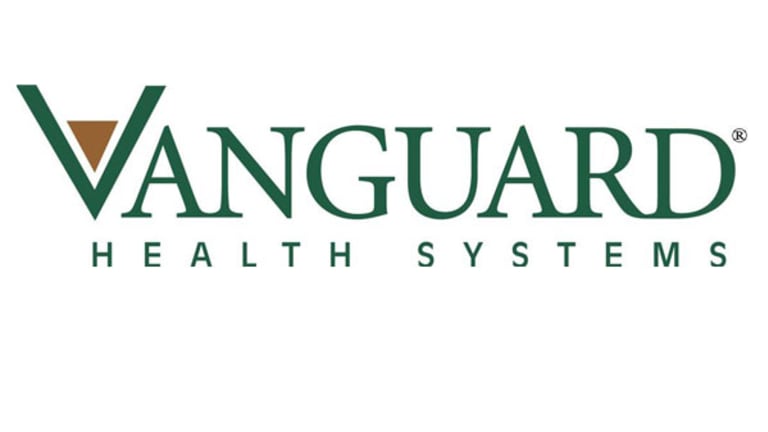 Glenview's 'Obamacare' Bet Matches Paulson's Wireless Windfall
How Paulson & Co. and Glenview Capital Management braced for merger mania.
NEW YORK (
) - Some industries are simply poised to consolidate and there's money to be made on those prospects, whether it's banking in the 1990s, railroads in the 2000s or the current healthcare and wireless sectors.
When a recent bout of healthcare and wireless merger mania runs its course,
Glenview Capital Management
and
Paulson & Co.
are poised to emerge as the two hedge funds that best identified consolidation trends in both industries, and profited to the tune of billions of dollars.
As some stocks in both sectors surge amid a
and
, the hedge funds had a clear rationale to stake billions on trades across both industries.
Tenet Healthcare's
(THC) - Get Tenet Healthcare Corporation Report
of
Vanguard Health Systems
(VHS)
at a 70% premium, for instance, stands out as just the latest multi-billion dollar merger in a healthcare industry reshuffle, as providers brace for the impact of the
Affordable Care Act
(ACA), which was mostly upheld by the U.S. Supreme Court about a year ago.
Expecting a wave of consolidation as hospitals, outpatient facilities, healthcare providers and pharmacy benefit managers merge, Glenview has made the sector its biggest bet in a stock portfolio that exceeds $10 billion, according to
Bloomberg
data.
The fund's two top holdings are leveraged to the healthcare sector. Seven of the Larry Robbins-run Glenview top-10 holdings are in the healthcare space, which is expected to grow dramatically in the wake of ACA, commonly known as 'Obamacare.'
Life Technologies
(LIFE) - Get aTyr Pharma, Inc. Report
is Glenview's biggest bet, helping the fund to a significant profit after the genetic sequencing machinery specialist was acquired by
Thermo Fisher Scientific
(TMO) - Get Thermo Fisher Scientific Inc. Report
. The deal comes as manufacturers such as Life Technologies and
Illumina
(ILMN) - Get Illumina, Inc. Report
work to build lower-cost sequencing machines that can be used in individual cancer treatment.
Glenview's second-largest holding, hospital network
Health Management Associates
(HMA)
, has become subject to takeover speculation and is impacted by Monday's proposed merger between Tenet and Vanguard Health Systems. After Glenview took a near 15% stake in Health Management, the hedge fund rebuffed notions it would look to acquire the $4 billion acute care hospital network outright.
Instead, Health Management Associates may play into the hedge fund's expressed post-'Obamacare' expectation of healthcare industry consolidation. Glenview's stakes in
McKesson
(MCK) - Get McKesson Corporation Report
, Tenet,
Community Health Systems
(CYH) - Get Community Health Systems, Inc. Report
,
Humana
(HUM) - Get Humana Inc. Report
and
HCA Holdings
(HCA) - Get HCA Healthcare Inc Report
are the fund's other healthcare investments among its top-10 holdings. Glenview is also an investor in
Cigna
(CIG) - Get Companhia Energética de Minas Gerais SA Report
,
Thermo Fisher Scientific
(TMO) - Get Thermo Fisher Scientific Inc. Report
,
Walgreens
(WAG)
and
Hospira
(HSP)
.
In 'Obamacare,' healthcare insurance coverage is expected to dramatically expand and impact states such as Texas that lag the nation in overall coverage. For hospital chains, the increase in coverage may mean an expansion into new markets, while it could also lead to a reduction in bad debt expense.
The legislation has sent ripples across the healthcare industry. Some estimate that between 16 million to 20 million new Americans will be eligible to enroll in Medicaid through 'Obamacare,' a change that's already prompted the
of
WellPoint
(WLP)
and
Amerigroup
( AGP) and a
between
Aetna
(AET)
and
Coventry Healthcare
( CVH).
Pharmacy benefit managers such as
Express Scripts
(ESRX)
,
CVS Caremark
(CVS) - Get CVS Health Corporation Report
and Walgreens, meanwhile, have used mergers to expand their
in anticipation of changes to the cost structure of prescription drug plans.
Glenview is positioned for further consolidation of the healthcare sector, as 'Obamacare' kicks in and impacts sector-wide earnings and strategy.
The fund's bet is most similar to one put on by John Paulson-run
Paulson & Co.
in the consolidating wireless industry, as also-ran carriers such as
Sprint
(S) - Get SentinelOne, Inc. Class A Report
,
T-Mobile
(TMUS) - Get T-Mobile US, Inc. Report
,
Leap Wireless
(LEAP)
,
Clearwire
(CLWR)
and
MetroPCS
seek strategic partners to grow their wireless subscribers and compete against
AT&T
and
Verizon
(VZ) - Get Verizon Communications Inc. Report
.
Given the shaky finances, bargain basement share prices and need to plow billions into network upgrades and handset subsidies among second-tier industry players, Paulson & Co. staked a
on wireless industry consolidators.
Those bets have already paid off handsomely amid Sprint's
to buy all of Clearwire, and Japanese telecom
SoftBank's
effort to buy Sprint.
Paulson & Co. has even had an influence on how the industry consolidates, after the $18 billion hedge fund gave
to SoftBank's play for Sprint and T-Mobile's
, another top holding.
The fund, which made billions shorting the U.S. subprime housing market ahead of the financial crisis, could even be seen as adding a voice of temperance to wireless industry consolidation. Paulson & Co.
could have turned wireless M&A into a frenzy
given the number of vocal hedge funds investing in the sector.
Hedge funds such as Paulson & Co. are often celebrated for winning macroeconomic bets like a subprime short, or panned for trades such as a faltering investment in gold and gold miners.
Those trying to position ahead of industry trends would do well to also take notice when funds as large as Paulson and Glenview make trades across an entire sector such as wireless or healthcare.
Other investors as notable as Warren Buffett-run
Berkshire Hathaway
(BRK.A) - Get Berkshire Hathaway Inc. Class A Report
, David Einhorn-run
Greenlight Capital Management
and Leon Cooperman-run
Omega Advisors
are also exposed to consolidation in either the healthcare or wireless sectors.
-- Written by Antoine Gara in New York