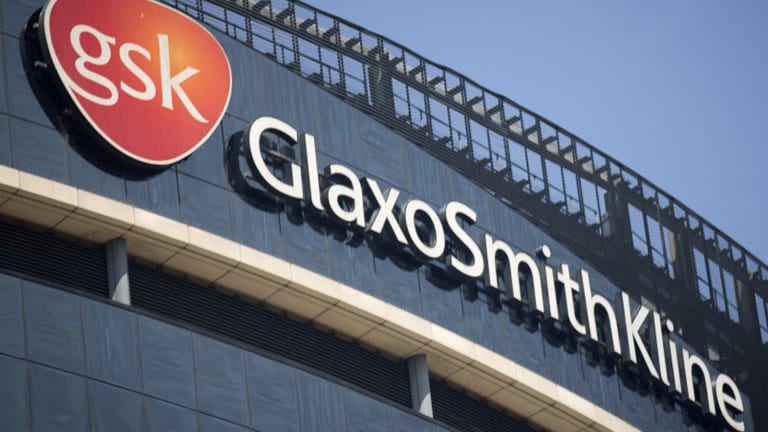 GlaxoSmithKline Won't Sell Its HIV Drugs Unit, Cuts Shareholder Payout
U.K. pharmaceutical giant GlaxoSmithKline has dropped plans to put its HIV medicines business up for sale; meanwhile, it's reducing a payout to shareholders to invest more in the company's future.
NEW YORK (The Deal) -- The U.K.'s GlaxoSmithKline (GSK) on Wednesday pulled plans to list its HIV medicines business because of a "strong positive outlook" for the unit.
Britain's leading drug maker also cut the planned payout to shareholders from the sale for up to $16 billion of its oncology business to Novartis (NVS) by three-quarters, saying it would return £1 billion ($1.5 billion) instead of the £4 billion previously planned. It announced the moves as it forecast a brighter earnings outlook from 2016 after a period of contraction following a costly bribery scandal in China and price pressure at its respiratory drugs business.
The initiatives put the beleaguered company back on the offensive. GlaxoSmithKline said it will prioritize capital allocation for ordinary dividends, "accelerated investments to realize synergies," and to accommodate any decision by HIV unit joint venture partner Pfizer (PFE) and consumer health care joint-venture partner Novartis to exercise their respective put options. GlaxoSmithKline said it may also funnel capital into measures to deal with the future introduction of a generic version of its Advair respiratory drug in the U.S.
"We want to make sure we retain the flexibility to deploy capital in response to events that may or may not occur in the next five years," said CFO Simon Dingemans in a video presentation. "We believe these decisions support the long-term interests of shareholders."
Sales at HIV unit ViiV Healthcare rose 42% in the first quarter to £446 million. In 2014 ViiV's revenue was £1.5 billion, up 15%, making the business the London group's fastest-growing operation.
GlaxoSmithKline, with the help of Citigroup (C) , Morgan Stanley (MS) and Goldman Sachs (GS) had been weighing an IPO of ViiV Healthcare for several months. CEO Andrew Witty previously said an IPO wouldn't happen before 2016. Japan's Shionogi & Co. also has a stake in ViiV.
Among the HIV unit's products are the recently launched Tivicay and Triumeq drugs. ViiV Healthcare said on Wednesday that it will start Phase 3 clinical trials of Tivicay, or dolutegravir, and Edurant 1, or rilpivirine, as maintenance therapy for adult patients with HIV.
GlaxoSmithKline on Wednesday also posted a 1% increase in first-quarter sales to £5.6 billion. Shares in the company rose as it pledged to preserve the dividend at 80 pence a share for the three years ending 2017 and anticipated a "significant" earnings recovery in 2016, with double-digit core earnings per share growth.
It also said restructuring savings and synergies from its three-pronged deal with Novartis were ahead of schedule. It is the second time in the past five months that GlaxoSmithKline has rethought previously flagged restructuring measures. In December it said it had decided not to sell North American and European brands within its "established products portfolio" of older drugs after studying offers.
GlaxoSmithKline's deal with Switzerland's Novartis included the oncology sale, the purchase of most of Novartis' vaccines business for an initial $5.25 billion and the establishment of the consumer health care joint venture. The transaction closed in March. Glaxo shares opened higher in New York Wednesday, trading up 0.8% around midday, at $45.98.