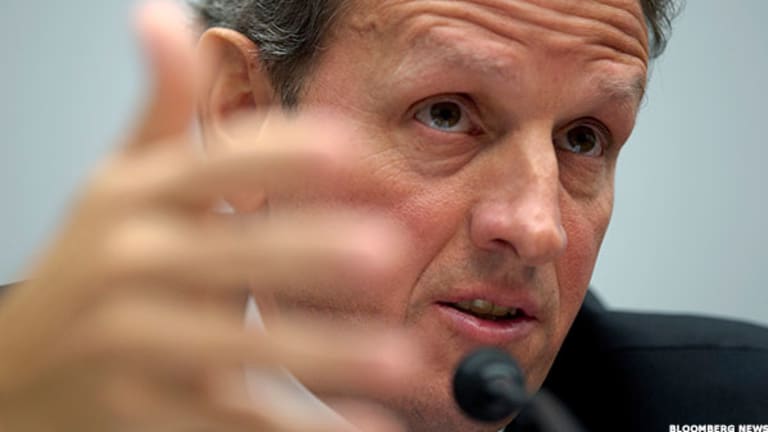 Geithner Mum on Private Equity Leverage Ahead of Crisis
Here's what Tim Geithner had to say about the private equity industry when he was at the Federal Reserve.
NEW YORK (TheStreet) -- Timothy Geithner wasn't worried about private equity bubbles during the private equity bubble of 2007.
In 2007, officials at the Federal Reserve called the private equity industry a "bubble," and the next shoe to drop as credit markets began to implode, but Geithner had little to say about the state of the buyout industry prior to the financial crisis.
Transcripts released by the Federal Reserve show that starting in early 2007, officials at the Fed expressed concerns about the size and leverage of private equity deals, and their potential impact on credit markets and the financial system.
While some at the Fed may have sounded alarm bells, a survey of transcripts conducted by TheStreet shows few direct references to the private equity industry from Geithner, who was president of the Federal Reserve Bank of New York and the vice chair of the central bank at the time.
"A very large amount of LBO financing that is yet to be closed, distributed, and placed is still working its way through the system. As in the past, we could see a deal or two get hung, the music stop, and that force some broader repricing. People get stuck with stuff they don't want to hold or did not expect to hold," Geithner said, according to a transcript of the Federal Open Market Committee's (FOMC) June 2007 meeting.
"For now I think it is a relatively healthy, still pretty modest, and quite contained shift toward a more cautious assessment of risk, but these things generally don't tend to unfold gradually," he added.
Geithner's comments, released on a five-year lag, provide an important insight into his thinking about the private equity industry as he prepares to join buyout giant Warburg Pincus as a president and managing director next year.
Those transcripts show that some of Geithner's peers at the Fed were far more vocal in expressing worries about the private equity industry.
"I recently talked with the principals of several major private-equity funds, who were not just amazed but also appalled about the amount of money their industry has attracted," Janet Yellen, then the president of the Federal Reserve Bank of San Francisco, said in a March 2007 FOMC meeting.
"So just as we have seen in mortgage markets, the bubble in private equity, as my sources characterize it, and the overabundance of liquidity more generally raise the risk of a sharp retrenchment in credit and higher risk spreads with associated risks to economic growth and, conceivably, even financial stability," she added.
Yellen was recently appointed by President Barack Obama to succeed Ben Bernanke as chair of the Federal Reserve, a post she could assume in early 2014 if she is confirmed by the Senate.
Others at the Fed had similar reservations about the money rushing into the private equity industry.
Jeffrey Lacker, president of the Federal Reserve Bank of Richmond said at the FOMC's August 2007 meeting that leveraged private equity deals were among the factors driving a squeeze in credit markets.
At the time, banks were beginning to take leveraged structured investment vehicles of toxic assets onto their balance sheets causing overnight interest rates to surge. To quell a cash crunch, the Fed and other central banks injected emergency liquidity into the financial system.
"As far as we can tell at this point, the heightened turbulence of the past month is all pretty closely related to subprime and nontraditional mortgages and the leveraged financing of private equity buyouts in the corporate sector," Lacker said during the August 2007 FOMC meeting.
Lacker advocated that Fed express its perception of problems emerging in private equity markets in its release of FOMC meeting minutes to the public.
"I think that the minutes should acknowledge the problems in subprime and private equity markets, and I also think the minutes should educate financial markets that the mitigation of volatility in asset prices is not an FOMC objective," Lacker said. Minutes from the August 2007 Fed meeting did not explicitly mention the private equity industry.
At the September 2007 FOMC meeting, Richard Fisher, president of the Federal Reserve Bank of Dallas, characterized a slowing of private equity deals as a "relief" to businesses in his district, given irrational leverage and exuberant prices.
"One relief that's been provided here is that the private equity firms have been taken out so that bids of, say, seventeen times EBITDA, which is an actual case, with no due diligence, are no longer the case. Four of the companies I spoke with are now able to make strategic acquisitions, and they plan to proceed," Fisher said.
Just months earlier, TXU, now known as Energy Future Holdings, completed the largest private equity buyout in history, in a $45 billion deal that put the Dallas-based utility in the hands of PE giants KKR and Texas Pacific Group. The company is now fighting to stave off bankruptcy and service approximately $40 billion in outstanding debt.
William Dudley, current president of Federal Reserve Bank of New York, said that a slowing in private equity markets created the risk that investment banks wouldn't be able to syndicate the loans they had made to buyout firms, potentially stressing their balance sheets.
"This pressure on bank balance sheets-both existing and anticipated-has led to significant dysfunction in financial markets," Dudley said in September 2007. Janet Yellen at the very same meeting said "Our contacts located at the epicenter-those, for example, in the private equity and mortgage markets-report utter devastation."
Geithner's lack of discussion of the private equity industry in 2007, masks his detailed and generally prescient understanding of issues emerging throughout the financial system.
Transcripts show Geithner to be among the most engaged officials at the Fed in trying to mitigate the risks to the economy as banks worked to stabilize their over-leveraged balance sheets.
Geithner was also a crucial player in the Fed's creation of initial emergency liquidity programs such as the 2007 Term Auction Facility (TAF), which pumped safe assets into banks and temporarily cast off risky ones onto the Fed's balance sheet. The program was intended to get money into increasingly illiquid banks and alleviate strains in the financial system.
The TAF would eventually beget even bigger operations conducted by the Fed such as the Primary Dealer Credit Facility, Term Securities Lending Facility, Term Asset-Backed Securities Loan Facility and direct toxic asset portfolio buys from JPMorgan Chase (JPM) - Get JPMorgan Chase & Co. Report-owned Bear Stearns and American International Group (AIG) - Get American International Group, Inc. Report.
Those facilities helped to thaw credit markets that had frozen in the wake of the bankruptcy of Lehman Brothers. Subsequent bouts of easing by the Fed allowed highly leveraged companies and especially those owned by private equity firms, to refinance their debts and avert bankruptcy.
Now, private equity firms like Warburg Pincus, Carlyle Group (CG) - Get Carlyle Group Inc Report, Apollo Global Management (APO) - Get Apollo Global Management Inc. Class A Report, Blackstone Group (BX) - Get Blackstone Inc. Report and KKR (KKR) - Get KKR & Co. Inc. Report are raising new funds that often trump the size of their biggest pre-crisis funds.
Revisiting Geithner's 2007 comments as a New York Fed president may help to contextualize his appointment to Warburg Pincus. Fed transcripts may also prove to be important documents in assessing whether Geither will be prone to conflicts of interest or bad press as he enters the buyout business.
Yet-to-be-released transcripts from 2008 Fed meetings may further illuminate Geithner's involvement with the financial sector and the private equity industry.
In 2008, the Federal Reserve decided to relax rules on how private equity firms could invest in the banking sector by allowing them to seek representation on a bank's board and increase their overall investment.
As Treasury Secretary in 2009, Geithner also coordinated the creation of a set of public and private partnerships that allowed PE giants the ability to invest in banks that had been seized by the Federal Deposit Insurance Corporation or who had taken Troubled Asset Relief Program funds.
Those programs appear to have directly aided Warburg Pincus.
In 2010, Warburg and THL Partners co-invested in Sterling Financial Corporation's recapitalization after it took TARP funds. Warburg invested $139 million in Sterling and took a 20.5% stake, as part of the recapitalization plan that installed David A. Coulter, a managing director of the buyout fund, on the lender's board of directors.
Warburg Pincus has been one of the more active funds raising capital to make a new slate of investments. Meanwhile, community and regional banks across America continue to struggle to compete against their larger "too big to fail" brethren.
Geithner's experiences at the Fed could be helpful to Warburg Pincus if the firm is planning another set of bank investments. Furthermore, Geither's crisis-time work at the Fed and Treasury may help in identifying future bubbles, as low interest rates allow private equity firms to ply the most leverage on buyout deals since the the credit bust.
Warburg Pincus didn't immediately respond to emails or phone calls seeking comment for this article.
-- Written by Antoine Gara in New York