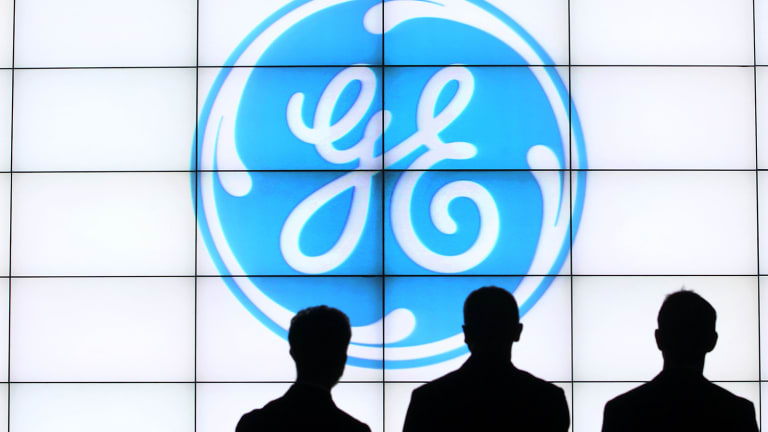 GE Says Talks With Baker Hughes Don't Include 'Outright Purchase'
General Electric, whose CEO is refocusing the company on manufacturing after spinning off its lucrative lending business, is in "partnership talks" with oilfield services provider Baker Hughes.
General Electric (GE) - Get General Electric Company Report and oilfield services provider Baker Hughes, both of which are grappling with a sluggish energy market, have begun talks on possible partnerships, but the blue-chip manufacturer says none of the options include a complete takeover.
(GE is owned by Action Alerts PLUS, which Jim Cramer and Jack Mohr co-manage as a charitable trust. Click here for a free 14-day trial of Action Alerts PLUS and check out their latest take on GE, while also receiving lots of other great, exclusive content.)
A potential deal between GE, the conglomerate CEO Jeffrey Immelt has refocused on manufacturing after selling most of its sprawling lending business, was reported earlier Thursday by the Wall Street Journal, which said it couldn't ascertain any details of the transaction. Immelt has said the oil industry is in a cyclical lull, typically a good time to make acquisitions, but that GE's oil and gas division didn't need any drastic changes.
"We are in discussion with Baker Hughes," GE spokeswoman Deidre Latour said in a statement Thursday night. "While nothing is concluded, none of these options include an outright purchase."
Baker Hughes shares had surged as much as 14% on reports of a deal, reaching $62 in after-hours trading, while GE slid 1.47% to $28.21. The Houston-based energy company currently has a market cap of $23 billion and the Journal had said any deal would likely price it in the range of $30 billion.
The oil industry continues to struggle from prolonged low oil prices that have even hit GE's own oilfield services business -- it's a major equipment supplier to the likes of Baker Hughes and its rivals. This summer, it halved the work forces of three eastern Texas sites when it laid off 362 workers at former Lufkin Industries sites.
GE bought Lufkin in 2013 for $3.3 billion.
While General Electric is still integrating its $10.6 billion purchase of Alstom SA's power unit and emphasizing stock buybacks, the Boston-based conglomerate hasn't ruled out more deals.
"We're not short on M&A ideas," CFO Jeff Bornstein said on a Friday (Oct. 21) earnings call, though neither he nor CEO Jeffrey Immelt mentioned expanding in oil and gas.
Sales in that division, the company's fifth-largest, dropped 25% to $2.96 billion in the three months through September as customer demand languished with crude prices around $50, far below a 2014 high.
Real Money: Jim Cramer says banks, oil services, airlines are inching back.
As of July, the worldwide rig count had dropped 58% from the end of 2014, illustrating market weakness that "could create acquisition opportunities," Eric Ause, a Fitch Ratings analyst, said in a note to clients last month.
"GE has indicated transactions are possible in the current weak environment assuming they are attractively priced," he added. "Oilfield services are a possible area where GE could seek to expand, as it is underrepresented in this space."
Still, an 8% drop in the GE's stock this year might make large acquisitions less attractive compared with stock buybacks.
A share price around $28 makes devoting capital to repurchases "quite attractive," Bornstein said. Indeed, GE which had set a plan of returning $26 billion to shareholders this year through dividends and stock buybacks, raised that target last week to $30 billion.
Industrial services provider Halliburton Co. in May called off its $35 billion all-stock purchase agreement with Baker Hughes. The Department of Justice had sued to halt the deal, arguing that it would harm competition.
Acquisitive GE's other most recent agreements have been more forward-looking than an investment in the oil industry. Earlier this month it agreed to buy Lichtenfels, Germany-based Concept Laser for €549 million ($598.3 million) as part of an expansion into 3D printing that includes an earlier, 6.2 billion Swedish kronor ($680 million) tender offer for Mölndal, Sweden-based Arcam that expires Nov. 10.
GE  also announced an agreement Oct. 11 to buy Danish windmill blade-maker LM Holding from London private equity shop Doughty Hanson & Co. for €1.5 billion ($1.63 billion).
With assistance from Tom Terrarosa in New York.