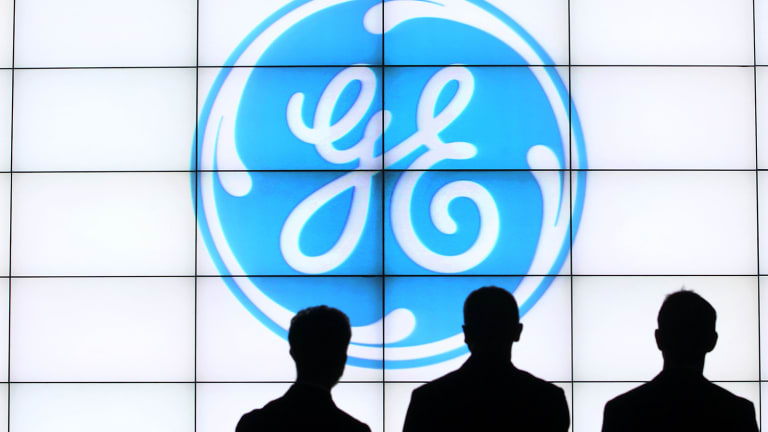 GE Stuck With $28 Billion Insurance Liability -- Exclusive
Buried amid the tumult surrounding General Electric's decision to exit the bulk of its financial businesses is a $28 billion insurance liability that it may not be able to unload.
Correction: A previous version of the article stated CNO Financial Group had exited the long term care insurance business. While it cut back exposure last year, it is still writing new policies, according to a spokeswoman.

NEW YORK (The Deal) -- Buried amid the tumult surrounding General Electric's (GE) - Get General Electric Company Report decision to exit the bulk of its financial businesses is a nearly $28 billion insurance liability that GE may not be able to unload at any price.
GE likely chose to hang on to the businesses, which include insurance and reinsurance for life and health risks, and providing certain annuity products, because it isn't clear there are any buyers willing to take on the risks. Particularly problematic is long-term care insurance, lifetime policies that pay for aid for people who cannot perform basic functions on their own.
"When you say, 'Who's a logical buyer at this point?', I don't think there are [any]," says Compass Point Research & Trading analyst Ken Billingsley, who follows the insurance industry. He doesn't cover GE and was talking mostly about the business of Genworth Financial (GNW) - Get Genworth Financial, Inc. Class A Report, spun out of GE in a 2004 IPO, though also about the industry in general.
GE spokesman Seth Martin declined to comment on why GE isn't selling these assets, but says they are in runoff. "We have not written any new policies in several years."
In its latest 10-K, GE puts its total insurance liabilities at $27.578 billion. GE acknowledged in a slide presentation last week that insurance would be a drag on future GE Capital returns. Slide 9 of the presentation it gave on Friday notes that the future GE Capital segment, following roughly $200 billion in planned asset sales, will have a return on tangible equity of 11%, but that it would be 13% excluding the insurance businesses.
Still, analysts did not ask about the issue on the conference call accompanying the presentation. Indeed, insurance has been such an afterthought at GE that former CEO Jack Welch, who happened to be in TheStreet's office Tuesday, was unaware GE was still in the insurance business "They're out of that -- a long time ago. Genworth is not theirs," Welch said, alluding to the 2004 spinoff.
In fact, GE hung onto certain insurance businesses, reportedly for fear they would depress Genworth's valuation, according to an investment banker who covers the insurance industry but did not advise GE on the Genworth IPO.
GE spokesman Martin wrote via email that GE chose not to include the assets in the Genworth spin because they "did not fit the profile of the Genworth transaction." Lead advisers on that 2004 spinoff, according to a person close to GE, were Victor Lopez Balboa of Goldman Sachs (GS) - Get Goldman Sachs Group, Inc. Report and soon-to-be Google (GOOGL) - Get Alphabet Inc. Class A Report CFO Ruth Porat, who was then at Morgan Stanley (MS) - Get Morgan Stanley Report. A call to Lopez Balboa wasn't returned and a Morgan Stanley spokeswoman declined comment. Porat, who joins Google in May, could not be reached.
The investment banker said he believes GE has tried shopping some of the insurance businesses in the past but hasn't been able to find a buyer. GE spokesman Martin declined to comment on that banker's assertion.
The biggest potential liability, according to the banker, is in long term care insurance. Several insurers, including MetLife (MET) - Get MetLife, Inc. Report, Prudential Financial (PRU) - Get Prudential Financial, Inc. Report, Unum Group (UNM) - Get Unum Group Report and CNO Financial Group  (CNO) - Get CNO Financial Group, Inc. Report have either cut back exposure or exited the business entirely, and the leader "by default," is now Genworth, according to Compass Point analyst Billingsley.
Genworth has had to increase reserves against long term care over the past few quarters, hurting the stock price. Shares fell nearly 40% Nov. 6 after it announced a $531 million reserve boost and have yet to recover.
The problem with long term care is that policies were originally written using assumptions that had worked for life insurance but proved incompatible with long term care, Billingsley said. For example, underwriters had expected roughly 5%-7% of policyholders to stop paying insurance premiums, allowing their policies to lapse. In fact, the lapse rate has been below 2%, he noted.
Policies were originally written to assume liabilities over an entire lifetime, though new policies are being shortened considerably and insurers have been trying, with mixed success, to convince state regulators to let them increase prices.
Billingsley thinks Genworth (and presumably GE as well though he stresses he doesn't cover the conglomerate) would either have to sell its long term care insurance business at a sharp discount or potentially have to pay an buyer to take it over. However, he isn't sure there are any buyers out there.
That may change once interest rates eventually rise, allowing long term care insurers to offset their liabilities with higher-yielding investments, he said.
GE is being advised on its planned $200 billion in asset sales by JPMorgan Chase and Centerview Partners. They did not respond to questions.
This article was published originally at 3:53 p.m. ET, April 14, 2015, on The Deal. 
Must Read: Missed Out on General Electric's Surge? Buy Eaton or ABB Ltd.