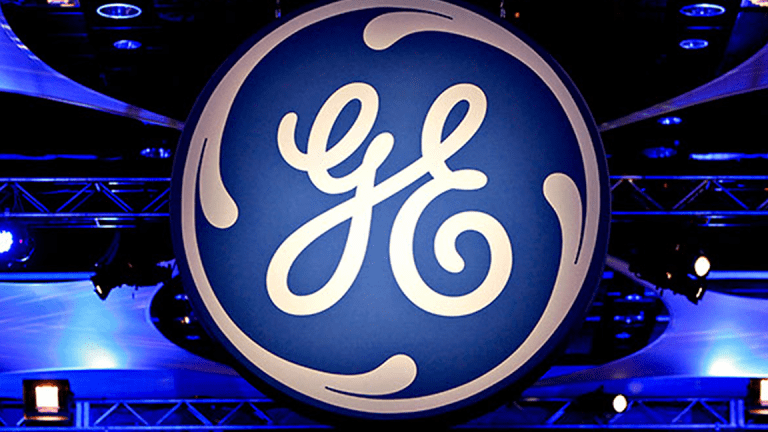 GE's Low Return on Alstom Deal Complicates Power Turnaround
General Electric is considering whether to sell its controlling stake in Baker Hughes, the oil equipment provider that combined with the conglomerate's oil and gas business.
General Electric is considering whether to sell its controlling stake in Baker Hughes, the oil equipment provider that combined with the conglomerate's oil and gas business.
The more familiar former General Electric Co. (GE) - Get Report CEO Jeffrey Immelt became with the $10 billion power business he bought from Alstom SA, the better he felt about it.
"We like what we've seen in Alstom so far," Immelt told investors in mid-2016 during an update on integration of the purchase, which was intended to give the Boston-based conglomerate access to Alstom's steam-power base, expand its offerings in gas power and services and enable both cross-selling and cost savings.
"I like the Alstom deal more and more as time goes on," he reiterated that December.
Two years after the deal's completion, however, Immelt's successor is somewhat less sanguine. 
While GE's expectations for the purchase "played out generally as we expected," CEO John Flannery told reporters on Monday, Nov. 13, "markets have been much weaker than we expected."
GE shares have fallen 38% to $18.27 since the Alstom deal was completed, compared with a 22% gain on the S&P 500. Slow approval from regulators hurt the purchased businesses in the short-term, issues have occurred in some Alstom projects and the near-20% return that GE expected on the largest manufacturing deal in its history is actually in the single digits.
"That is disappointing to us," Flannery said, and it complicates the immediate challenges to his turnaround at GE, where he has grappled with pressure from investors including activist Trian Partners to buoy profitability and cash flow since taking the top job in August. 
Nonetheless, GE's power division, which includes most of the Alstom acquisition, is core to the streamlined approach that Flannery outlined for investors this week and he's committed to improving it. The two other pieces are aviation and medical equipment; altogether, the units account for 74% of total revenue so far this year, or about $68 billion. He's planning to exit another $20 billion of businesses, including locomotive manufacturing and, possibly, the Baker Hughes oil-field company.
In the meantime, GE has cut its profit target for 2018 to a range of just $1 to $1.07 a share, roughly half the original target of $2. Included in that is 7% growth in operating profit despite a drop of as much as 25% in the power business, CFO Jamie Miller explained.
The division, which dates to 1882, remains a vital asset to GE in part because of its scale: Its $26 billion in revenue this year makes it the single largest business on that basis, and it produces roughly one-third of the world's electricity.
The unit's new chief, Russell Stokes, is focusing on right-sizing it for the current market while reducing cost by as much as $1 billion next year and emphasizing sales of newer products such as the more-efficient H-class gas turbine. The power plant has an order backlog almost equal to the number delivered so far.
While GE Power's market is "very challenged" in the near term, Stokes said, "we believe that we'll continue to see growth in electrical consumption out into the future and that gas is going to play a role in that."
One broader trend that GE may be able to take advantage of is the increasing use of electric vehicles, such as those made by Tesla, which will push up power usage, Flannery said.
The company plans additional cost cuts in the division as its market challenges continue into 2019, when it sees the possibility of stabilizing sales. On that score, JPMorgan Chase analyst Stephen Tusa demurs.
"Our recent field work suggests a declining market through 2020 due to inflection in renewables and peaking coal replacements in the U.S.," he wrote in a note to clients.
The "severe deterioration" in Power's financial performance is among the reasons that debt-rating firm Moody's Investors Service downgrade GE's score to A2, midway between its top level and junk, from A1 on Thursday. 
"GE has to contend with weak earnings and cash flows in several segments that represent in aggregate about 50% of expected revenues in 2017," Moody's said in a statement.
Flannery acknowledges both the business's challenges and the questions about why GE opted to keep it and avoid a more significant reshaping. And he has answers.
First, there's short-term pressure to sell any unit encountering challenges, he noted at a UBS conference on Wednesday, Nov. 15. GE was urged to sell its jet-engines business after the 9/11 terrorist attacks, in which airplanes were flown into major U.S. buildings, but that division is now among the company's best performing.
As for breaking up GE itself, the conglomerate's businesses are "huge" franchises, built in some cases over more than a century, and "they're formidable assets," he added. "The idea that I would walk in after 90, 100 or 110 days and say, 'Let's just toss them out in the winds and see what happens' is not responsible stewardship."
GE "did a poor job" running the power division, he conceded, but that can be fixed. "It's all obvious in hindsight, and easy to say in hindsight, but we were too optimistic for too long about the market."
Updated from 6:10 p.m. ET on Wednesday, Dec. 15, 2017.
Editor's note: This article originally appeared on The Deal , our sister publication that offers sophisticated insight and analysis on all types of deals, from inception to integration. Click here for a free trial.
More of What's Trending on TheStreet: