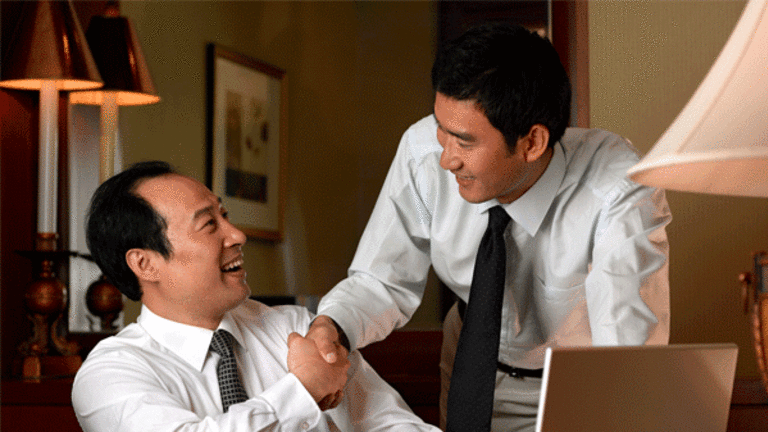 GE Dangles Alstom Alliance Before French Lawmakers
CEO Immelt follows up the unexpected offer with a meeting with French President Hollande.
CEO Immelt follows up the unexpected offer with a meeting with French President Hollande.
NEW YORK (The Deal) -- General Electric (GE) - Get Report CEO Jeffrey Immelt met French President Francois Hollande on Wednesday to sell the U.S. group's 11.4 billion ($15.5 billion) bid for Alstom's energy operations, a day after surprising French lawmakers with the offer of a business partnership with the French state.
Immelt made an unscheduled appearance Tuesday at France's National Assembly during a discussion about Alstom's future, declaring that GE was "open to an investment by the French government in a business alliance."
The CEO gave no details of the offer but it is likely to center on co-investment in Alstom's wind energy or hydroelectric operations, according to a GE source who asked not be named.

WATCH: More market update videos on TheStreet TV
Immelt met Hollande, Industry Minister Arnaud Montebourg and Energy Minister Segolene Royal at the Elysee Palace on Wednesday morning. The CEO is facing a battle to win the support of French ministers, notably Montebourg, who has said that he would prefer to see Alstom swap its energy division for rail assets owned by Germany's Siemens.
Siemens also made its case for a deal on Tuesday, when its head of French operations told the National Assembly that the Munich-based company was preparing to file a proposal to create an "alliance" with Alstom by June 16.
"The capacity to create two European giants of that size won't show up twice," Siemen's Christophe de Maistre told the hearing on Tuesday.
Siemens has already indicated its offer will be premised on swapping its train manufacturing assets for Alstom's energy business.
It is considering adding its rail signaling business to the offer and will guarantee all Alstom employees jobs in France for three years, de Maistre said on Tuesday.
Siemens' bid may also include 7 million in cash, Reuters reported Tuesday, without citing its source. Siemens spokespeople were not immediately available to comment.

Alstom makes about 70% of its revenue from its energy business, including turbine manufacturing and electricity grid operations. The remaining 30% comes from the manufacture of trains and rail equipment, in which Alstom competes with both Siemens and GE.
Montebourg has warned that selling Alstom's power assets without expanding its transport operations risks fatally undermining the French business as it would lack the size to compete with its suitors. He has threatened to block GE's bid. Those threats gained credence earlier this month when the French government awarded itself new powers to intervene in foreign bids for companies operating in six sectors, including energy and transport.
Fairfield, Conn.-based GE puts the value of its offer for Alstom's power businesses at $16.9 billion, including $3.4 billion in cash, because of differences in how the two companies calculate the cash and debt of operations. Alstom has said it supports the deal but is waiting for the counteroffer from Siemens before giving a verdict.
A Siemens offer including signaling assets and cash is unlikely to sway Alstom CEO Patrick Kron, who feels that the German train making operations would be a drag on Alstom's transport division.
"The [German] technology in trains is inferior and there is significant overlap in turns of operations that would cost jobs," said a source with knowledge of the French company's thinking. "Alstom doesn't need to grow the size of its transport manufacturing, it needs the financial capacity to grow its market."
The combination of Alstom and Siemens' rail assets is also likely to face scrutiny from European regulators as it would have a virtual monopoly on Western European train manufacturing.
GE last week extended its bid for Alstom's power business until June 23.
Alstom shares traded Wednesday at 29.06, up 0.36, or 1.3%, on their Tuesday close, equating to a market capitalization of 8.97 billion.