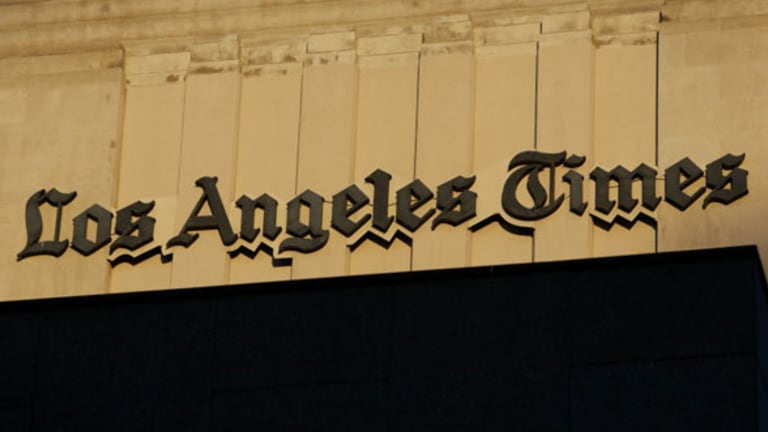 Publish date:
Gannett's Bankers Can Look to Yellow Pages Bankruptcy for Caution on Tronc
Gannett's bankers need look no further than a 2013 merger of two bankrupt Yellow Pages publishers for reasons to back away from paying $18.75 for fellow newspaper publisher Tronc.
Gannett's bankers need look no further than a 2013 merger of two bankrupt Yellow Pages publishers for reasons to back away from paying $18.75 for fellow newspaper publisher Tronc.
Can two financially challenged companies improve their lot if they merge into one bigger company?
That was thinking in March 2013 when shareholders of Dex One and SuperMedia approved a merger through twin prepackaged reorganization plans, a bet that a joint Chapter 11 restructuring was preferable to the two publishers of Yellow Pages directories attempting to go it alone. In short, they bet that the sum of two parts is greater than the whole. After all, both companies had been through a bankruptcy once before a few years earlier when they were known respectively as R.H. Donnelley and Idearc.
"By joining two industry leaders to create a national provider of social, local and mobile marketing solutions, we believe Dex One and SuperMedia will accelerate the transformation of the newly combined company and be positioned to deliver outstanding service and support," Dex One CEO Alfred Mockett said at the time.
Flash forward to the present, as investors and bankers are being asked to judge another potential combination of two companies each feeling the wrath of a downsizing industry. 
Gannett (GCI) - Get Report , the country's largest newspaper publisher and owner of USA Today, has been pushing since the spring to acquire Tronc (TRNC) , the company known for decades as Tribune Publishing, owner of the last chain of major U.S. dailies including the Los Angeles Times, Chicago Tribune, San Diego Union-Tribune and Baltimore Sun. 
Bloomberg News on Thursday reported that banks set to finance Gannett's takeover of Tronc had backed out of the potential deal rather than fund an $18.75 per share offer. Such a bid would be a significant sweetener to Gannett's $15 offer made in May and even more attractive than its initial $12.25 bid to Tronc's board of directors in April.
Jefferies and SunTrust Banks, two of the lenders Bloomberg said were poised to finance Gannett's transaction, allegedly balked at the notion of financing a 149% premium to Tronc's closing price of $7.52 per share on April 22, the last trading day before its initial offer was made public. Neither Jefferies nor Sun Trust would comment on the report, and both Gannett and Tronc didn't immediately respond to a request for comment.
A source close to the deal said talks remain ongoing.
For bankers wary about the future of media, reservations about a Gannett-Tronc union are not without reason.
Gannett on Thursday posted third-quarter sales that fell short of analyst expectations, largely a result of weaker-than-expected print advertising sales. An owner of some 100 U.S. dailies, Gannett said it would cut 2% of its workforce to save on costs. Nonetheless, national advertising sales are expected to be 30% lower in the current quarter, according to Jefferies media analyst John Janedis, reflecting marketers' accelerating transition to digital and away from print, where prices are much higher than space online.
Tronc's financials are similarly under pressure. Of considerable concern is Chairman Michael Ferro's plan to invest in artificial intelligence and so-called machine learning to generate stories and advertising opportunities, an approach that has provoked as much interest as it has ridicule. But questions about Tronc's management style may be secondary to the reality that its sales fell 2% in the second quarter and revenue in the third quarter is expected to have similarly declined.
Tronc reports its third-quarter earnings Tuesday.
In light of weakness at both Gannett and Tronc, the case of Dex One and SuperMedia illustrates the inherent vulnerabilities of horizontal mergers. 
Three years ago, bankers embraced management's view that there was a profitable future for two publishers of printed Yellow Pages. Dex One and SuperMedia secured refinancing support from lenders that were owed more than $1.82 billion, allowing shareholders in Dex One of Cary, N.C., to take a 60% stake in a brand new entity, Dex Media, which took SuperMedia's Dallas headquarters.
Three years later, Dex Media was back in court, filing for bankruptcy in May after its lenders agreed again to overhaul $2.42 billion in debt. The company exited Chapter 11 on Aug. 1 in the arms of lenders after slashing $1.8 billion in debt. Shareholders received nothing.
No one wants a similar ending for investors or employees of two of the newspaper industry's largest players. Yet both Gannett and Tronc remain heavily reliant on print products for premium advertising revenue at a time when only a handful of newspapers have been able to reap significant revenue from subscriptions that might help to offset such declines.
As an earlier generation of Tribune knows full well, the newspaper publisher, then still merged with television station and Chicago Cubs owner Tribune Media (TRCO) - Get Report , was forced to file for bankruptcy on Dec. 8, 2008, after real estate billionaire Sam Zell's ill-conceived transaction to take the company private forced thousands of layoffs. Tribune exited from bankruptcy on Dec. 31, 2012. (In August 2014, Tribune spun off its publishing operations. It had sold the Cubs in October 2009 to the Ricketts family.)
Earlier this month, Dex Media made cutbacks of its own, laying off workers at its office near Buffalo, N.Y.
To be sure, Gannett CEO Robert Dickey has made the reasonable argument that combining with Tronc will strengthen the companies' position in key advertising areas: Southern California, Florida and in the Midwest, where it also owns the Milwaukee Journal Sentinel. Synergies can be found to make for a stronger company, Dickey has said, pointing out that Gannett is doing just that after acquiring the (Milwaukee) Journal Media Group and North Jersey Media, owner of the widely respected Bergen Record.
On Monday afternoon, Tronc shares were up 6.3% to $12.29, a modest rebound after tumbling 32% last week after Bloomberg's reports. At that price, Tronc is trading at a somewhat more justifiable 68% premium to its April 22 closing price.
For Ferro, who has maintained for months that he is under no pressure to sell, Gannett's nonwithdrawl withdrawal may finally set the stage for a deal.