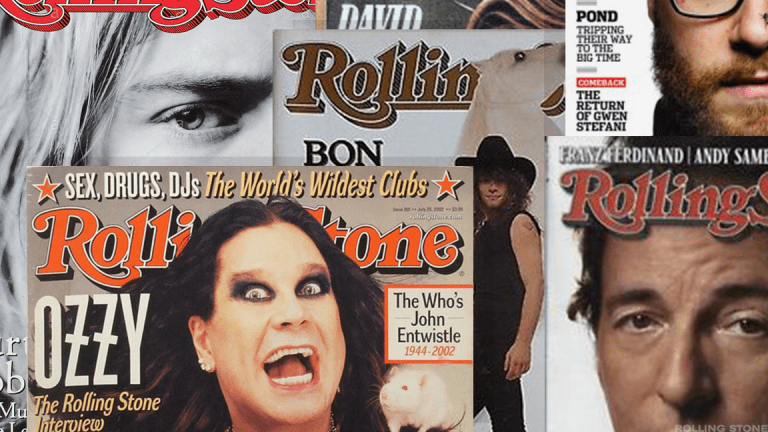 What's Next for Rolling Stone?
Penske Media has bought the controlling stake in the iconic magazine from founder Jann Wenner, and its top priority will be to develop its digital presence.
Ailing counterculture magazine Rolling Stone has been given a new lease on life after securing a major investment from Penske Media Corp, but that may not be the last of the dealmaking. 
Penske announced late on Wednesday, Dec. 20, that it was making a "strategic investment" in Rolling Stone founder Jann Wenner's Wenner Media LLC, giving Penske control of Wenner's 51% stake in Rolling Stone magazine, the company's sole remaining asset. Terms of the deal weren't disclosed, but the Financial Times reported that the investment values Wenner Media at about $110 million, citing sources close to the situation. That means Penske likely paid about $56 million for its stake. 
Rolling Stone will join Penske's growing library of entertainment, fashion and lifestyle brands, which includes titles such as Variety, Deadline Hollywood, Women's Wear Daily, IndieWire and tech-focused news site BGR. BandLab Technologies Inc., a Singapore-based music technology firm, purchased a 49% stake in Wenner Media in 2016 for a reported $40 million and will retain its 49% stake in the company. But media industry watchers expect it may not be long before Penske snaps up BandLab's share. 
"The 49% folks, all they're interested in is making money," said Samir Husni, head of the Magazine Innovation Center at the University of Mississippi and a longtime industry analyst. "I'm sure that sooner or later Penske will make an offer to buy [Bandlab's stake]." 
Penske also could make changes to Rolling Stone's editorial team, move the magazine from a biweekly to a monthly basis and upgrade the quality of the magazine, Husni added. The foremost goal, however, is to go "full fledge" with RollingStone.com. 
Neither Penske nor Wenner Media were immediately available for comment.
Wenner, who is as identified with Rolling Stone as Hugh Hefner was with Playboy Enterprises Inc., steadfastly resisted embracing the internet in favor of holding on to its print legacy, said Rebecca Lieb, co-founder and analyst at media research firm Kaleido Insights. Not only did Rolling Stone miss out on any relevance in the internet world, it failed to capitalize on the web's related trends, including online video and podcasts. But Lieb said the magazine is still a definitive brand owing to its legacy as the "bible of the music industry."
"It's a tough vertical, with infinite free content available digitally," said Ken Doctor, TheStreet's media columnist, of entertainment content. "In part, expect the Penske entertainment push to include elements of how Hearst Magazines has pooled like content, across brand, over the last several years."
Media industry strategist Peter Kreisky, who previously said the majority stake in Rolling Stone could fetch between $70 million and $80 million, said Penske will help steer Rolling Stone through a more successful switch to digital distribution. 
With Rolling Stone under its belt, Penske stands to build its position as the "nexus of the entertainment and fashion industry," Kreisky noted. It will open up opportunities for cross-promotion across Penske's online verticals, while building a larger, more dedicated audience around the brands. For Rolling Stone, the priority will likely be focused on expanding beyond the baby boomer generation and into millennial-aged readers. 
"It's a spectacularly smart deal for Penske ... as Rolling Stone is incredibly underleveraged in the digital world," said Kreisky, a former executive at Time Inc. (TIME) and CBS Corp. (CBS) - Get Free Report . "There is just massive potential to expand the Rolling Stone brand into other media platforms, including video, industry events, concerts or conferences."
To be sure, positioning Rolling Stone as the authority for online entertainment news isn't guaranteed to be a slam dunk for Penske. 
Penske can, however, look to other legacy media brands that have successfully pivoted to digital, at least to some extent. For example, Condé Nast Publications Inc., which Kreisky said also was interested in Rolling Stone, has engineered digital transformations at The New Yorker and Vanity Fair. 
"The value that Penske sees in Rolling Stone is way beyond that which Rolling Stone can realize itself," Kreisky said. "Penske knows how to position the Rolling Stone brand and mine their potential." 
Editor's note: This article was originally published by The Deal, a sister publication of TheStreet that offers sophisticated insight and analysis on all types of deals, from inception to integration. Click here for a free trial.
More of What's Trending on TheStreet: