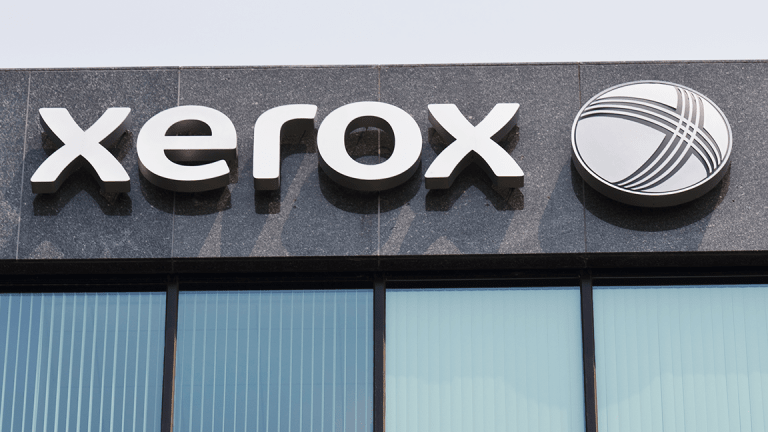 Fujifilm to Take Control of Xerox
Fujifilm will take over Xerox Corp. and combine the document company into their Fuji Xerox joint venture.
Fujifilm Holdings Corp. (FUJIY) reached an agreement with document company Xerox Corp. (XRX) to combine the company and their longstanding Fuji Xerox joint venture, after pressure from activist investor Carl Icahn about the JV.
The Wednesday deal will see Norwalk, Conn.-based Xerox cede control to its Japanese competitor, which it will then combine it with the joint venture that was founded in 1962 and 75% owned by Fujifilm.
Xerox shares were up 5.84% in Wednesday premarket trading, after closing at $32.68 on Tuesday.
Fujifilm will own 50.1% of Xerox shares. Under the terms of the agreement, Xerox shareholders will receive a $2.5 billion special cash dividend, or approximately $9.80 per share, funded from the combined company's balance sheet, and own 49.9% of the combined company at closing. The cash dividend represents a 30% to Xerox's unaffected share price of $30.35 on Jan. 10 before the reports of a possible deal surfaced.
The deal has been unanimously approved by the boards of both companies. The combined company will be named Fuji Xerox and trade on the NYSE under the ticker XRX.
Icahn and fellow large shareholder Darwin Deason in mid-January called for Xerox to evaluate strategic options related to the joint venture. Icahn and Deason also agreed to work together to install a minority slate of four director candidates to Xerox's board, in an effort Icahn already had been pursuing to oust the document technology company's CEO, Jeff Jacobson.
Icahn and Deason cumulatively own about 15% of Xerox.
"Upon careful consideration of all alternatives available to the company, the Board of Directors concluded that this combination is clearly the best path to create value for our shareholders," Xerox Chairman Robert J. Keegan said in Wednesday statement. "An attractive, certain cash dividend, together with participation in the future success of the combined company, presents a compelling value equation for Xerox shareholders."
Total annual cost savings of $1.7 billion are expected by 2022, representing about 10% of total cost base of the combined Fuji Xerox, with approximately $1.2 billion of the total cost savings expected to be achieved by 2020. Significant margin expansion is also expected over the next four years.
Fujifilm said Wednesday that it will cut 10,000 jobs globally at the existing joint venture to deal with a decline in the photocopying business. A cost reduction plan has been put into place at the existing JV, which is targeted to generate approximately $450 million of cost savings on an annualized basis.
Fujifilm shares closed 8.32% down in Toyko Wednesday, at ¥4,190.
Xerox early Wednesday also reported its fourth quarter earnings, reporting total revenue of $2.7 billion, up 0.5% or down 2.0% in constant currency year-over-year, and adjusted earnings per share of $1.04, up 4 cents year-over-year. The company expects 2018 GAAP earnings from continuing operations of $2.30 to $2.50 per share and adjusted EPS of $3.50 to $3.70.
More of What's Trending on TheStreet: