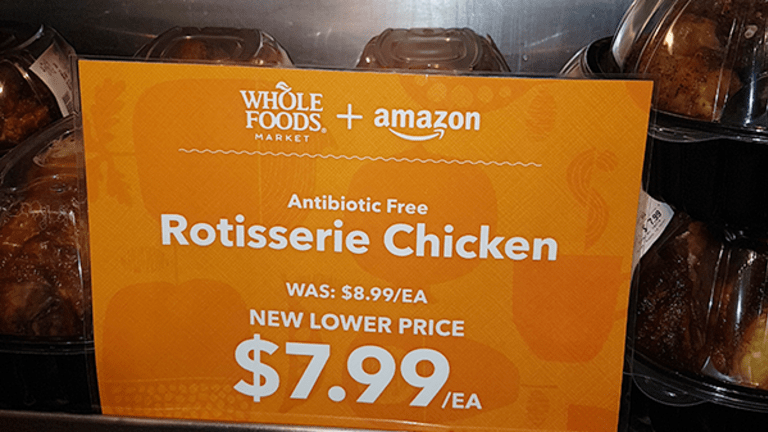 Amazon Is Still Being Watched by the Government
It's not over.
The Federal Trade Commission's quick approval of Amazon.com Inc.'s (AMZN) - Get Report $13.7 billion deal to acquire Whole Foods Market Inc. stunned critics of the merger, who fear the online retailing behemoth will use favor its new brick-and-mortar grocery at the expense of the other online food sellers and will parlay its massive distribution footprint into such a huge advantage in food wholesaling that other grocers, already beset by low margins will be put in jeopardy by further profit erosion.
But despite the FTC's decision not to conduct an expended antitrust investigation of the deal, the commission did signal it will be watching how Amazon behaves and whether its future behavior will harm new rivals like Kroger Co. (KR) - Get Report , Supervalu Inc. (SVU) and Target Corp. (TGT) - Get Report .
The perceived threat raised by consumer watchdog groups, some Democratic lawmakers and critics of dominant online platforms like Amazon, Google Inc. (GOOGL) - Get Report and Facebook Inc. (FB) - Get Report are largely theoretical and the commission would have had a hard time justifying the issuance of a second request for information on Amazon's entry into the brick-and-mortar retail grocery sector.
But Bruce Hoffman, the Acting Director of the FTC's Bureau of Competition in a closing statement issued on Aug. 23 signaled that the agency hasn't completely waved off the concerns others raised and that it will continue to monitor Amazon's expanding role in the retail sector.
"The FTC always has the ability to investigate anticompetitive conduct should such action be warranted," Hoffman noted in the statement.
Antitrust enforcers have the ability to bring an antitrust case at any time and don't need a merger review as an excuse to investigate a company's competitive behavior. But the fact that Hoffman bothered to mention that power demonstrates that Amazon is on notice not to take steps that could reduce consumer choice in the grocery business.
"The FTC didn't have to say anything but the fact that they chose to is an indication they will continue to monitor this market," Andrea Murino, co-chair of of Goodwin Procter LLP's antitrust and competition law practice, said in an interview. "It's an acknowledgement that they will be paying attention even though they have concluded that they don't expect there to be a substantial lessening of competition."
In the meantime, Amazon is touting its acquisition is one that helps food shoppers. On Monday, Amazon's first as the owner of the grocery chain, Whole Foods cut prices as much as 43%.
Going forward, however, one area likely to remain be monitored by the FTC and the company's critics is Amazon's platform for online retailers-including grocers-which buy products at wholesale and then sell to consumers at a markup.
Scott Cleland, president of the consultancy Precursor LLC, warned in a June blog post that the "exceptional market power" Amazon wields online is marred by a conflict between its direct sales to household customers and its MarketPlace offering where Amazon is an online platform for 15 of its top 20 grocers.
Cleland said MarketPlace retailer customers routinely criticize Amazon for not being an "honest broker" or for being a "non-neutral platform" that routinely self-deals to their detriment.
Those concerns were at the heart of complaints by Sen. Amy Klobuchar, D-Minn., the ranking Democrat on the Senate Antitrust Subcommittee, when she questioned the FTC's decision not to issue a second request and demanded a more thorough explanation of its reasons.
Amazon's increased access to data on consumers and their behavior, and its dominance in internet retail sales, raises questions about whether this merger harms consumers and suppresses competition, she said in an Aug. 25 statement. "Examining such complicated issues is the FTC's primary responsibility, and I will be calling on the FTC to provide an explanation for why they made such a quick decision regarding this merger."
What's Trending on TheStreet: