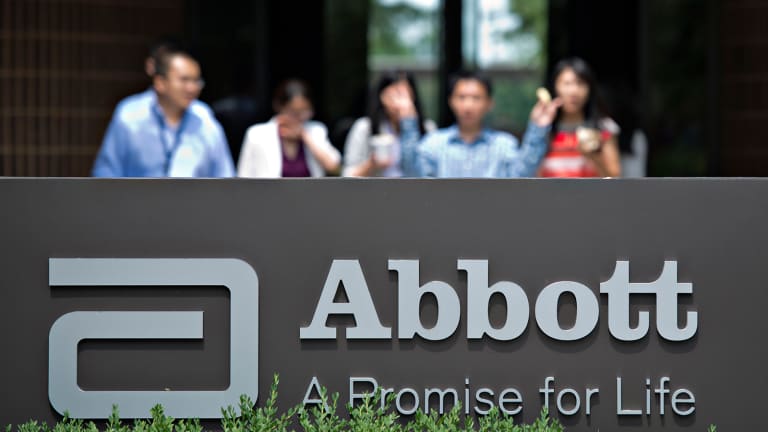 FTC Allows Abbott to Spin Off Units, Buy St. Jude Medical
Abbott can now proceed with its $25 billion buy of St. Jude Medical.
The Federal Trade Commission on Tuesday said it has largely accepted the antitrust remedy that was proposed by Abbott Laboratories (ABT) - Get Reportin October in order to clear the company's planned $25 billion acquisition of St. Jude Medical (STJ) .
Abbott Laboratories will divest two medical device businesses -- St. Jude's vascular closure device business and Abbott's steerable sheath business -- to Tokyo-based medical device maker Terumo, in a sale Abbott has valued at $1.2 billion.
In a legal complaint filed simultaneously with the proposed settlement, the FTC alleged that without the divestitures and some other conditions, the acquisition of St. Jude would harm competition in the U.S. market for vascular devices used to close holes in arteries caused by the insertion of catheters as well as the market for "steerable" sheaths used to guide catheters for treating heart arrhythmias.
Absent the divestiture, the commission argued the combination of Abbott and St. Jude would lead to one company controlling more than 70% of the market for vascular closure devices. As for steerable sheaths, St. Jude has held a near-monopoly in that market for more than a decade, the FTC said. Abbott recently entered the market and is the only significant competitor.
Terumo does not currently sell any vascular closure devices or steerable sheaths but, according to the FTC, because of its 30-year presence in the medical device market, "possesses the industry experience and reputation necessary to replace competition."
The FTC is also requiring the merging companies to help Terumo establish its manufacturing capabilities for the divested product lines.
In addition, Abbott is required to notify the FTC if it intends to acquire lesion-assessing ablation catheter assets from Advanced Cardiac Therapeutics, a startup company developing a catheter-based system for treating irregular heartbeats. Lesion-assessing ablation catheters provide feedback to physicians regarding the force being applied by the catheter or the temperature of the ablation target.
Currently, only St. Jude and one other company provide lesion-assessing ablation catheters in the United States. Abbott and Advanced Cardiac Therapeutics, known as ACT, have a partnership to develop these catheters.
The FTC said it is concerned that post merger, an Abbott acquisition of lesion-assessing ablation
catheter assets from ACT would eliminate the competition that currently results from an independent ACT, notwithstanding its partnership with Abbott.
The FTC said it was assisted in its antitrust review by competition agencies in Brazil, Canada, China, the European Union, Israel, Korea and South Africa.
Public comment on the proposed remedies will be accepted through January 26, after which the commission's three sitting members will decide whether to make the proposed consent order final.
European competition regulators approved the St. Jude aquisition in November conditioned along the same lines as the FTC's proposed approval.