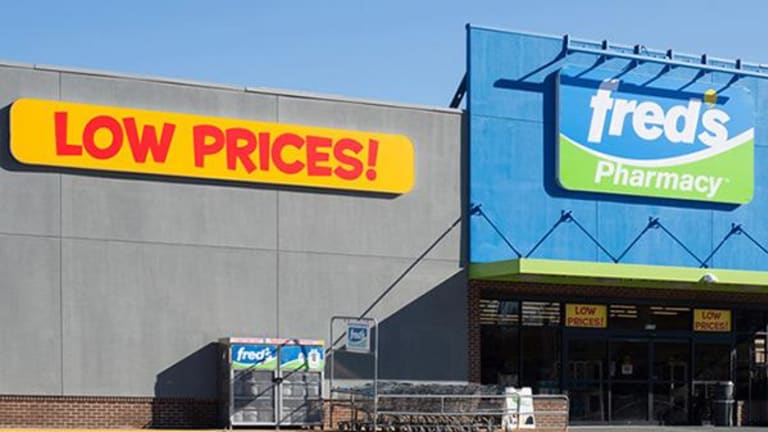 Fred's Bolsters Board as Walgreens, Rite Aid Near FTC Nod
As Walgreens Boots Alliance's WBA acquisition of Rite Aid nears FTC approval, Fred's has added several directors with retail experience to its board.
As Walgreens Boots Alliance's (WBA) acquisition of Rite Aid (RAD) prepare a new divestiture package to appease antitrust enforcers, the would-be buyer of the assets to be spun off is taking steps that indicate it believes approval of the merger of drug store giants is near.
Walgreens and Rite Aid will reportedly present a new proposal for divestitures in hopes of persuading the Federal Trade Commission to approve Walgreens' acquisition of Rite Aid, which is valued at roughly $15 billion. Walgreens declined comment on potential further divestitures.
Fred's Inc.undefined , which aims to pick up all of the divested assets, has added several directors with retail experience to its board. Fred's agreed in December to acquire 865 Rite Aid stores for $950 million in cash, appointed three new members to its board on March 7.
The new board members include a former CVS Caremark (CVS)  executive, Christopher Bodine; former Safeway, Starbucks and Hewlett-Packard executive, Peter Bocian and Fred's CEO Michael Bloom. 
Fred's will likely pick up more than the initially promised 865 stores as a part of this deal, and reportedly could pick up as many as 1,200 stores. However, the company could not be reached immediately to confirm whether this will happen.
The divestiture will have to be accepted by a depleted FTC. Just two of the commission's five antitrust seats are filled.
The deal has a July 31 deadline, according to Walgreens officials.
Fred's, which has a market cap of $566.37 million, fell 2.4% Wednesday to $14.94 per share before bouncing back to $15.30 before close. Fred's shares were virtually unchanged Thursday. 
Rite Aid, meanwhile, ticked up slightly Thursday, hitting $4.95 per share. Walgreens was similarly unmoved, trading at $85.43 per share Thursday morning.
Some say Fred's could appoint Walgreens or Rite Aid executives to its own board or c-suite, but Fred's recent announcement likely signifies other plans for executives.
LEARN MORE NOW: Walgreens is a holding in Jim Cramer'sAction Alerts PLUS Charitable Trust Portfolio. Want to be alerted before Cramer buys or sells WBA?
Still, it's noteworthy that Fred's chose to elect retail-focused directors to its board.
According to a statement from Fred's, Bodine "was known for giving personal attention to the integration of chains acquired by [CVS], including moving to Florida for six months following the purchase of approximately 1,260 Eckerd Corp. stores and to the west coast after the acquisition of more than 700 Sav-on and Osco stores."
And Bocian, who was CFO at Safeway, was involved in Albertsons' Inc. $9.4 billion takeover of Safeway in 2014. This deal, though, which also had to pass FTC muster, ultimately lead to the collapse of Albertsons.
"Bocian played a leadership role in rationalizing the portfolio to create more value and in the eventual sale and merger with Albertsons," according to Fred's statement on his appointment.
Bocian's experience on that acquisition could prove valuable to Fred's given the similarities between Fred's acquisition of Rite Aid divestitures and the Albertson-Safeway deal.
The final appointee to the board will be Bloom, who is acting as CEO and president of Fred's. Bloom previously acted as COO at Family Dollar Stores Inc. and executive vice president at CVS.
Michael Hayes, John Eisenman and Jerry Shore will retire from Fred's board in connection to these changes.
Also of note: activist investor Greenlight Capital's David Einhorn recently accumulated a $28 million 4% position in Fred's. In addition, Einhorn reported on Feb. 14, that as of Dec. 31 he continued to hold a large position in Rite Aid, valued at year-end at about $103 million. The positions suggest that Einhorn believes that the Walgreens-Rite Aid deal will be consummated, but that he also may be hedging his position in the mega-pharmacy with his Fred's stake.