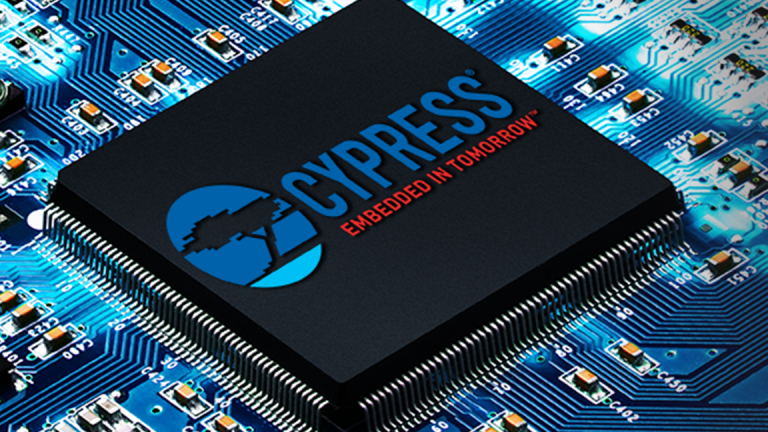 4 More Semiconductor Firms That Could Be Targeted in Wake of Microsemi Deal
Suppliers of analog chips and microcontrollers have been popular targets during the chip industry's M&A wave. Look for that to continue in the coming quarters.
As the chip industry has rapidly consolidated over the last few years, suppliers of microcontrollers (MCUs) and analog and mixed-signal chips have been especially popular targets.
Linear Technology (acquired by Analog Devices (ADI) ), Freescale Semiconductor (acquired by NXP (NXPI) ), Atmel (acquired by Microchip (MCHP) ) and International Rectifier (acquired by Infineon) are among the firms operating in one or both of these fields to be snapped up in multi-billion dollar deals in recent years.
Last week, we saw another deal added to the list: Microchip , a top-3 MCU supplier and also a major analog player, confirmed a string of media reports by announcing it's buying Microsemi (MSCC) a major supplier of high-performance analog and mixed-signal chips. The deal is worth $68.78 per share, or $10.15 billion after accounting for Microsemi's net debt. 
And as Microchip makes its latest move, Qualcomm's (QCOM) long-pending deal to buy NXP, the world's biggest MCU supplier and also a sizable analog/mixed-signal player, draw closer to completion. Qualcomm recently appeased major NXP shareholders upset about the deal's original $110 per share price by upping its payout to $127.50 per share ($44 billion).
This column has been updated from Feb. 27 to note the official confirmation of the Microchip-Microsemi deal, which was previously discussed in media reports.
Qualcomm of course is also contending with a hostile bid from Action Alerts Plus holding Broadcom (AVGO) that would create a mobile, data center and auto chip colossus. But whether or not that deal happens, industry consolidation has clearly upped the pressure that many chipmakers feel to get bigger, and in doing so reap benefits such as greater economies of scale, more pricing power and a chance to offer more comprehensive product lines within major verticals.
And with so many major MCU and analog deals having worked out quite well for the acquiring firm, there's plenty of reason expect more dealmaking in the quarters to come. Especially with tax reform providing U.S.-based buyers with easier access to past and future offshore profits.
Who might get targeted next? Analog/mixed-signal supplier Maxim Integrated (MXIM)  ($13.6 billion market cap) has been the subject of plenty of M&A speculation, particularly following the ADI/Linear deal. Maxim shares briefly popped in January following a report of acquisition talks with Japan's Renesas, but Renesas quickly shot down the report.
With an enterprise value (market cap plus net debt) of 19 times expected fiscal 2019 (ends in June 2019) free cash flow (FCF), Maxim isn't exactly cheap. But it could be tolerable to a larger chipmaker that sees room for major cost savings and a chance to improve Maxim's execution (it has been mixed in recent years), and likes the company's exposure to healthy industrial and automotive chip markets.
Top-10 MCU supplier Cypress Semiconductor (CY) ($5.8 billion market cap) has also seen a lot of buyout speculation. The company's automotive and industrial MCU businesses could appeal to a suitor, as could a booming Wi-Fi/Bluetooth chip business servicing both the automotive and home IoT markets. Its slow-growing SRAM and NOR flash memory businesses might be less appealing. Cypress has an enterprise value equal to 18 times expected 2018 FCF.
Integrated Device Technology (IDTI) ($4.1 billion market cap), pummeled in January after declining to hike its fiscal 2018 (ends in March) sales guidance, has a broad lineup of mixed-signal timing and interface chips for data center hardware that's benefiting from strong cloud capex, and also possesses a growing wireless charging IC business that services Samsung and other major Android OEMs. And the company's slumping mobile infrastructure chip business should get a lift from upcoming 5G rollouts. Shares have an enterprise value equal to 16 times expected fiscal 2019 FCF.
Semtech (SMTC) ($2.3 billion market cap) looks like the kind of smaller, high-margin, analog and mixed-signal supplier that a larger industry player would be comfortable targeting. The company has a burgeoning IoT chip business, in large part due to its position as the top supplier of RF transceivers based on the low-power LoRa protocol. It's also a major supplier of circuit-protection chips for smartphones, and has a large optical networking chip business that (though pressured recently by weak Chinese demand) is benefiting from cloud capex growth and the adoption of 100-gig optics.
As is the case with Maxim, a buyer could see room to improve execution. Semtech currently trades for 16 times its expected fiscal 2019 (ends in Jan. 2019) EPS.
Editor's note: This article was originally published by The Deal, a sister publication of TheStreet that offers sophisticated insight and analysis on all types of deals, from inception to integration. Click here for a free trial.
On 'Technically Speaking'
Apolo Ohno, America's most-decorated Winter Games athlete ever, joined our 'Technically Speaking' podcast to give his impressions of this year's Games in South Korea, as well as to talk about a new blockchain start-up that he co-founded.