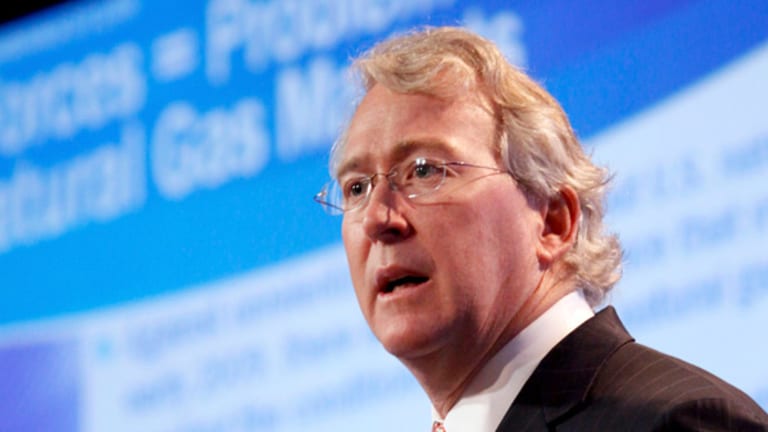 Former Chesapeake CEO McClendon Dies in Car Accident
The American Energy Partners executive drives into embankment after being charged for bid rigging.
Aubrey McClendon, the deposed CEO of troubled oil and gas explorer Chesapeake Energy Corp. (CHK) - Get Chesapeake Energy Corporation Report , died in a car accident Wednesday morning after being indicted yesterday by a federal grand jury for bid rigging on oil and gas leases. McClendon was 56. 
Police said initial indications were that McClendon's car was traveling well in excess of the 40 mph speed limit at the time of the accident and that he had ample room to avert the wall but failed to do so. 
According to the indictment, which was filed in U.S. District Court for the Western District of Oklahoma, McClendon--as CEO of Chesapeake--divvied up oil and gas leases in northwestern Oklahoma between two unnamed companies between December 2007 and March 2012 in an effort to keep a lid on increasing prices being paid for oil and gas leases.
"McClendon instructed his subordinates to execute the conspiratorial agreement, which included, among other things, withdrawing bids for certain leases and agreeing on the allocation of interests in the leases between the conspiring companies," the department said in a statement.
Bill Baer, assistant attorney general and head of the DOJ's antitrust division, said McClendon's actions put company profits ahead of the interests of leaseholders entitled to competitive bids for oil and gas rights on their land. "Executives who abuse their positions as leaders of major corporations to organize criminal activity must be held accountable for their actions," he said.
If found guilty, the 56-year-old faced up to a $1 million fine and 10 years in prison.
McClendon denied the charge, claiming in a statement that it's "wrong and unprecedented" and that he's being "singled out" as the only person in the oil and gas industry to have been accused of a crime related to gas leasing activity in more than 110 years since the Sherman Act became law.
"All my life I have worked to create jobs in Oklahoma, grow its economy and to provide abundant and affordable energy to all Americans," he said. "I am proud of my track record in this industry and I will fight to prove my innocence and to clear my name."
His lead lawyers were Abbe Lowell of Chadbourne & Parke LLP and Emmet Flood at Williams & Connolly LLP. Lowell has defended business and political figures, including convicted savings and loan executive Charles Keating and Democrats in the U.S. House of Representatives during the impeachment of President Bill Clinton as part of the Monica Lewinsky scandal. Flood was special counsel in the George W. Bush administration.
A Chesapeake spokesman said the company is cooperating with investigators but doesn't expect to be charged.
Last year Chesapeake paid $25 million to Michigan to settle similar charges that it conspired with Canada's Encana Corp. to rig auctions for drilling rights.
McClendon founded Chesapeake in 1989 and pioneered the use of horizontal drilling for shale wells, building it up through acquisitions into a multi-billion-dollar company. He was later accused of acquiring stakes in company wells with money he borrowed using the wells as collateral and tapping company resources for personal use. He was forced out in 2013 part of a shareholder revolt led by billionaire activist Carl Icahn. 
Soon thereafter McClendon launched American Energy Partners LP, which formed companies to buy up oil and gas assets around the country with $10 billion raised from Energy & Minerals Group and First Reserve and bank loans.
Energy & Minerals didn't respond to a request for comment about how the situation would affect their investments. But Energy & Minerals Group owns more than 70% of American Energy--Permian Basin LLC and American Energy--Woodford LLC, both of which receive management services from American Energy Partners, a source said in January. First Reserve is an investor in American Energy-Permian Basin, the source added.
Energy & Minerals is not an investor in American Energy Partners' recently announced joint venture with Argentina's YPF SA to explore for oil and gas in the Vaca Muerta shale area with a combined investment of $500 million, the source said.
First Reserve spokeswoman Julie Oakes of Joele Frank said the firm is aware of the recent allegations concerning McClendon but they are related to businesses and activities that have no connection to First Reserve or its portfolio companies. "First Reserve remains focused on executing our strategic priorities on behalf of our investors," she said.
Chesapeake has struggled since McClendon's departure, and its performance only worsened after the summer of 2014 when oil prices began to slide. Last month the company hired Kirkland & Ellis LLP and Evercore to advise it on a possible restructuring.