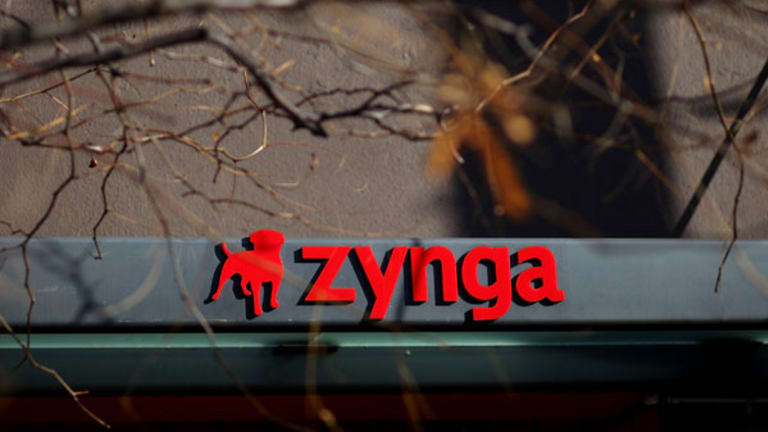 For Zynga and Its Shareholders, This Year Won't Be Just Fun and Games
CEO Don Mattrick has warned investors to expect a rough first half of 2015, but says a new slate of titles will lift the company later in the year.
CEO Don Mattrick has warned investors to expect a rough first half of 2015, but says a new slate of titles will lift the company later in the year.
NEW YORK ( The Deal) -- For shareholders of game developer Zynga (ZNGA) - Get Report , it looks 2015 will be a long, slow year.
CEO Don Mattrick let some air out of expectations earlier in February, when he prepared shareholders for losses and declining revenues in the first half. Mattrick forecasts an improvement in the second half of the year, as the San Francisco gaming company readies a batch of new titles for release.
The promise of delayed gratification has not sold well. Since the Feb. 12 earnings call, shares of Zynga have dropped about 14% to $2.29 The stock is below the $3.07 price it closed at on the day in July 2013 when Mattrick took over from founder Mark Pincus.
BTIG analyst Rich Greenfield suggested in a recent note that Zynga should replace Mattrick, and the stock's slide reflects queasiness about a rebound. Shareholder Bill Martin of Raging Capital Management LLC, who has launched activist campaigns against other companies,  supports Mattrick and compares Greenfield's call to early skepticism about Facebook (FB) - Get Report .
The deciding vote lies with Zynga chairman and founder Pincus, who controls a majority of the vote.
"Don got there in July 2013 and I think people expected by July of 2015 they would be growing and profitable," Wedbush Securities analyst Michael Pachter said.
The company plans to launch six to 10 games this year. Over time, Zynga expects mobile revenues to grow.
"The implication is they are going to grow again," Pachter said. "It will be two years. Two years is a long time to wait."
Mattrick told investors during the call that launches of New Words With Friends and Looney Tunes Dash! games have pushed its mobile audience up by 87%. Mobile accounts for 60% of Zynga's bookings, which refers to sales plus changes in deferred revenue. The company closed the $530 million deal for mobile game developer NaturalMotion last year, and also cut operating expenses by more than $60 million.
However, Zynga CFO David Lee conceded the company will "spend more time nurturing our new products" in the first half of the year. The company expects $140 million to $150 million in first quarter bookings, and negative $15 million to negative $25 million in EBITDA. For context, UBS had projected $192 million in first quarter bookings and $15 million in EBITDA. The bank reduced its 2015 bookings forecast from $836 million to $685 million.
"I don't know how many investors have any patience left," said Cowen analyst Dough Creutz. "For a turnaround, you have to assume that Zynga is suddenly going to start doing things it hasn't been able to do to date, which is to consistently put out successful mobile games."
The company has $1.1 billion in cash and securities, and Creutz said cash flow is just about breaking even. "They can flounder for a long time without getting into danger of running out of money," he said.
Must Read:11 Best Small-Cap Technology Stocks That Could Hit It Big in 2015
Before arriving at Zynga, Mattrick ran Microsoft's (MSFT) - Get Report Interactive Entertainment division, which includes the Xbox gaming system.
BTIG's Greenfield suggested that Zynga find a replacement. "When Don Mattrick took over, we were not sure if he was the right person for the job, as he had built his career in console gaming, while Zynga was desperate to get mobile right," Greenfield wrote. The analyst said that Zynga was guilty of "rushing the launch of new games" without adequate testing, and shifting its strategy in an attempt to find the "next hit games in categories where Zynga has no underlying expertise." An update to Zinga's poker game featured enhanced graphics, Greenfield noted, while "speed and simplicity" would have played better on mobile devices.
Zynga declined to comment on Greenfield's call for Mattrick's ouster.
Raging Capital founder Bill Martin expressed support for Zynga's CEO in an email.
"While Mr. Mattrick has clearly managed investor expectations in a poor fashion, we believe he is taking the right steps to turnaround the business," Martin wrote."Taking time to get the quality of the games right is far more important than hitting a short term analyst revenue target."
Martin suggested that Zynga's pipeline of games and recent launches New Words with Friends, Looney Tunes Dash and Words on Tour are promising. "Further, we believe investors are missing the transformational upside potential of improved advertising monetization for mobile games," he wrote.
Raging Capital has run activist campaigns against companies such as supply-chain management outfit ModusLink Global Solutions (MLNK) and marketing and communications services provider Standard Register (SR) - Get Report . Martin said the firm has no activist intentions with Zynga.
"Regarding Mr. Greenfield, he does seem to have a knack for capturing media headlines -- but I'm not sure how valuable that is in terms of picking stocks," he wrote. The balance sheet limits risk while the company develops its new titles. "Recall Mr. Greenfield was similarly negative and attracting headlines about Facebook and Mark Zuckerberg back in 2013, right before Facebook figured out how to monetize its audience," Martin added.
Another Zynga shareholder, Eminence Capital, declined to comment on Zynga's outlook.
According to the company's timeline, shareholders will have to wait until late this year and next year for evidence of the turnaround.
Cowen analyst Creutz said he is skeptical of the turnaround, noting that Zynga's new games are in categories that are competitive and have established leaders. "You're taking on Candy Crush and Clash of Clans," he said. "Good luck."
Two of last year's biggest hits, Glu Mobile's (GLUU) - Get ReportKim Kardashian: Hollywood and Activision Blizzard's (ATVI) - Get ReportHearthstone: Heroes of Warcraft, came in "essentially entirely new categories," Creutz said. Another breakout, King Digital Entertainment's (KING) Candy Crush Soda Saga, was a sequel.
Wedbush analyst Pachter said he is "skeptical but not cynical" about Zynga's turnaround. "I'm hopeful that they will do what they say they will."
Skeptic, cynic or believer, it will be a suspenseful few quarters for Zynga's shareholders.
Must Read:Jim Cramer Picks 19 Companies That Should Get Acquired in 2015

Read more from
: