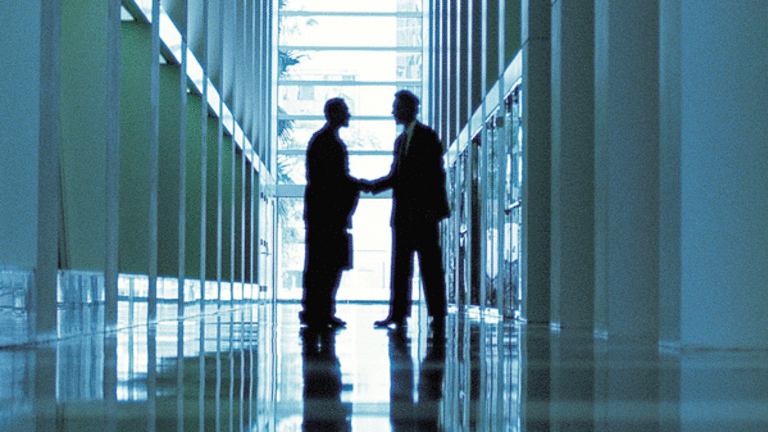 For Toys 'R' Us, it is Show and Tell Time
For retailer Toys "R" Us the year 2014 could be the most critical in its history.
NEW YORK (The Deal) -- For retailer Toys "R" Us the year 2014 could be the most critical in its history.
That's because the Wayne, N.J. based toy seller is in the midst of the longest time period passing without a meaningful debt maturity, according to Moody's Investors Service Inc.'s analyst Charles O'Shea.
But the company only has only so much time before it runs up against its debt maturities and it will need to improve operations, as well as show a quarterly sequential uptick in revenue and profits when it comes to refinance, the analyst said.
The toy retailer's next meaningful debt maturities of slightly under $1 billion come due in Sept. 2016, however, they become a liquidity concern in early 2015, O'Shea said in an April 16 report.
Though the company has the liquidity to survive in the short-term, it just had the worst fourth quarter in its history, O'Shea added. That dragged down its entire fiscal year's performance.
For the year ended Feb. 1, Toys 'R' Us generated about $12.5 billion in net sales, compared to about $13.5 billion for the same period a year prior, while the company had a net loss of about $1 billion from net earnings of nearly $40 million for the same period a year earlier, the company said in its earnings statement released Monday. Ebitda dropped for the fiscal year to $35 million from about $960 million the year prior, while adjusted Ebitda was nearly $600 million, down from about $1 billion.
After the holiday season, Toys "R" Us' debt to Ebitda ratio returned to over 8 times, or back to where it was following its leveraged buyout in 2005 by Kohlberg Kravis Roberts & Co. LP, Bain Capital LLC and Vornado Realty Trust, according O'Shea's report.
Despite that, the company was able on March 26, to renew and lower the pricing on its $1.85 billion asset-backed lending facility, set to mature in 2015, the report noted.
Besides the credit facility, Toys "R" Us had $644 million in cash and cash equivalents as of Feb. 1, according to its latest earnings statement.
"The liquidity buys time, the revolver came down, and the core lender base is out there, but [Toys "R" Us] needs to prove its turnaround [is succeeding]," O'Shea said in a separate interview.
After its cancellation of an initial public offering in 2013, that tool will likely not be available as a way to raise cash to reduce debt until the company can stabilize and then strengthen its performance.
There are factors in the toy retailer's favor. A recent uptick in retail sales nationally (the number for March was positive 1.1%, according to the U.S. Department of Commerce -- a surprise to many) and better jobs numbers (288,000 jobs were created in April, according to the U.S. Department of Labor) may get consumers to loosen their wallets. New games coming out and "The Lego Movie" should also help matters, O'Shea said.
However, even with revenue improvements, debt to Ebitda ratio will be hard to get down as one of the reasons it rose was the result of a lease adjustment based pm tje structure of two property company level loans, O'Shea said in his report.
Adding to challenges posed by a post-recession consumer mindset, there is the competition from e-commerce.
Yet O'Shea said he believes that there may be a silver lining for retailers stuck with a lot of brick-and-mortar locations.
One service that e-commerce still cannot provide, or provide on only a very limited basis, is same day delivery, he pointed out -- not true of a retailer that can do so from its physical locations.
Legacy physical store retailers that are building out their e-commerce operations are also essentially running two parallel systems and the costs associated with that.
Once the e-commerce platform is built out and integrated with the rest of the retailer's physical operations, it will be able to run the entire operation with one system, and one team, reducing head count, and cutting costs.
But to get there, Toys "R" Us must survive the challenges that confront it now.