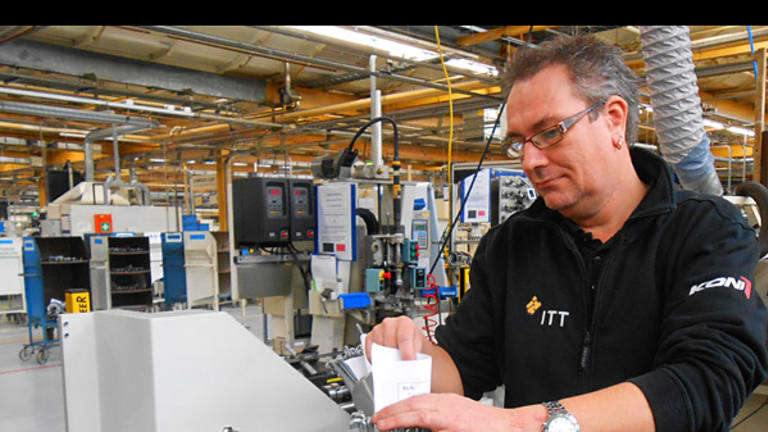 For Manufacturer ITT, It Is Time to Put Its Balance Sheet to Work
The manufacturer could again be a target for activists if it doesn't find growth, and that could mean a sale of the entire company.
NEW YORK (The Deal) -- Four years removed from a three-way split, what remains of ITT (ITT) is primed to go on the offensive in search of growth.
White Plains, N.Y.-based ITT, a manufacturer of components for the energy, transport and other industrial markets, last week reported a fourth quarter that beat expectations but warned that 2015 earnings are likely to be held down by issues in the oil and gas segment and foreign-exchange concerns.
Barclays analyst Scott R. Davis said that ITT trails only General Electric (GE) and Dover (DOV) among industrials exposed to upstream energy, and he warned that ITT's higher-than-peer energy exposure could cause headaches in the months ahead.
The company, now just a fraction of the sprawling conglomerate assembled by Harold S. Geneen that once dabbled in everything from telecommunications to defense and from insurance to hotels, has been mostly quiet since it moved under activist pressure to break out its defense and water treatment units as independent entities.
The remaining ITT business by some measures could once again be a target for activists, with strong cash generation, little debt and a stock price that over the past year had trailed the Industrial Select Sector SPDR ETF by up to 14%. Meanwhile, former corporate sibling Exelis, the defense unit spun out in 2011, last week accepted a $4.75 billion buyout offer that carried a 35% premium to its trading price.
ITT last week said that it plans to put its balance sheet to work, perhaps trying to stay ahead of potential investor unrest. The company hiked its dividend by 7.5% and announced a new $100 million share repurchase program, while telegraphing its intention to seek out acquisitions.
Chief Executive Denise L. Ramos said during the quarterly call that acquisitions are "a critical component of our long-term capital deployment priorities."
ITT said that it has one $30 million-revenue aerospace purchase pending and that bigger deals could follow.
"We are building at our pipeline with a focus on industrial and aerospace target similar to the acquisition we mentioned today," Ramos said. "We are aggressively going after acquisitions within our pipeline."
In an ideal scenario, bolt-on deals could provide a boost while ITT works through its headwinds and gets back to organic growth. Absent some sort of a catalyst, don't be surprised to eventually find investors asking if ITT would fare better inside the portfolio of a buyer such as Parker-Hannifin (PH) or perhaps merged with a similar sized rival such as Idex (IEX) .
Must Read:Warren Buffett's Top 10 Dividend Stocks
Read more from
: